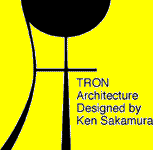 Questions and Answers
about
Metrowerks' CodeWarrior for ITRON and BTRON
---
Following TRONSHOW '97, TRON Web interviewed Mr. John H.M. Cheuck, president of Metrowerks Co., Ltd. (Japan), about the new version of CodeWarrior for ITRON and BTRON he announced, which will go on sale in the spring of 1998.
-- Since not all of TRON Web's readers are programmers, could you please explain to us exactly what the CodeWarrior software development environment is and how using it to program is an improvement over just C language and a C language compiler?
More than just a compiler .....
CodeWarrior is an intuitive suite of software development tools that includes an award-winning Integrated Development Environment (IDE) complete with project manager, resource and text editors, debugger, class browser, on-line documentation and tutorials. CodeWarrior's cross-platform compilers support C, C++, Java and Pascal, and allow programmers to build applications for a number of different target platforms, in their language of choice all from one common development environment.
-- The appearance of the development tools incorporated in CodeWarrior development environment are expected to lead to an increase in TRON-related software development. Could you tell us how it came about that Metrowerks decided to support the TRON Architecture?
In the world of embedded systems, many designs have implemented system kernels based on ITRON specifications. Metrowerks recognizes the quality and quantity of these implemented designs to date, especially in Japan, as well as the enthusiasm of the TRON committee and its members. Furthermore, Metrowerks recognizes the importance of ITRON in the systems software market, and as such, Metrowerks is committed to making sure there is complete support for versions of ITRON within the CodeWarrior tool chain.
-- Exactly what subarchitectures (ITRON, BTRON, CTRON, JTRON, etc.) will be supported with CodeWarrior?
CodeWarrior will support current and future specifications for ITRON.
Metrowerks will be working with Personal Media to provide CodeWarrior support for BTRON. This will be implemented first for Seiko Instruments Inc.'s TiPO PDA device which is uses the BTRON kernel.
-- What arrangements has Metrowerks entered into with the TRON Association and Personal Media Corporation as regards the CodeWarrior software development environment?
Metrowerks is a member of the TRON Association and is a observer in the ITRON subcommittee.
Metrowerks will be working with Personal Media to develop CodeWarrior support for BTRON. This will be implemented first for Seiko Instruments Inc.'s TiPO PDA device which is uses the BTRON kernel.
Metrowerks recognizes the need for a stronger debugging solution for ITRON and has given a free license of MetroTRK (target resident kernel) to the TRON committee for the support of improved debug services in ITRON member kernels and in debug related specifications for ITRON moving forward. MetroTRK is made available to any TRON member. Metrowerks intends to provide support for ITRON, starting in Japan, and to provide new, additional functionality to ITRON developers worldwide.
-- Is your firm planning to create beginner's versions of CodeWarrrior, such as "Discover Programming for ITRON" or "Discover Programming for BTRON," for the TRON Architecture?
Metrowerks provides tutorial content (sample programs, tutorials) in all of its products worldwide to help software developers get started. For ITRON, Metrowerks would like to provide the same degree of content to help ITRON software developers. Metrowerks' Discover Programming product line is targeted at commercial computing platforms.
-- Do you have any words of advice for those creating new software for the TRON Architecture?
Up until now, support for ITRON from commercial software tool developers has been minimal. Metrowerks hopes that with an industrial strength software development environment that is integrated with the specifications and features of the ITRON kernel, software development for ITRON based projects can be made easier, faster and that ITRON based software developers can be empowered with CodeWarrior so that they can continue to develop more powerful ITRON based applications.
---
Mr. John H.M. Cheuck
President, Metrowerks Co., Ltd. (Japan)
Mr. John H.M. Cheuck was born in Hong Kong in 1967 and immigrated with his family to Canada in 1973. After majoring in system design engineering at the University of Waterloo in Canada, Mr. Cheuck, who had an interest in Japan, earned his Master of Business Administration at the Japan-America Institute of Management Science in Hawaii. He then established himself as a software engineering management consultant in Tokyo and was subsequently commissioned to handle Metrowerks Inc.'s business in Japan, which he is doing in a partnership with B.U.G. Inc. of Sapporo, Japan.
Metrowerks Co., Ltd (Japan) was established in 1996. Contact information is as follows:
Metrowerks Co., Ltd. (Japan)
World Udagawa Building 8F
Udagawa-cho 36-6, Shibuya-ku
Tokyo 150 Japan
Tel.: 03-3780-6091
Fax: 03-3780-6092