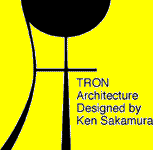 ITRON Powered: NTT DoCoMo's 'i-mode'
---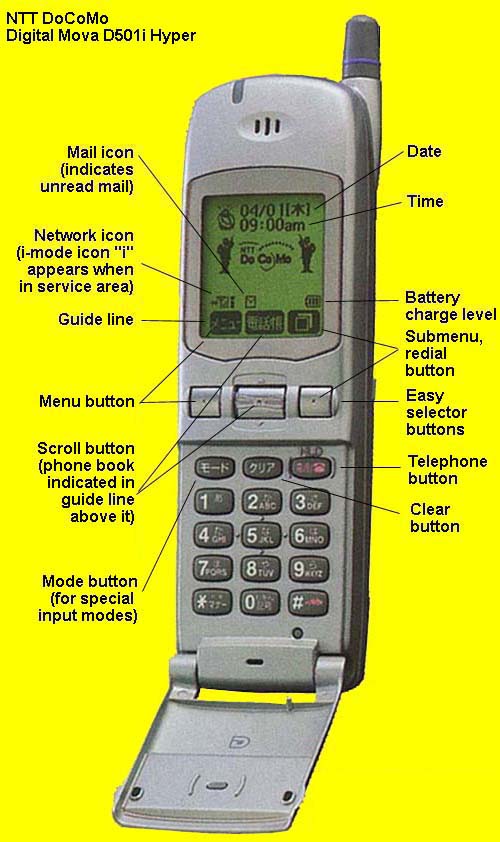 Let's be honest. Compared to our powerful desktop personal computers with their high-speed Internet connections that we use to surf the World Wide Web (WWW), the above i-mode wireless handset that vast numbers of young Japanese people use for Web surfing seems like a throwback to the primitive 8-bit personal computers of the late 1970s. Look at it! It doesn't have a color screen, the screen is incredibly small, and worst of all the maximum throughput is a mere 9.6 Kbps. And yet, like the 8-bit personal computers of yesteryear, this primitive looking wireless Internet terminal is an epochal product that is leading to a revolution in Internet connectivity throughout the world. New, powerful models with color screens and considerably higher throughput (64 Kbps upload, 384 Kbps download) are due out in May 2001, and NTT DoCoMo Inc. has signed up foreign partners to spread its i-mode technology to East Asia, Europe, and the United States.
Unfortunately, i-mode handsets do not sport branding marks, such as the ubiquitous "Intel Inside." If they did, then people throughout Japan and the rest of the world would realize that their handsets are powered by an ITRON-specification real-time operating system (RTOS). The ITRON-specification RTOS was selected for this product because it is incredibly compact, fast, and is based on an "open architecture." However, the incorporation of TRON-based technologies into wireless handsets does not stop there. Future models will incorporate JTRON-specification operating systems that run Sun Microsystems Inc.'s Java network programming language together with ITRON. There is also TRON JCG technology that has been developed for turning them into "universal remote controllers," and, of course, the µBTRON-specification operating system is waiting in the wings to turn them into powerful multilingual data terminals for use in international settings.
Many westerners are amazed at NTT DoCoMo's success with its i-mode wireless Internet service, but they shouldn't be. There are two simple reasons for i-mode's success. First, it is always "on" once the user turns it on and connects to the center. Users pay only for data packets sent, not connection time. Second, NTT DoCoMo created a sort of "parallel WWW" for i-mode users by working closely with content and service providers. The Web pages they have created are written with a simplified version of HTML, the standard programming language of the Web, called "compact HTML." Accordingly, no retraining of technical staff was required, and companies were able to build i-mode-centric Web pages in very little time. What's even more important than the number of services and the amount of content, though, is the fact that i-mode subscribers have been "paying for services" via the telephone company from the beginning. That means that the parallel Web of i-mode users is more lucrative than the standard Web of desktop users, and, as a result, large numbers of companies are rushing to develop for i-mode. That in turn attracts even more people to buy i-mode handsets.
Below is a summary of a one-year old i-mode menu pamphlet. It is very much out of date--the number of content and service providers is considerably greater today--but it will give the reader a good idea of what types of content and services are available to i-mode users in Japan. Notice that there is a good mix of free and charged for services, and that the maximum charge for a service is 300 yen or less per month.
NTT DoCoMo i-mode Menu as of January 2000
Menu Item

Service Providers

Comments

News and Information
Asahi, Sankei, Nikkei, Mainichi, Yomiuri, Jiji, NHK-JN, Biz Tech, WNI Weather Info, Morning Star, plus nine regional information service providers
Nikkei charges 300 yen per month, Jiji 100 yen per genre, and NHK-JN 300 yen per month for all genres; the other services are free, although some of them charges fees for special add-ons.
Mobile Banking
(1) City banks: Sakura, Sanwa, Sumitomo, Tokyo-Mitsubishi, Citibank, Daiwa, Asahi, Daiichi Kangyo, Tokai, Fuji; (2) Regional banks with full/partial service: 24/28; (3) Credit unions, associations: Hokkaido/Tohoku: 7; Kanto/Koshinetsu banks: 22; Tokai: 15; Hokuriku: 7; Kansai: 24; Chugoku/Shikoku: 8; Kyushu 5; (4) Postal Savings: 1
This is the largest section of the menu pamphlet, which covers eight out of 20 pages; services range from full service (payments and transfers) to partial service (balance inquiries and interlocking telephone banking service).
Credit Card, Securities, Insurance
(1) DC Card, Million Card, Ion Credit, Sumitomo Visa Card, UC Card, JCB Info Index, (2) Daiwa Securities, Nikko Securities, DLJ Direct, (3) Nissay Internet ATM, Meiji Seimei, Yasuda Seimei, Sumitomo Seimei, Daiichi Seimei, Mitsui Seimei, AIU
All are free of charge.
Travel
Airlines: JAL, ANA, JAS; Travel Agencies: JR Travel Navigator, Ekimae Tanken Kurabu, JTB Inn Hotel Reservation, Japan Travel Lodging Navi, Maru Toku Hotel Reservation, Travel Kochan; Car Rental: Nippon Rent-a-Car
All are free of charge.
Ticketing, Living
Lawson Ticket, Pia Ticket Guide, Kinokuniya Bookstore, Book Service, Able Rental Info, Isize Rental Info, Chintai Rental Search, Mobile an (PT jobs), From A (PT jobs), Tsutaya Online (entertainment info), Pocket Isize (living info), Music Navi, Car Info Goo!! (used cars), Car Sensor (used cars), Walkers i (entertainment info), So-net (entertainment)
Lawson Ticket costs 200 yen per month (tickets are purchased in Lawson convenience stores nationwide), From A part-time job information costs 100 yen per month, and portions of Pocket Tsutaya Online and Pocket Isize require payment of a fee.
Gourmet, Recipes
Pia Gourmet Guide, ZAGAT Tokyo, Isize Discount Gourmet, Gourmet Navi, Ajinomoto A-Dish, Bob & Angie (recipes)
Isize Discount Gourmet costs 300 yen per month, but it allows access to an i-mode only Tokyo/Osaka discount restaurant guide (up to 20% discount).
Entertainment
Karaoke/Music: 6, Games/Visual: 11, FM: (radio) 4, Baseball/Horse Racing/Waves: (surfing info) 3, Fortune: (8), YES! YOSHIMOTO (theater), Pia Cinema Guide, Isize Mail Magazine, Koubou Kenshou Guide, Takara Kuji Corner (lottery), Motor Sports Channel, Kyuu-in i-Message
The entertainment category is filled with services that require a fee, although there are some for free (e.g., all FM services). The most expensive services are 300 yen per month. One of the most popular is the Bandai "animated character" service, which costs 100 yen per character per month.
Town Information
Coupon Navi Tokyo, Amemura Cyber Mall, Yellow Page Sapporo, Misete Toku Show! Tokai, Town Info Shikoku, RCC Chugoku Broadcasting
All are free of charge.
Convenient Tools

Sanseido Dictionaries, DoCoMo Info Dial, i-mode Convenient Dial, i-mode Convenient Memo, Mobile Town Pages, Remote Mail, Kuro Neko Yamato Express Delivery, Fukuyama Transport

Regional Menu

Kanto/Koshinetsu: Metro JR Schedule; Tohoku: Iwate Info, Sendai TJ; Tokai: Apartment News, K-Mix Shizuoka, ZIP-FM; Hokuriku: @Fukui, K805FM FM Ishikawa; Kansai: HEP (entertainment), Daimaru (bargains), Cinema Navi, Kyoto City Govt. Info; Chugoku: Yellow Book (help wanted), Town Info @ Chugoku; Shikoku: Mj Shikoku Car Life (used cars), Hand Navi Shikoku (cultural info); Kyushu: Fukuoka Navi, Nagasaki Navi, Okinawa Navi

Basic dictionaries are free, but three advanced dictionaries from Sanseido cost 50 yen per month.

Remote Mail, which allows the user to send and receive e-mail from another service provider, costs 200 yen per month. A FAX transmission service with some limitations can also be used.

All Regional menu items are free of charge.
Another thing about i-mode handsets that amazes westerners is that young Japanese people use them to send messages to each other, even though they do not have anything vaguely resembling a standard keyboard. How do they do it? The Japanese language uses two syllabaries (hiragana and katakana) of 50 syllabic characters each that are taught using a five column, 10 row chart. In the above i-mode figure, the first character of each row of the hiragana syllabary is written on top of buttons 1 through 9 plus 0. Accordingly, to input 'ka', in hiragana input mode one would push the '2' button once, twice to input 'ki', thrice to input 'ku', four times to input 'ke', and five times to input 'ku'. Likewise, in Latin alphabet input mode one would push the '2' button once to input 'a', twice to input 'b', and thrice to input 'c'. Obviously, nobody is going to be writing a novel on an i-mode handset, but recently a young Japanese lady who was illegally confined by an obsessed male admirer used the character input function of a wireless handset to contact her boss, who then contacted the police to rescue her.
Finally, please note that the functions for the buttons indicated in the above figure are not necessarily the only functions for those buttons. The i-mode handset is actually a combination of a wireless telephone and a miniature personal computer, which means it is a quite sophisticated device with lots of different functions. Inputting characters is also a little more involved than as described in the preceding paragraph. The hiragana inputs mentioned above, for example, can also be converted into kanji [Chinese characters]. That being the case, it should come as no surprise that the manual for the Digital Mova D501i Hyper is 133 pages long. Fortunately, future versions will have an easier to use interface, maybe one easy enough for old-timers to use. Let's hope so--we could all make good use of a high-speed, portable Internet terminal.
---