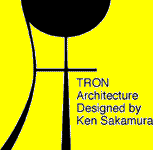 January '99 News Items
---
TRONSHOW '99, 15th TRON Int'l Symposium, TEPS '99 to Be Held March 10-12
The TRON Association announced that TRONSHOW '99, the 15th TRON Project International Symposium, and TRON Electronic Prosthetics Symposium '99 will be held from March 10 through March 12, 1999, at TEPIA Hall in Kita Aoyama, where last year's show was held. The schedule for these events is as follows:
March 10-12, 10:00 a.m~5:00 p.m.

TRONSHOW '99: Exhibits of TRON-related products

March 10, Evening

TRON Project 15th Anniversary Commemorative Reception

March 11, 10:00 a.m~5:00 p.m.

Conference

Special topics: The 15 Year Trek of the TRON Project, Open Architecture, Ubiquitous Computing, and Enableware for the EC Age

March 12, 1:00 p.m~5:00 p.m.

TRON Electronic Prosthetics Symposium '99 (TEPS '99)

Location of the Events

TEPIA Hall, 2-8-44 Kita Aoyama, Minato-Ku, Tokyo (next to Jingu Ball Park)

Admission Fees

The admission fees for for attending the full three days of events are: 3,000 yen for students, 3,000 yen for TRON Association members, and 5,000 yen for general admission. For those only wishing to view the exhibits at TRONSHOW '99, the price of admission is 1,000 yen.
Personal Media Begins Marketing Compact Notebook PC with B-right/V R1.1 OS

Personal Media has begun marketing a compact, A5-size notebook personal computer preinstalled with the company's 32-bit B-right/V R1.1 operating system and Microsoft Corporation's Windows 98 operating system. The new system, named B-right/VNFIVA, weighs only 840 grams, but it packs desktop performance. Based on an MMX-compatible Cyrix Media GX 200MHz microprocessor, it is equipped with 32 megabytes of main memory, a hard disk with a capacity of approximately 3.2 megabytes, a 3.5-inch 1.44 megabyte floppy disk drive, and an internal V.90/K56flex modem that can also handle facsimile transmissions at 14.4 kilobits per second.
B-right/VNFIVA uses a 6.7-inch Hyper Amorphous Silicon TFT (TFT) color liquid crystal display based on the SGVA standard, i.e., 800 x 600-dot resolution with 65,536 colors. For standard interfaces, B-right/VNFIVA has a Universal Serial Bus (USB) port, an expansion connector port, a PC card slot (Card Bus compatible, TYPE II Spec.), a memory expansion slot, a communications port, an IrDA1.1-based infrared communications port, and a headphone output jack. Operation on battery power is said to be approximately three hours.
Personal Media is marketing B-right/VNFIVA at a direct sales price of 250,000 yen (consumption tax not included). Those interested in purchasing the new notebook computer should contact Personal Media's Sales Department . The telephone number is 03-5702-7858.
Test Program for Running J-right/V
Personal Media Corporation has developed and is now offering as a download a program that checks to see if the environment of a particular IBM-PC/AT-compatible personal computer is capable of running its new JTRON-based J-right/V operating system, which merges Sun Microsystems Inc.'s Java programming language technology with the ITRON-specification operating system. The program checks available main memory, screen resolutions, video card data, and displays a test pattern. For further information in Japanese, please click here.
B-right/V Running on iMac, New B-right/V E-mail Software
The latest issue of TRONWARE, Vol. 55, reports that Personal Media Corporation's B-right/V operating system has been confirmed to run in stable condition under emulation on Apple Computer Inc.'s popular iMac using Connectix Corp.'s Virtual PC emulation software. The same issue also reports that a new e-mail freeware program developed at the Sakamura Laboratory of the University of Tokyo has been released for use on B-right/V.
---