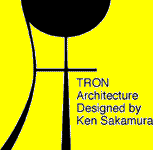 TRON Project Leader's Opinion
Ken Sakamura
Interfaculty Initiative in Information Studies, The University of Tokyo
---
In October, I made the round of Europe. In Europe, business conditions are generally stagnant, and the economy of the EU (European Union) centering on Germany is depressed. On the other hand, London, England, is vigorous. It shows up even in the appearance of the city. The city overall is compact and the center of the city is quiet, but somehow or other there is liveliness. That is because various kinds of new experiments are being carried out even among the antiquity. I know well that in urban vitalization renewal is necessary. For example, there is designer Sir Terence Conran. "The Conran Shop" exists even in Japan, but when you go to a genuine shop, there are lots of customers in the shop, and things are selling rapidly. Although London's restaurants are said to have poor cuisine, the restaurants developed by Sir Conran are fully booked everywhere, and they are filled with vitality. Even for a traditional food of the English commoners such as fish and chips, what I ate here was delicious.
The London Eye is a giant Ferris wheel that was built to commemorate the millennium. With a diameter of 135 meters, it is the largest in the world. Differing from ordinary Ferris wheels, it has a structure like that of bicycle wheel. The gondolas, egg-shaped capsules made entirely of glass, are 25-seaters that an automobile could completely fit into. These are lined up in a row not on the inside of the wheel, but rather along its outer circumference. At a glance, it's science fiction. When the capsule reaches the top, because it forms a shape in which the capsule protrudes at the top of the giant wheel, it's just like being able to get an unbroken view of London. It still hasn't been two years since its completion, but as a newly famous place in Europe, large numbers of people are swarming there. In London, there are many museums and art galleries, but there are a lot of places that reopened after a renewal on the occasion of the millennium, and they are attracting lots of people. Furthermore, if you go to the Soho district, there is even more liveliness, and lots of people are going even into restaurants that don't necessarily have good food. In the end, it is important for humans to put something new in front of themselves and become active.
Vodaphone, the world's largest cell-phone company, has brought to Europe the picture mail service (called picture messaging over there) of its J-Phone Japanese subsidiary, given it the name "Live!," and will commence service in eight countries from this fall. As for terminals, those made by Sharp and Matsushita will be used for the time being. When we stopped in the Netherlands, it was by chance the time at which this service commenced. We caught sight of lots of people proudly showing this terminal to their acquaintances. Also, i-mode service has already begun in in the Netherlands, Germany, and Belgium, and it will commence in the U.K., too. Good things are accepted everywhere. Even though we're talking about picture mail and i-mode, because the European cell-phones are the GSM system and thus differ with the PDS system of Japan, even if you bring a cell-phone from Japan, it is not a case in which it can be used. When the W-CDMA of third-generation cell-phones spreads, one ought to be able to use a Japanese FOMA terminal as is if one brings it to Europe, but due to the collapse of the IT bubble, plans are being postponed one after another. It is unfortunate, but there is nothing that can be done about the fact that it will now take a little time. Nevertheless, if we bring outstanding technology or services overseas, it will definitely be welcomed locally. Actually, I had come to introduce T-Engine in various regions in Europe; everywhere they covetously showed great interest toward this new, nice thing. Even in the non-home-appliance field, if we send new, good quality technology and products from Japan to the world, they will accept them. I firmly thought that with Japanese IT also we should not quickly bring in some foreign thing or just adhere to something old, but rather we ought to start something new after carefully considering it in our heads and then go on to actively transmit that to the world.
---
The above opinion piece by TRON Project Leader Ken Sakamura appeared on page 1 of Vol. 78 of TRONWARE. It was translated and loaded onto this page with the permission of Personal Media Corporation.
Copyright © 2002 Personal Media Corporation
Copyright © 2002 Sakamura Laboratory, University Museum, University of Tokyo