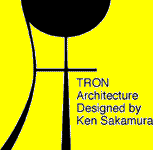 TRON Project Leader's Opinion
Ken Sakamura
Interfaculty Initiative in Information Studies, The University of Tokyo
---
What we call T-Engine is an open platform for creating real-time embedded systems that includes everything from the hardware to the operating system and system software.
ITRON, which we gave birth to in our TRON Project, has become a platform that holds about 60 percent of the world's 16-bit or higher embedded systems in the embedded world; because there was no prescription for a system architecture, standardization that exceeds the chip was not achieved.
On the other hand, in T-Engine, as we have prescribed everything from the hardware to the system architecture, it has come about that it is possible to distribute middleware via recompiling, if one creates middleware in a manner that satisfies the middleware construction profile.
Because this type of open real-time platform for embedded use hasn't existed up to now, we have thankfully received support throughout the world. In June of last year when we established the T-Engine Forum, which is the organization for maintaining and spreading this architecture, there was participation by 22 companies, but in less than a year it has grown to the point where it now exceeds 150 companies. Owing to its feature of transcending the chip, it has come about that at present T-Engine covers more than 80 percent of the embedded 32-bit processors used in the world, ARM, SH, MIPS, M32R, FR-V, and thus it is becoming the next generation open platform. Moreover, recently, world-class cell-phone service provider Vodafone and world-class cell-phone maker Ericsson also decided to participate in the T-Engine Forum.
With their attention on the excellence of this platform, MontaVista Software, Inc., the largest maker of embedded Linux, has come to jointly create with the T-Engine Forum the T-Linux specification as a Linux that observes the T-Engine prescriptions and runs on top of T-Kernel, which is the T-Engine operating system. That implement ion is also progressing at a rapid tempo.
NexWave SAS, a French embedded software maker, has already announced that it will create on top of T-Kernel a profile for distributing middleware called T-Integrator, which is used in Philips information appliances. This has come to the point where they will ship products this June.
As a result of powerful middleware groups from throughout the world being implemented on T-Engine in this manner (looked at from our viewpoint, T-Linux is also middleware), it has come about, furthermore, that the T-Bus configuration also takes on a touch of reality. T-Bus is a mechanism for interprocess communication, which is made up so that even middleware with different structures can exchange data on the basis of interprocess communication. It should come about that the specification will be defined and lots of middleware will be compatible with it by December of this year.
In addition, an SVG 3D vector graphics package that is progressing with KDDI at the center of the effort will also be added to T-Engine middleware, and, furthermore, even a working group for developing by December of this year T-Wireless, a T-Engine platform aimed at cell-phones, has been started with NTT DoCoMo as the managing corporation.
As the T-Engine Forum is attaining rapid growth in this manner, the number of firms participating in the T-Engine Forum may exceed 300 in the current fiscal year. Even in Korea, which I visited quite recently, a U-korea Forum was held as is introduced in the gravure of this issue of TRONWARE, and T-Engine and the TRON Project were introduced as platforms for powerful, next generation ubiquitous computing. Even Samsung Electronics, the largest electronics maker in Korea, has been added to the T-Engine Forum as a managing corporation.
I hope that you will look forward to T-Engine, which is growing out into the world day by day in this manner.
---
The above opinion piece by TRON Project Leader Ken Sakamura appeared on page 1 of Vol. 81 of TRONWARE. It was translated and loaded onto this page with the permission of Personal Media Corporation.
Copyright © 2003 Personal Media Corporation
Copyright © 2003 Sakamura Laboratory, University Museum, University of Tokyo