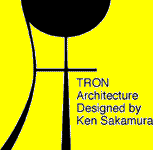 TRON Project Leader's Opinion
Ken Sakamura
Interfaculty Initiative in Information Studies, The University of Tokyo
---
The activities of the T-Engine Forum overseas have become vigorous. In consumer devices, development bases in the embedded field are concentrated in Asia, even if we view things on a worldwide basis. For that reason, we have adopted a strategy that regards the Asian region as the most important.
In October of last year, we established the first development base, T-Engine Application Development Center (TEADEC), in Singapore, by optaining the cooperation of the Economic Dveelopment Board (EDB; a Singapore government economic development agency), Nanyang Technological University (NTU), and Renesas Solutions Asia; and its activities have also gotten up to speed. NTU, for the purpose of technology transfer, has intensively dispatched of talented people to Japan, and thus it has become for them to conduct T-Engine-related training course independently on location. In addition, it has become possible for them to even exhibit independently locally at CommunicAsia 2004, which is the largest IT-related exhibition in East Asia.
As a result of the activities of TAEDEC at CommunicAsia 2004, interest in T-Engine in neighboring Malaysia, Thailand, and Vietnam has rapidly risen. Programs were televised on local television stations, newspaper and magazine reports in the neighboing various countries increased, and the outlook has formed that throughout the coming year T-Engine development centers will be established one after the other in the area surrounding Singapore.
Also, in China, beginning with the establishment of a special course in a joint research laboratory of the Chinese Academy of Sciences and Peking University, there were great results this year, but, furthermore, in July I visited Dalian Software Park in Dalian city in the northeastern part of China, and it came about that T-Engine-related development will begin there. China's leading software firms are concentrated on a huge site at Dalian Software Park, and powerful Japanese firms have also moved in there. Even the city of Dalian itself, in order to deepen friendly relations with Japan, is putting considerable effort into Japanese language education, from primary and middle school and on up to college. Just within the scope of what I have seen, one gets the feeling that Dalian will occupy an important position as a base that will supply quality software even to Japan in the future.
In addition, in Korea, activities, such as the joint developmenmt already under way between the Korea RFID Association and the Ubiquitous ID Center, have become vigorous upon entering the present year; and, furthermore, T-Engine-related education has started, centering on Korean System Programmer (KSP) Association. In a seminar that took place in July, following a special lecture by myself, a description of T-Engine along with lectures on concrete development techniques were conducted by Korean lecturers. They gathered an audience of over 1,000 people; T-Engine is very successful and already lots of development is, in actuality, taking place. At the beginning of this year, Samsung Advanced Institute of Technology was the only Korean firm among the T-Engine Forum members, but afterward, large firms, such as SK Telecom and LG TeleCom have become members one after the other. In Korea also, substantial development projects have begun together with the rise in the degree of familiarity.
In this manner, interest in TRON in the Asian region is very high, and it has made a promising start. As we head into next year, our activities will become further envigorated.
---
The above opinion piece by TRON Project Leader Ken Sakamura appeared on page 1 of Vol. 89 of TRONWARE. It was translated and loaded onto this page with the permission of Personal Media Corporation.
Copyright © 2004 Personal Media Corporation
Copyright © 2004 Sakamura Laboratory, University Museum, University of Tokyo