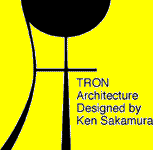 TRON Project Leader's Opinion
Ken Sakamura
Interfaculty Initiative in Information Studies, The University of Tokyo
---
Around 2000, due to the appearance of low-cost, new-type RFIDs and an always-on connection to networks having become common, the general Information and Communication Technology (ICT) environment greatly advanced. By means of this, ubiquitous computing, pervasive computing, and the like took on a reality, and this has become a great topic of discussion worldwide. I pride myself on the fact that our actively carrying out promotions that have been keenly watched through the world over the last several years has also contributed to this state of affairs, but such a state of affairs also has made its round, and plans concerning practicalization are gradually beginning to become the topic of conversation. In addition, an international standard hegemony struggle has also begun to increase in activity.
At present, aiming at a system for practical use, development, from component technologies to system technologies, is moving forward. Even with the Ubiquitous Communicator, something we already developed four years ago at our place and have used variously in experiments--should we say at last?--it has come to a state of affairs in which similar things are gradually starting to appear.
Summarizing things into a short expression is difficult, but what has become clear through repeating experiments is that with ubiquitous computing the range of applications is very broad, and that it can be utilized for various purposes. It's better to perceive of it as a field of systemizing technology, sort of like a robot in which we assemble diverse component technologies, rather than a completed, single-track new technology.
To some Japanese fond of the U.S., as to EPCglobal whose existence is worrisome, to put it briefly, because the objective has been narrowed down to the single one of distribution by Wal-Mart and the like, the frequency has made into only a single UHF 900 MHz band, and it has been adopted by the Department of Defense (DOD), they are making efforts to try to bring in EPC Generation2 as an international standard as ISO 18000-Part6. For attaching to things such as small medicine bottles and for things with a lot of moisture, 900 MHz alone is insufficient, but they have resigned themselves to fate and have narrowed down the uses, and it has ended up specialized. The technology also differs with that around the time of the Auto-ID Center; an advanced nature is not being aimed at, rather it has sunken to the legacy technology of a period ago in which things were established with barcodes and the like. If it exists for extremely limited uses and a large volume demand is brought together, then this is probably one possible approach with this.
However, if we look at the world including Japan, countries in which there exist big, giant users like Wal-Mart and the DOD are rare. For that reason, we are aiming at establishing a ubiquitous computing infrastructure that emphasizes a general purposeness usable in all sorts of applications. Even with RFID chips, we are conceiving things so that it will be possible for one to use various chips in accordance with the use. Both 13.56 MHz and the 2.45 GHz, of course, and the 900 MHz band can also be used, and we will use not just passive, but also active tags. As for reader/writers, we are taking an approach in which we do such things as making them a multi-protocol type that can cope with multiple certified chips.
In order to solve various problems, designing as a total system is important. It's not a matter of everything being finished if we simply paste tags onto things and are able to read them with a high-output reader/writer. Even with EPC-standard tags that can be read in from a comparatively long distance, according to tests, in ordinary circumstances of use, the read-in rate falls to 60 percent, which will not lead to practical use. In order to solve this problem, a system approach in which you create antennas/reader writers in multiple and repeat read-in will probably come to be essential.
Whether we should enter a complete code inside the chip also becomes a point on which judgment turns. With the EPCglobal approach, at present, you completely enter a code prescribed for a particular use in its entirety without modification. In contrast to this, with our approach, we distinguish by entering a ucode, an identification number whose uniqueness is guaranteed, but we have made it a policy not to give any meaning to the number itself. For that reason, in regard to contents, we have made acquiring the identification number via a network connection in a key--we use techniques such as maintaining locally the ones we use often--as the basic operation.
We are placing the greatest importance on large numbers of verification trials. By repeatedly carrying out verification trials, we wash out various problem points of cases where there has been a mass introduction into real society, and we are taking steps to try to carry out the necessary preparations to cope with them. Things that can be done with technology, we do with technology, spots that cannot be covered with technology we cover with operations--hence, we must consolidate the necessary security policy and, furthermore, laws and regulations, too.
The difference of an approach through a promotional organization in this manner is a matter that has become clear. Leaving aside things in a narrow range, which approach will be necessary in creating ubiquitous computing in general throughout the world? Those of us in the Ubiquitous ID Center and the T-Engine Forum, in order to create a desirable future, and for the purpose of further advancing our way of thinking, are taking steps to try to building the future of the ubiquitous computing society by following the plans mentioned here and repeating all-inclusive testing. Through the accumulation of the results of several years up to now, I have arrived at the point where I strong confidence and conviction concerning the realization of ubiquitous infrastructure. I have repeatedly stated that "ubiquitous computing coming into practical use will be 10 years later," but a premonition has also sprouted inside me that it may come forward a little.
---
The above opinion piece by TRON Project Leader Ken Sakamura appeared on page 1 of Vol. 95 of TRONWARE. It was translated and loaded onto this page with the permission of Personal Media Corporation.
Copyright © 2005 Personal Media Corporation
Copyright © 2005 Sakamura Laboratory, University Museum, University of Tokyo