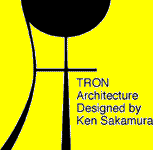 TRON News Items for January 2000
---
Global OS Announces Internet Terminal Emulator Software at CES 2000
Global OS Corporation, the U.S. affiliate of newly founded venture capital firm Sennet Inc., announced BTRON-based Internet terminal emulator software for IBM-PC/AT compatibles at Consumer Electronics Show 2000, which was held in Las Vegas, Nevada, from January 6 through January 9, 2000. The new product, called "Global iOS EMA," is intended to turn difficult-to-use PCs into easy-to-use Internet appliances using a highly integrated client software suite--including an e-mailer and browser--on top of the world's most widely used real-time operating system (µITRON3.0).
Global iOS EMA, which was demonstrated at the Casio booth at CES 2000, runs in a separate partition on a PC, thus allowing the user to continue employing whatever operating systems and data he/she has used to date. Since there are also functions that enable access to data created in other partitions using different operating systems and application software, the user does not have to switch from one system to reference files. The main selling points of Global iOS EMA are its real-time responsiveness, easy-to-use integrated applications, and the largest multilingual character set developed to date.
TCP/IP Development Kit for Embedded Applications
Access Co. Ltd., a Tokyo-based software house famous for developing an HTML3.2-specification browser kernel used in PDAs, has begun marketing "AVE-TCP3.1 SDK" Release 2.0, a TCP/IP development kit for embedded applications that is compatible with µITRON. The TCP/IP development kit is intended for embedding TCP/IP protocols in home appliances and other computerized devices so that network application programs can be developed on top of them. It includes a development environment that provides the AVE-TCP TCP/IP protocol stack for embedded use, a reference board guaranteed for operation, and complete source code. This makes it possible to implement TCP/IP communications in variety of application fields.
B-right/V R2 Application Study Meetings
The marketing of the BTRON3-specification B-right/V R2 operating system with its multilingual character set of 130,000 characters, including an unabridged kanji character set for Japanese, is of great importance for data processing in Japan. As a result, the TRON Association held a series of four study meetings beginning in September 1999 to sound out the opinions of word processor manufacturers, font makers, system developers, and municipal government system administrators concerning multilingual/unabridged kanji character processing.
The majority of the people who attended the B-right/V R2 application study meetings expressed the opinion that the multilingual/unabridged kanji processing capabilities of the B-right/V operating system are essential for writing down Japanese personal and place names. Based on the opinions that were discussed in these study meetings, the TRON Association plans to establish a "Cho Kanji Study Group" (Cho Kanji, or "Ultra Kanji," is the product name of B-right/V R2 in the Japanese market) in an attempt to facilitate the spread of the BTRON3-specification operating system in Japan.
TRON-GUI Specification to Be Made Public in the Spring
The TRON Association has reported that its TRON-GUI Specification Study Group has almost completed its work. The study group has been has been conducting investigations into the standardization of application programming interfaces (APIs) for the graphical user interface (GUI) functions of embedded devices. The TRON Association said the study group is currently working on the final revisions to its specification, Version 1.0 of the TRON-GUI Specification, which is scheduled for completion by the spring of 2000. When the specification is completed, it will be made open to the general public so that anyone can freely implement and market products based on it.
Joint Development of µITRON with U.S. Firm
GrapeSystems Inc., a Yokohama-based developer of middleware for embedded use, announced that it has jointly developed with Accelerated Technology Inc. of the U.S. a royalty-free, µITRON4.0-specification real-time operating system called "NucleusµiPlus." The new real-time operating system supports almost all CPUs on the market and is provided with full source code. In addition, an integrated development environment, source level debugging, and middleware components have been prepared for interested developers. Industry observers believe that NucleusµiPlus will stimulate the use of µITRON in the U.S. and European embedded systems markets.
Electronic Bible Project Using B-right/V R2
It is a well known fact that the latest version of the BTRON3-specification operating system, B-right/V R2, includes ancient characters for writing the Sanskrit language. These characters were included so that Buddhist texts, which are part of Japan's cultural history, could be electronically archived. However, recently it has come to light that a Christian group--Shonan Life Town Christ Church in Fujisawa City, Kanagawa Prefecture--is using B-right/V R2's unabridged kanji character set to input an old version of the Bible, which was translated and written in bungo (literary Japanese). A sample of their project can be downloaded from here.
---