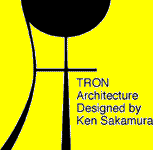 TRON News Items for February 2000
---
Personal Media Announces Site License Version of B-right/V R2
Personal Media Corporation announced in February a "site license version" of its B-right/V R2 operating system for use in companies and other organizations that does not include manuals and installation media. The cost is 203,000 yen for the first 21 licenses (this includes the cost of one ordinary version of B-right/V R2 with manuals and installation media, plus 20 site license versions), and 188,000 yen for each additional 20 licenses. According to the provisions of the agreement, the site license versions have to be used at the same site under the same same manager, Personal Media said. For further information, please contact Personal Media's Sales Department.
Personal Media Begins Demonstrating B-right/V R2 at Computer Shops
In order to further stimulate sales of its B-right/V R2 operating system, Personal Media Corporation has launched a demonstration campaign at two popular personal computer retail outlets in the Tokyo area. Special marketing teams will be demonstrating B-right/V R2 and its bundled application software at LaOX's The Computer Kan in the Akihabara electronics district of Tokyo four times between February 25 and March 26, and at Yodobashi Camera's Multimedia Station next to Shinjuku Station on the other side of Tokyo 10 times between February 25 and April 1. For a list of dates and times when the demonstration teams will be present, please click here.
B-right/V R2 Developer Page Updated
Everyone knows that a personal computer operating system needs lots of software written for it if it is to survive. The reason that GNU/Linux is not only surviving but thriving is that lots of unpaid developers have written and continue to write freeware for the platform. Developers in Japan have now begun to do the same outstanding service for the B-right/V R2 operating system. In a recent update of its B-right/V R2 developer page, Personal Media added a link to a Japanese developer's site (click here) from which they can download "WACOM tablet Quasi-driver - Welsstikra - Version 1.010," in addition to a screen saver, puzzle game, and clock panel. In order to get its free development environment into the hands of Japanese developers, Personal Media attached a CD-ROM copy of it to each issue of Vol. 61 of TRONWARE.
ITRON Introduced at the OSEK/VDX 3rd International Workshop
The ITRON subproject was recently introduced by Prof. Hiroaki Takada, a professor at Toyohashi University of Technology and the leader of the ITRON subproject, at the OSEK/VDX 3rd International Workshop, which was held in the suburbs of Frankfurt, Germany, on February 2 and 3. Since the OSEK/VDX project, which aims at creating a standardized operating system and communications protocols for automotive control systems, is an open project along the lines of the TRON Project, Prof. Takada proposed jointly standardizing debugging specifications in both projects. It is hoped that both projects will benefit from the existence of the other.
µITRON-Compatible Software
A.I. Corporation, a Tokyo-based marketer of embedded software products, has begun providing middleware and a development environment for the µITRON-specification real-time operating system. The operating system/middleware includes Java VM for embedded use, the Bluetooth protocol stack, a PC-compatible filing system, the Flash filing system, and CompactFlash/MMC drivers. The development environment includes a compiler/debugger, a real-time monitoring tool, tools to aid raising software quality, and SDL-compatible CASE tools.
University of Tokyo University Museum Web Site Updated
The University of Tokyo's University Museum Web site has been updated and greatly improved. Under the title "Digital Museum 2000," the updated Web site describes the contents of both real (physical) museum and the Digital Museum. The real museum will be exhibiting artifacts from the Jomon period of Japanese history, which lasted from 200 B.C. to 8 A.D., from March 1 to April 28, 2000. There is no entrance charge for admission, which is from 10 a.m. to 4:30 p.m. (The real museum is closed on Mondays.) The Digital Museum and its newly developed technologies are described in both Japanese and English here. These technologies are:
---