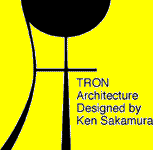 TRON News Items for March 2000
---
US Firm Carries out ITRON PR Activities at ESC Spring
US Software Corporation, a U.S.-based member of the ITRON Committee, distributed ITRON-related materials at the Embedded Systems Conference Spring (ESC Spring), which was held in Chicago, Illinois, from February 28 through March 2, 2000. During the conference, the firm also helped convene a committee meeting at the Hyatt Regency McCormick Place near the conference site to make preparations for the establishment of a North American chapter of the ITRON Committee.
This was the second time that US Software distributed ITRON-related materials at an overseas embedded systems conference. Its previously helped to publicize the TRON Project at Embedded System 2000, which was held in Nuremburg, Germany, from February 16 through 18, 2000. US Software also proudly displays the ITRON branding mark on its Web site, which is something very few Japanese members of the ITRON Committee do.
TRON EnableWare Study Group Holds 13th Regular Meeting
The TRON Project plays a leading role in Japan in organizing efforts to help the disabled with computers and computer-related technologies. In the TRON Project, such technologies are referred to as EnableWare, and regular meetings are held annually to discuss them. Under the theme of "Autism and the Role of Information Networks," the 13th Regular Meeting of the TRON EnableWare Study Group was held on March 11, 2000, at Gate City Ohsaki, which is located in the southern part of Tokyo next to JR Osaki Station. The meeting began with reports from invited guest speakers, doctors and instructors from schools for the handicapped, on cyber conferencing and network utilization. This was followed by a discussion session in which members of the 100 plus audience took part.
Ultra Small ITRON-Specification Control Computer Series
Japan Mini Computer System Co. has begun marketing the MINICOM-FD2 Series of ultra small, highly functional computers that are compatible with the Internet and Ethernet (10Base-T). MINICOM-FD2 Series computers are based on Hitachi MPUs (SH3, SH4, H8), and they comes loaded with a µITRON3.0-specification RTOS. They can be used for constructing stand alone distributed processing systems, and they can also be used to develop Internet/Ethernet-compatible devices by embedding them in various types of equipment.
Personal Media Distributes Software for Vertical Character Display
As a result of popular demand from B-right/V R2 users, Personal Media Corporation has distributed software for vertically displaying character output, which is used when writing the Japanese language in traditional style. The company distributed the software on a CD-ROM attached to Vol. 62 of TRONWARE, its bimonthly publication for BTRON users and TRON Project enthusiasts. Also on the CD-ROM are: the latest version of the cross development environment for B-right/V R2, and a series of 26 article on BTRON programming secrets that has been carried in TRONWARE since Vol. 34.
Schedule Set for 17th TRON Project Symposium and TRONSHOW 2001
The TRON Association announced that the 17th TRON Project Symposium and TRONSHOW 2001 will be held from Thursday, December 7 through Saturday, December 9, 2000, at Gate City Ohsaki next to JR Osaki Station in Tokyo. The symposium and show will cover topics such as embedded systems, multilingual computing environments, and graphical users interfaces for information appliances. In addition, the TRON Electronic Prosthetics Symposium (TEPS) 2001, will be held on Saturday, December 9, 2001. The admission charge for the symposium and the show will be 1,000 yen. The association said it expects attendance to reach a total of approximately 20,000 persons, which would put it on a par with similar events held overseas.
---