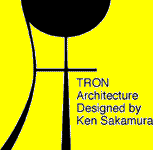 TRON News Items for June 2000
---
Personal Media Releases Sound Card Driver
Personal Media Corporation released for downloading on June 23 a sound card driver for its B-right/V R2 operating system that makes it possible to record and play back WAVE format PCM data. The new driver software, which is compatible with Creative Technology Ltd.'s "Sound Balster 16" and "Sound Blaster Pro" sound cards used in IBM-PC/AT compatibles, samples at 8, 11.025, 16, 22.05, and 44.01 KHz. However, it does not support the ADPCM data format, a volume function, or MIDI functions. For instructions on how to download the new sound card driver, click here. Please be aware that the instructions are in Japanese.
Personal Media also announced that its forthcoming upgrade to its 32-bit B-right/V R2 operating system, which will be called Cho Kanji 2 in the Japanese market, will capable of supporting two Hewlett-Packard printers, the HP DeskJet 970Cxi and 955C. These two printer models are low-cost, high-resolution color ink jet printers for personal use. In addition, the new operating system upgrade will include software that will allow it to interface with WACOM Co. Ltd.'s FAVO tablet, which is a small tablet about the size of a mouse pad with a batteryless mouse and pen that is used for inputting handwriting and graphic data into computer documents.
Firmware Systems Announces µITRON OS for ARM Processor
According to Vol. 63 of TRONWARE, Firmware Systems Inc., an Osaka-based real-time operating system (RTOS) developer, has developed a new µITRON3.0-specification operating system for Intel Corporation's StrongARM SA-1100 microprocessor. The new RTOS, ExRon-SA, is a multitask operating system with system calls optimized for portable information appliance applications. In addition, the company offers a product called "Task Tracer," which allows engineers to visually monitor operations on the target system. Firmware Systems also markets versions of its ExRon RTOS for the ARM7TDMI and ARM9TDMI microprocessors.
The µITRON3.0-specification operating system is widely used on microprocessors developed in accordance with the ARM microprocessor architecture. On the "ARM Operating Systems" page of the ARM Web site, the ITRON branding mark appears seven times. This indicates that the RTOSs in question are either µITRON compatible or fully based on the µITRON specification. Moreover, Aplix Corporation's JTRON (Java on ITRON) operating system, JBlend, is also listed there, although the ITRON logo does not appear next to it. This phenomenon in which many companies develop competing products based on the same architecture is exactly what the TRON Project set out to create.
---