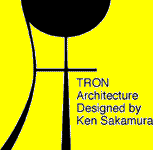 TRON News Items for August 2000
---
National Semiconductor Selects BTRON for Information Appliance
National Semiconductor Corporation surprised the Japanese high-tech press when it announced on August 30 that it is developing an Internet appliance using Personal Media Corporation's BTRON3-specification operating system B-right/V R2.5, which is called "Cho Kanji 2" in the Japanese market. The announcement was made by Mr. Brian Halla, the firm's chairman who was speaking at a company seminar on Internet appliances held in the Hotel New Otani in Tokyo. Mr. Halla believes the age of complicated PCs based on larger and larger operating systems and faster and faster microprocessors is drawing to a close, and he is positioning his company to take advantage of what he believes will be the new wave--low-cost, low-powered wireless Internet appliances.
The new BTRON-based Internet appliance is called "WebPAD." WebPAD is actually a "reference design" for OEM producers that has been tested with various other operating systems, such as WindowsCE, Linux, BeIA, and QNX. However, in the Japanese market where unlimited kanji [Chinese character] processing is an extremely advantageous feature, the compact BTRON3-specification operating system that can process more characters than any other operating system in the world is something that cannot be ignored. This is particularly the case when considering Japanese corporate and government markets, where workers have to input and process large lists of names and addresses. Although the BTRON-based version of WebPAD will not hit the Japanese market for another six to 12 months, it is expected to sell fairly well, since package sales of B-right/V get stronger with each new release.
As far as hardware is concerned, WebPAD is a notebook-size device with an 11-inch, 800 x 600-dot, color flat panel DSTN touch screen. It weighs approximately three pounds, and it can be used both from a special stand or in the user's hands within 500 feet of a base station with transceiver functions. WebPAD is built around National Semiconductor's low-powered, Intel-compatible microprocessor "Geode GX1." In addition to an x86-compatible core, the chip is loaded with a 2D graphics controller and a display controller. Power consumption averages between 0.8 and 1.2 watts, which is very low, thus making the Geode GX1 suitable for portable applications like personal digital assistants. In particular, it does not require a cooling fan of the type used in desktop personal computers. The Geode GX1 is produced with four different clock speeds: 200MHz, 233MHz, 266MHz, and 300MHz.
For further reference:
National Semiconductor's English language press release is here. A picture of TRON Project Leader Ken Sakamura, who gave a keynote speech at the National Semiconductor seminar, with Mr. Brian Halla is here. National Semiconductor's Web page on Information appliances is here.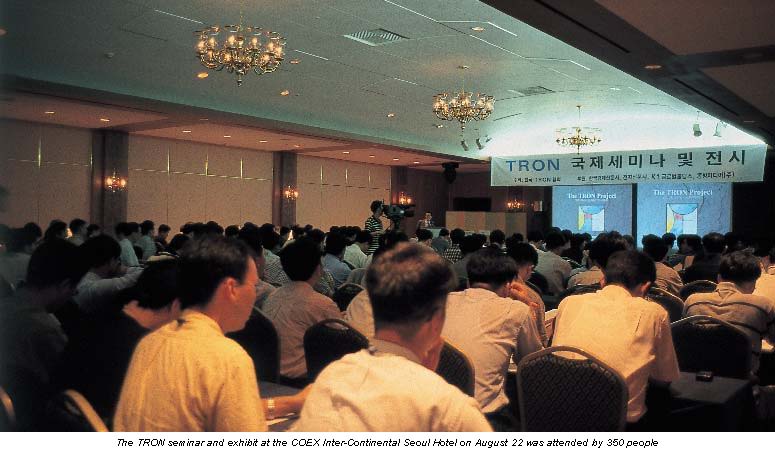 TRON Project Seminar Held in Seoul, Korea
The TRON Association cooperated with the soon-to-be Korea TRON Association in the holding of an international seminar on the TRON Project in Seoul, Korea, on Tuesday, August 22, at the COEX Inter-Continental Seoul Hotel. Officially titled "Embedded OS TRON International Seminar," the seminar drew 350 interested attendees who listened to TRON Project Leader Ken Sakamura and the leaders of various TRON technical committees explain the TRON Architecture and implementations based on it. The seminar program was as follows:
9:20 a.m. to 10:10 a.m.

"TRON Project Outline"

Ken Sakamura, University of Tokyo

10:10 a.m. to 10:50 a.m.

"The Current State of Japanese Embedded Systems and ITRON"

Kiichiro Tamaru, Toshiba Corporation

11:00 a.m. to 11:40 a.m.

"A Representative Example of the Application of TRON: The Trend in Car Electronics at Toyota Motors"

Toshiaki Isobe, Toyota Motor Corporation

11:40 a.m. to 12:10 p.m.

"The ITRON-Specification Kernel and related Matters"

Hiroaki Takada, Toyohashi University of Technology

1:10 p.m. to 1:40 p.m.

"JTRON and Application Examples"

Shouichi Hachiya, Aplix Corporation

1:40 p.m. to 2:10 p.m.

"BTRON and Cho Kanji"

Akira Matsui, Personal Media Corporation

2:20 p.m. to 2:40 p.m.

"The TRON-GUI Specification"

Akira Matsui, Personal Media Corporation

2:40 p.m. to 3:40 p.m.

"An Introduction to ITRON-Related Products"

Katsuhiko Ishida, Hitachi, Ltd.

Hiroyuki Muraki, Semiconductor Group, Mitsubishi Electric Corporation

Kenji Kudou, Fujitsu Devices Inc.

3:50 p.m. to 4:10 p.m.

"JCG Project"

Akira Matsui, Personal Media Corporation

4:10 p.m. to 4:40 p.m.
"General Questions and Answers"
Since large numbers of TRON-based products are currently on the market, the seminar included a mini exhibition to show the attendees that the TRON Project actually delivers on what it says it will do. Among these was the BTRON3-specification operating system with its superb Chinese character processing capability. This is expected to appeal to Korean organizations that have to digitally archive large numbers of cultural materials written in Classical Chinese. An added benefit of employing BTRON for such purposes is that it would allow Korean cultural researchers to access related materials in neighboring countries.
Korean TRON Association to Be Established Next Month
The second overseas TRON Association, which has been tentatively named the "Korea TRON Association," is scheduled to be established in Seoul, Korea, some time in the month of September. Unlike the TRON Association in Japan, which actively oversees the drawing up of the specifications that comprise the TRON Architecture, the new organization in Seoul will mainly be in charge of spreading the TRON Architecture in Korea and verifying compliance of Korean-made products to TRON standards. Based on the experience of the TRON Association established in Shanghai, China, it can be expected that the Korea TRON Association will first put considerable effort into translating technical materials into Korean to allow Korean engineers to familiarize themselves with the TRON Architecture.
Mr. Pak Yong-jong, the former president of the economics daily Hanguk Kyongje Shinmun, has been selected as the new chairman of the Korea TRON Association. According to the pamphlet handed out at the TRON Project seminar held in Seoul, the organization's address and telephone and facsimile numbers are as follows:
Paeksang Bldg., Main Bldg. 10F

197-28 Kwanhun-dong, Chongno-ku

Seoul 110-718 Korea

Tel.: 02-724-7500 (representative); 02-723-3855

FAX: 02-723-0830
Tanomi.com Offering TRON Keyboard to 200 Buyers
Tanomi.com, a Japanese Web site that sells prospective buyers things that are not available elsewhere, is offering a limited edition of the TRON Keyboard if 200 buyers sign up for it. As of this writing, 108 people have placed orders for the ergonomic keyboard, so if only another 92 orders ar secured, then the TRON-specification keyboard, which is no longer on the market, will be manufactured by K.K. Murakami and K.K. Elcom. The price of this keyboard, which goes by the designation of Sukerutoron ST-2000, is steep--115,000 yen (consumption tax not included) plus 1,550 yen for shipping and handling. Moreover, it does not have a digitizing tablet, although WACOM's Favo can be connected to it. In addition, it will take four months to manufacture the 200 keyboards once the 200 orders have been secured. If anything, the people signing up for this pricey hardware are proving that there is surging interest in the BTRON-specification computer architecture in Japan.
---