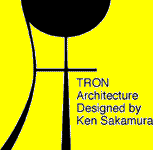 TRON News Items for September 2000
---
ITRON Committee Holds ITRON International Meeting in U.S.
The ITRON Committee of the TRON Association held an "ITRON International Meeting" on September 27 at the Hyatt Sainte Claire Hotel in San Jose, California. The ITRON meeting was held to coincide with the Embedded Systems Conference that took place across from the hotel in the San Jose McEnery Convention Center from September 25 through 28.
The program for the international meeting was as follows:
Meeting Program
1:00 p.m. - 1:15 p.m.

Opening and Introduction of the Meeting

Kiichiro Tamaru

1:15 p.m. - 1:30 p.m.

Recent Activities in the ITRON Project

Hiroaki Takada

1:45 p.m. - 2:00 p.m.

Recent Activities of JTRON

Shouichi Hachiya

2:00 p.m. - 2:15 p.m.

North America Chapter Presentation

Donald Dunstan

2:15 p.m. - 2:30 p.m.
Dynamic Compilation for Java Embedded Systems Dr.Vania Joloboff, Open Group
2:30 p.m. - 3:00 p.m.

Introduction to the µITRON 4.0 Specification

Nicholas Witchey

3:00 p.m. - 3:30 p.m.
"JTRON on JavaChip"
Haruyasu Itoh, Fujitsu Ltd.
"The Need for Robustness in Java-Centric Internet Computing Devices"
Eric Anderson, Director of Field Engineering, Insignia Solutions, Inc.
"TBD"
Shouichi Hachiya, Aplix Corporation
In order to introduce and promote the use of ITRON-specification real-time operating systems and related technologies in the U.S. and Canada, the TRON Association has been holding these meetings annually since 1997. The response so far has been good, and, as a result, some U.S. software firms are now offering ITRON-specification kernels to application developers.
For further details, please go to the ITRON Web site at http://www.itron.gr.jp/.
New Committee to Promote Application of B-right/V R2.5
The TRON Association is preparing to establish a special committee to promote the application of the B-right/V R2.5 operating system's unlimited kanji [Chinese character] processing capabilities to information processing tasks inside Japan. This new committee will be called "Cho Kanji Ooyoo Bukai," which translates directly from Japanese as the "Cho Kanji Application Sectional Meeting." It will even have a demonstration system waiting for it to show off--a system that will enable local government bodies to exchange information written with user defined characters.
This newly developed demonstration system will be able to process user defined characters in data exchanges as a result of the fact that TRON Code--the framework into which character sets decided by other organizations are loaded--can handle up to 1.5 million characters in its present implementation. Accordingly, even the user defined characters employed on various makers' computers systems in use throughout Japan can be registered and processed. Once the new demonstration system has undergone testing to validate its capabilities, an investigation into the fields to which it can be applied will be conducted, the TRON Association said.
Elmic Systems' "ELX-ITRON" Approved by TRON Association
Elmic Systems Inc., a Yokohama-based software house, announced that its µITRON3.0-based, real-time, multitask monitor for embedded systems use, "ELX-ITRON," has been approved as ITRON-compliant by the TRON Association. ELX-ITRON, which is used for monitoring activities taking place within a computer system, is characterized by very low overhead, a result of the fact that it carries out monitoring activities inside system call functions.
The system calls themselves are collected together in a special library, and monitor processing on the system side has been kept to a minimum. Only what needs to be processed on the system side has been linked to the system side. Moreover, with ELX-ITRON, it is possible to specify whether or not to check the parameters of system call functions. When parameter checking is not specified, overhead and memory can be cut on the order of 10 percent.
ELX-ITRON also includes extended functions, such as a "mutex" function and an input/output driver management function. Mutex, which stands for "mutually exclusive," performs a "locking function" inside a computer system, where its locks and unlocks objects that can be shared in order to prevent processing conflicts within the system. In addition to these, ELX-ITRON is also equipped with a system task that makes it possible to reference the system's status while the system is in operation.
TRON Human Interface Design Guidelines Officially Adopted by IEC
Standardizing the human interfaces of computerized equipment is an absolutely essential step along the path to creating a computerized environment that can be employed at the societal level. Since the TRON Architecture is intended for computerizing human society, standardizing human interfaces has long been one of the major goals of the TRON Project, and the TRON Project long ago published its own guidelines for this purpose. They were published in 1993 in English under the title TRON Human Interface Specifications by the TRON Association.
Now, seven years later, these human interface specifications have finally made their way to an international standards body, where they are making themselves felt. The International Electrotechnical Commission (IEC) has used the TRON human interface guidelines as a reference for the drafting of guidelines in PT61997 of IEC/TC100 (TC 100: Audio, video, and multimedia systems and equipment). The title of PT61997 is "Guidelines for the user interface in multimedia equipment for general purpose use." These guidelines were proposed by the Japanese National Committee of the IEC, and they are non-standard. Their main purpose is to provide small manufacturers that lack ergonomic professionals with a reference point at the basic concept stage of multimedia product development.
According to the TRON Association, the draft of PT61997 was voted on through a Committee Draft for Voting (CDV) and adopted without incident on August 15. Within this year, this draft will be officially released to the various National Committees for comments.
A Guide to Microelectronics in the 21st Century
The TRON Association will hold a seminar on developments in the field of microelectronics that are expected to occur in the 21st century. The seminar, titled "21st Century Microelectronics Seminar," will be held on November 28 at Gate City Hall (the small triangular pink building at the bottom of the map here) next to the JR Osaki Station in Tokyo. This JR station lies along the Yamanote line in the southern part of Tokyo.
The seminar will include an overview by TRON Project Leader Ken Sakamura, plus presentations by researchers from various domestic semiconductor manufacturers. Since the world of personal computing is moving away from desktop personal computers and toward wireless Internet appliances, it is expected that new types of chips will be developed to power them.
A recent article in the Asahi Evening News stated that the Japanese government, industry, and academic researchers will soon launch a 100 billion yen, five year research and development project aimed at creating new technologies required for advanced semiconductor applications. The semiconductors of the future will have to cram more functionality into less space while consuming less electricity.
---