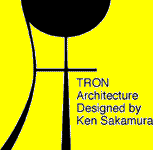 TRON News Items for April 2001
---
New Software for Uploading BTRON Content Data to Web Servers
Personal Media Corporation announced on April 26 that it will begin marketing on May 30 a new software application that will allow B-right/V R3 [Cho Kanji 3] end users to create HTML-based Web pages with their system text and graphics editors and upload them via ftp [file transfer protocol] transfer to existing Web servers. Based on the previously announced "Cho Kanji 3 Uebu saaba," "Cho Kanji Uebu Konbaata" [Cho Kanji 3 Web converter] will be directly marketed to consumers at a price of 10,000 yen (consumption tax not included).
The main advantages of the new software application are: (1) it allows BTRON users without any knowledge of HyperText Markup Language (HTML) to create Web contents with system standard software tools, and (2) it allows BTRON users to employ all the characters of the vast BTRON character set--170,000 at present--in their Web page contents. Characters that do not exist on a viewer's computer system are automatically converted into graphic images, thus providing seamless viewing for all Web surfers no matter what their operating system or browser. The specification for the new software application is as follows:
Compatible OS
B-right/V R3 (Cho Kanji 3 or higher)
Items that Can Be Set
Character code specifications of the conversion location
Conversion method for characters outside the specified character code range
Provider information of the transfer location
Objects for Conversion and Transmission
Text real objects (URL, TAD, HTML)
Figure (graphic) real objects
Real objects subject to downloading
Conversion Method for Characters Outside the Viewer's Character Code Range
Graphic image in which a character font is expanded
Text format TRON Code (&Txxyyyy;)
Control Codes and Fusen that Can Be Converted into HTML
Line, paragraph change; page change; fusen for specifying character color; fusen for specifying line alignment; fusen for specifying character alignment; fusen for specifying character embellishments
Embedded Figure and Figure Real Object Conversion Method
Graphic image in which a TAD figure or graphic segment is expanded
Virtual Object Conversion Method
Real object name character string + anchor tag
Virtual object graphic image (clickable map) + anchor tag
Compatibility possible also with opened virtual object
Graphic Data Format Generated
An image of BTRON-created multilingual contents viewed through Microsoft Corporation's Internet Explorer can be seen here. An on-line ordering form can be downloaded here, and inquiries can be directed here. Please keep in mind that Cho Kanji Uebu Konbaata is a Japanese language product.
Personal Media Announces B-right/V R3.010 System Patches
Personal Media Corporation announced on April 26 that it would began a B-right/V R3.010 system patch file download service on April 27. Among other things, the system patches allow high-resolution, multicolor display with the Intel 810/815 graphic chips, refresh rate changes with graphic cards based on VESA BIOS 3.0, and main memory to be utilized as a screen buffer in order to improve scrolling speed. In addition, network functionality has been improved through support of the Intel EtherExpress Pro/100/100+, DEC21140-compatible chips, and RealTek RTL8139-equipped network adapters; and peripheral functionality has been improved through support of Hagiwara Sys-Com Co.'s USB-compatible card readers. Personal Media has prepared a disk for confirming whether a computer system is compatible with the new system patches. For further information, please see the related Web page on the company's Cho Kanji Web site (here).
Rumors about Next BTRON Version Hit the Web
Although the latest version of the BTRON3-specification operating system--B-right/V R3 [Cho Kanji 3]--has only recently gone on sale, rumors are already flying about the next version that is likely to be put on the market prior to the next annual TRON Show at the end of the current calendar year. According to a message posted by "1B User" on BTRON.com, who assures us he has a knowledgeable friend who is an insider at Personal Media Corporation, the new version of the operating system, Cho Kanji 4, will sport the following improvements.
The input method engine (IME) will upgraded to VACS Corporation's VJE Delta 4.0
The BTRON basic e-mailer will be upgraded to multi-kanji capability
The Mozilla port currently under way may or may not be finished in time for the release
There will be a new function to allow for customization of the pointer
The impermissible line breaks [kinsoku shori] function of the word processor will be improved
The file transfer function will support TIF format images (for digital cameras)
The ITRON kernel will change to µITRON4.0-specification TOPPERS
Aplix Corporation's widely used JavaVM will be implemented on B-right/V after the number of users hits 300,000
Some of these rumors, such as the fact that the µITRON kernel will be upgraded from µITRON3.0 to µITRON4.0, are totally believable. That's because common sense dictates they are bound to happen. Others, such as the fact that widely used Mozilla browser is being ported to B-right/V, have never been mentioned in public. However, if the entire list is correct, then it shows that far from remaining a "minor operating system" on the fringes of computerdom, B-right/V is slowly developing the technological base that will allow it to successfully move into a multitude of niche markets.
TRON Association Cooperates in Holding of ESS 2001 LSI Solution Fair
The TRON Association cooperated with the Japan Electronics & Information Technology Industries Association (JEITA) in the holding of "ESS 2001 System LSI Solution Fair," an embedded systems technology exhibition that was held at Tokyo Big Site from April 18 through April 20. In addition, the TRON Association also set up an exhibit booth and presented lectures. The lecturers were: TRON Project Leader Prof. Ken Sakamura of the University of Tokyo, who gave a lecture titled "The Latest Trends in the TRON Project" in a special session (April 19); and Mr. Kenji Kudo of Fujitsu Devices Inc., chairman of the ITRON Committee, who gave a lecture titled "The Latest Circumstances of the ITRON Project" in a technical session (April 19).
JEITA is a new non-profit organization that was established on November 1, 2000, to promote the the development of the Japanese electronics and information technology industries. It was formed through the merger of the Japan Electronic Industry Development Association (JEIDA) and the Electronic Industries Association of Japan (EIAJ), both of which were involved in promoting the development of the TRON Architecture and technologies based on it. For those who are interested in finding out more about JEITA and its activities, please go to the organization's home page (http://www.jeita.or.jp/), where information is available in both Japanese and English. As of this writing, English-language information is under construction on many of the Web site's pages.
Draft of µITRON4.0 Certification Specification Completed
The TRON Association has announced that the µITRON4.0 Certification Specification (Draft) has been completed and will be made public via the "ITRON Project Home Page." The µITRON4.0 Certification Specification (Draft) is a collection of test items and rules for test procedures to be used to confirm the fact that an implementation of the real-time operating system specification is compatible with either the standard profile or the automotive control profile of the µITRON4.0 Specification. The Association stressed that "the certification specification is to the last minimum test specification rules for confirming specification conformity; it is not something aimed at guaranteeing the quality of kernels."
The certification system was introduced to raise software portability, which is a major barrier that must be overcome before the ITRON specification can gain widespread international acceptance. The TRON Association is currently considering various methods for putting the certification system into effect. The method most likely to be employed would be one based on reports submitted from the developers themselves, who would conduct the specified tests and certify the compliance of their kernels on their own. As long as there is an easy way for potential customers to verify the claims of developers, such as a publicly available test suite, this system would be highly economical.
BTRON Development Saved the Company: PMC's Akira Matsui
Personal Media Corporation's Akira Matsui appeared in a "CNET Japan Newsmakers" interview (click here for the Japanese language interview) in April in which he discussed the past, present, and future of the BTRON-specification operating system. He said he believes there are rough 200,000 to 300,000 BTRON users in Japan at present, and that Personal Media is following a development strategy that will allow BTRON to coexist and interact with existing systems, such as Microsoft Corporation's MS Windows and Oracle Corporation's Oracle database software. Most surprisingly, looking back at how poorly many Japanese software companies fared in the MS Windows software world, he said, "Actually, if we had done Windows application development, I think it's doubtful whether we would even exist today."
For those who do not know the history of the TRON Project, in the late 1980s the Japanese government decided against helping the TRON Project, both to prevent trade friction with the U.S. and to enable Japanese hardware makers to penetrate foreign markets. There was a price for this policy, however, and that was considerable damage done to the Japanese software industry. Moreover, trade friction with the U.S. continues to this day. Most ironic of all, even the U.S. government eventually came to the realization that there is no such thing as free and fair competition on the proprietary MS Windows platform, which is why the U.S. Department of Justice took Microsoft Corporation to court in a major antitrust case that will probably redefine competition in the software industry.
---