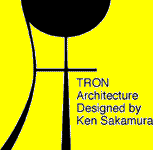 TRON News Items for June 2001
---
TRON Project Leader Explains eTRON Subarchitecture
TRON Project Leader Ken Sakamura explained the TRON Project's newest subarchitecture at the 13th Ordinary General Meeting of the TRON Association on May 31. The new subarchitecture, called "eTRON," is a combination of hardware and software standards to enable the safe processing of electronic transactions across networks, including open networks such as the Internet. The main goal of the eTRON subarchitecture is the transfer of "electronic entities" with properties similar to those of paper documents heretofore used in commercial and government transactions from one place to another. The eTRON subarchitecture is supported by specialized hardware in the form of the eTRON secure data chip, which was demonstrated in a non-contact IC card that was used to access information kiosks that were installed at the last TRON show held in December 2000.
The basic concepts of the eTRON Architecture are: (1) to develop tamper-proof eTRON devices (various forms are possible, such as a non-contact card alone or an embedded in T-Engine compatible device; for servers, this can be realized with a tamper-proof security box); (2) to support all sorts of networks (e.g., the Internet and cell-phone networks, plus proximity communications such as ISO14443 type C); and (3) to design the basic parts together with a distribution interface system (e.g., sales, issuing, distribution, server system groups for authentication, and on location service packages). This total design approach allows various companies to support different parts of the infrastructure. Semiconductor makers and board makers can create various T-Engine boards and daughter boards, software houses can create T-Kernels and various middleware, development environment makers can create development tools and debuggers for T-Engine, and system makers can create systems in which T-Engine is embedded
T-Engine is a business-card-size CPU board plus various daughter boards and a development base board based on a standardized specification for physical base shape and CPU board I/O connectors that also supports the eTRON chip. T-Engine uses T-Kernel, µITRON-based real-time operating system, which along with the development environment absorbs CPU differences. T-Engine also includes T-Monitor, which is loaded into and runs from the T-Engine flash memory. T-Monitor has a boot function, interactive debug monitor function (memory, register operations, etc.), and system service functions with standardized specifications. The T-Engine development environment has a standardized object format and debugging interfaces. In addition, device driver interface specifications are defined for the T-Engine CPU board and various daughter board devices, which makes possible the development and distribution of new device drivers.
The eTRON subarchitecture is intended for a wide variety of applications, both in business and government. These include: electronic ticketing; an electronic depository card or mileage point card; electronic money; a personal secure data carrier device for electronic government (resident's ledger, insurance certificate, driver's license, etc.); various certificates (membership certificate, etc.); electronic receipts, exchange certificates, etc.; micropayments based on an electronic library card, an electronic CD card, etc.; electronic documents (security management functions [secret preservation, distribution limitations, etc.], an electronic seal function [counterfeit, forgery prevention; approval guarantee, etc.]); and mobile virtual private network (VPN).
Cho Kanji 3 Version for Mac Users Announced by Personal Media
Personal Media Corporation announced on June 21 that it will begin marketing on June 29 a new version of its BTRON3-specification Cho Kanji 3 operating system that has been specially modified to run in emulation on Apple Computer Inc.'s Macintosh operating system series (for a screen shot click here). The new software package, called "Mac-de Cho Kanji," was developed by combining the Cho Kanji 3 [B-right/V R3] operating system with Connectix Corporation's "Virutal PC 4" IBM-PC/AT-compatible hardware emulation software, which is marketed by Media Vision in Japan as "Virtual PC Nihongo-ban with Windows 2000." In order to combine the two products, the network function on the Cho Kanji 3 side had to modified to make it compatible with the network function provided in Virtual PC 4, Personal Media said.
Mac-de Cho Kanji will be directly marketed by Personal Media in two forms: (1) as a software package that will be sold for 29,800 yen (consumption tax not included), and (2) as preinstalled software in a Mac PowerBook G4 that will be sold for 338,000 yen (consumption tax not included) during a special direct sales campaign that will run between June 29 and August 31. Information on ordering can be found on Personal Media Web site (click here). Personal Media advises potential users to read the following information on operating requirements and limitations on usage prior to placing an order.
| | |
| --- | --- |
| Compatible models | Macintosh series computers equipped with G3 and G4 processors |
| Compatible OSs | Mac OS 8.5, 8.5.1, 8.6, 9, 9.1 |
| Required DRAM | 32 MB or more (48 MB or more recommended) |
| Empty HDD space | 480 MB or more (660 MB or more recommended) |
| Peripherals | Keyboard (Japanese or English), mouse (one-button or two-button), internal CD-ROM |
Overall limitations

Cannot utilize functions not emulated by Virtual PC 4.0
No guarantee all functions emulated by Virtual PC 4.0 can be used

Peripherals

Can only utilize printer connected to a network, not via serial port, parallel port, or USB; can print Cho Kanji 3 window with Mac window print function
Not compatible with devices connected via serial or parallel ports
Not compatible with devices connected via USB, except for keyboard, mouse, and floppy disk drive
Cannot be utilized with IBM-PC/AT-compatible keyboard
Not compatible with built-in PC card adapter
Not compatible with built-in modem

Data exchange

Can exchange small amounts of data between Cho Kanji 3 and MacOS using MS-DOS file formats on standard 1.4 MB floppy disks
Can exchange larger amounts of data between Cho Kanji 3 and MacOS using MS-DOS file formats via an ftp server on a LAN
Personal Media said its sales target for Mac-de Cho Kanji is 10,000 copies in the first year. The company believes the new product will be especially appealing to Mac-savvy publishers and graphic designers who need the unabridged kanji character sets available on Cho Kanji 3. After completing their graphic design work on the Mac side, all they have to do is transfer their graphic data to the text data on the Cho Kanji 3 side, where it can be printed using a wide range of printers that are compatible with the Cho Kanji 3 operating system.
BTRON Goes to the Library in Kobe . . . and to Middle School in Shimane
The BTRON3-specification operating system Cho Kanji 2 has been adopted for use as an Open Public Access Console (OPAC) at the Library of the Kobe City College of Nursing, which is connected to the Kobe City Library Information Network System. Why was BTRON selected for this important task? According to an article on pp. 54-56 of Vol. 69 of TRONWARE written by Hisayuki Horiguchi, the librarian who developed the OPAC, he selected BTRON because the BTRON Basic Browser is so stable. An added bonus was that the BTRON3-specification operating system is equipped with "kiosk mode," thus making it better suited for OPAC duty than either Microsoft Corporation's Windows 95 or Apple Computer Inc.'s Macintosh operating systems. To optimize BTRON for the OPAC role, among other things, Mr. Horiguchi suspended the power management function, installed a freeware accessory to prevent menu display, used a standard accessory to prevent keyboard shortcuts, hid the accessory and template boxes, deleted real objects from the initial window, made it impossible to modify the initial window, and registered a freeware dictionary of medical terms as a user dictionary in the system. The result is a dandy OPAC that users cannot tamper with.
There is an interesting report on the use of BTRON in middle school in vols. 68 and 69 of TRONWARE. Mr. Ikuo Nagasawa, a technology teacher at the middle school attached to the Faculty of Education at Shimane University, has been employing BTRON in middle school education since Matsushita's PanaCAL ET was put on the market in the 1980s. Mr. Nagasawa said he likes BTRON for educational use because it is easy to operate and teaching materials can be created on top of it in a very short time. He reports he had no problem transferring hypertext data from the old computers based on the PanaCAL ET operating system to Cho Kanji. Compared to the PanaCAL ET, there is considerably more software on BTRON these days, and Mr. Nagasawa employs much of it in his computerized teaching materials: graphics software, the card database, and the spreadsheet program. Unlike the PanaCAL ET, which was developed prior to the appearance of the Internet, Cho Kanji-based educational computers can access information throughout the world with the BTRON Basic Browser. Mr. Nagasawa is particularly pleased that one of his dream applications, an application that converts the hypertext data of the BTRON filing system into HTML-compatible data, has come into existence.
Personal Media Releases BTRON Primer with CD-ROM
Personal Media Corporation has released a new official BTRON primer with a CD-ROM for novices to teach them how to use its Cho Kanji 3 flagship product series. Titled Hajimete miyoo Cho Kanji -- Fuaasuto suteppu [Let's try beginning Cho Kanji -- the first steps], the 128 page book takes beginners through the basics of the BTRON interface using a method in which they look at printed illustrations with instructions and then follow through on the screen of a Cho Kanji-equipped personal computer (click here for a sample, which deals with backing up a real object). The book, which includes a large collection of BTRON freeware, is priced at 1,800 yen (consumption tax not included). For those outside Japan, orders can be placed directly with Personal Media's Sales Department.
Project Leader Changes Post at University of Tokyo
TRON Project Leader Ken Sakamura has assumed new duties at the University of Tokyo. After working at the University Museum of the University of Tokyo, where he applied TRON-based technologies to the creation of the Digital Museum there, he has moved to the Interfaculty Initiative in Information Studies, which is subordinate to the Graduate School of the University of Tokyo.
The Digital Museum at the University of Tokyo has drawn considerable attention from museum directors in foreign countries. On April 2, Prof. Sakamura took part in a digital museum symposium in Seoul, Korea, where he spoke to packed house--in spite of the fact that attendance was limited to people connected with museums. Many museums in Korea, including the National Museum of Korea in Kyongbok Palace are either being moved or undergoing renewal, so what was done at the University of Tokyo in this area is of particular interest in Korea.
Finally, it was reported in Vol. 69 of TRONWARE that TRON Project Leader Ken Sakamura was awarded a special prize as part of the 33rd Ichimura Prize awards. Prof. Sakamura received the prize for research and development on basic software with outstanding real-time performance. The prize is named after Kiyoshi Ichimura--the founder of Ricoh Co., Ltd., who passed away in 1968--and it is awarded to inventors of technologies that greatly contribute to society.
---