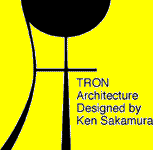 TRON News Items for August 2001
---
Personal Media Rides the Tompa Character Boom
The BTRON3-specification operating system is currently the only operating system on the market in Japan that can process the Tompa hieroglyphic characters of the Naxi minority in Yunnan Province, China, which have become extremely popular among Japanese high school girls and young female office workers. To give impetus to this cultural phenomenon, Personal Media Corporation, maker of the BTRON3-specification operating system B-right/V R3 (Cho Kanji 3), has recently made two announcements.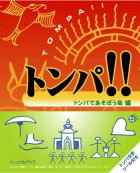 First, the company announced on July 26 that it would put on sale an introductory book, Tompa !!, to explain and teach people how to use these mysterious hieroglyphics characters. Edited by the Tompa-de asoboo kai [Let's play with Tompa society], the book explains how read, write, and have fun with the Tompa script. Specifically, the book explains how to use Tompa characters to write personal and place names, it gives various example sentences that employ numerals, the seasons, animals, directions, the weather, and feelings, plus it gives the numbers for the characters in the Tompa character font that Personal Media put on the market for BTRON in May. Tompa !!, which is 128 pages long and includes seals for sticking onto cell-phones and the like, is available at bookstores throughout Japan at 800 yen (consumption tax not included).
Second, Personal Media announced on August 9 that it has established two free Web sites that deal with Tompa characters, one for personal computer users and one for users of NTT DoCoMo Inc.'s i-mode handsets. The Web site for personal computers is at http://www.chokanji.com/tompa/ (for those who do not have a Japanese browser, click here for the initial screen). This has links to, among other things, an "oracle," wall paper and basic character collections, example sentences, and explanation's of Personal Media's Tompa products. The i-mode Web site is at http://www.chokanji.com/tompa/i/index.html, and it has i-mode links to the same information given on the Tompa character site for personal computers. The following is an example sentence that recently appeared on both Tompa Web sites.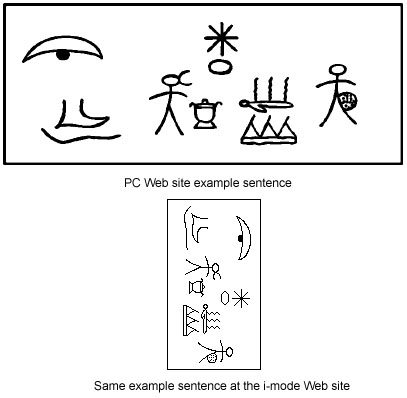 What the above sentence means in English is: "Let's go to a broiled meat [Korean barbecue] all you can eat [restaurant] tonight." From left to right (or top to bottom), the meanings of the Tompa hieroglyphic characters are: 'night', 'go', 'eat', 'unlimited', 'roast meat', and 'full stomach'.
---