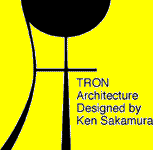 TRON News Items for September 2001
---
Personal Media Announces Kojien CD-ROM for BTRON3-Specification OS
Personal Media Corporation announced on September 7 that it would begin marketing from September 14 a CD-ROM version of Iwanami Shoten's popular Kojien Japanese language dictionary for its BTRON3-specification Cho Kanji 3 operating system. The new electronic dictionary, which goes by the product name of "Cho Kanji Kojien," has approximately 230,000 entries and about 2,700 diagrams. It will be put on sale at a price of 13,800 yen (consumption tax not included), which is slightly higher than the CD-ROM versions of the same dictionary for Microsoft Corporation's MS-Windows and Apple Computer Inc.'s Macintosh operating systems. Those are sold for 11,000 yen (consumption tax not included).
The main advantage to porting the Kojien dictionary to the BTRON3-specification operating system is, of course, the fact that the CD-ROM version can employ the exact same characters as the printed version using the GT Shotai Font, an unabridged kanji character set loaded into Cho Kanji 3 operating system. Both the MS-Windows and Macintosh CD-ROM versions of this dictionary have to use alternatives, since they are limited to the JIS levels 1 and 2 character sets. Another advantage is that Cho Kanji 3 is equipped with Enableware functions for the disabled. These allow data and menus to be blown up on the screen of the user's personal computer, which is useful to the elderly. Cho Kanji Kojien is also equipped with various utilities, such as full text search and part of speech search.
The printed version of the Kojien dictionary first appeared in May 1955, and became widely popular because of its large number of entries and its inclusion of encyclopedic information. The current edition of this dictionary is the fifth edition, which has a total of 3,010 B5 pages. Cho Kanji Kojien was created on the basis of this edition, after Personal Media took out an electronic data license from Iwanami Shoten, Publishers. Below are some links to graphics at Personal Media's Web site dedicated to the Cho Kanji 3 operating system that illustrate Cho Kanji Kojien.
Full screen shot (two system Character Search utility panels at the left; the word hatahata [sandfish] has been looked up in the window at the right)
Differences between characters in the printed text and JIS level 1 and 2 (characters in printed version at left; corresponding characters in JIS levels 1 and 2 at right)
Examples of characters not in JIS levels 1 and 2 (these kanji are for the names animals listed under the 'insect', 'fish', and 'bird' radicals)
For direct sales inquiries, please contact Personal Media's Sales Department at: sales@personal-media.co.jp
Ken, Richard, and Linus Win Takeda Foundation Award for 2001
To the best of TRON Web's knowledge, the three big names in the open source/open architecture movement--Ken Sakamura, designer of the TRON Architecture; Richard Stallman, founder of the Free Software Foundation; and Linus Torvalds, developer of the Linux kernel--have never met in the same place. However, the three of them recently jointly won a 100 million yen Takeda Foundation 2001 Technical Achievement Award for, "the origination and the advancement of open development models for system software - open architecture, free software and open source software."
The Takeda Foundation announces awards in three fields--social/economic well-being, individual/humanity well-being, and world environmental well-being--at the beginning of September of each year. (Prof. Sakamura, Richard Stallman, and Linus Torvald's award falls under the first field, or category.) The awards ceremony is then held at the beginning of December of each year. That may be why the annual TRON show, which is usually held at the end of November of the beginning of December, is being held in the middle of December this year (see below).
For those who believe that developing free software doesn't pay, it should be mentioned that Richard Stallman received a MacArthur Foundation fellowship and a $240,000 genius grant in 1990. He also shared the Electronic Frontier Foundation's Pioneer award with Linus Torvalds in 1998. Let's hope that both of them take some time out to visit our annual TRON show and check out some of the superb technologies that have been developed on the basis of the TRON Architecture.
Personal Media Publishes Second Illustrated Primer for Cho Kanji 3
Personal Media Corporation announced on September 20 that it would put on sale a second illustrated primer with a CD-ROM for its BTRON3-specification operating system, Cho Kanji 3, from October 15. Titled Hajimete miyoo Cho Kanji -- sekando suteppu [Let's try beginning Cho Kanji -- the second steps], the 128-page book details with simple-to-follow illustrations the use three Cho Kanji 3 Internet applications: (1) the BTRON Basic Browser that comes bundled with the operating system; (2) the separately marketed e-mailer Cho Kanji Meeru, which can employ the entire Cho Kanji character set including the separately marketed Tompa hieroglyphic character font; and (3) the separately marketed Cho Kanji uebu konbaata [Cho Kanji Web converter], with can turn text and graphic images created with Cho Kanji system applications into HTML-based Web pages.
In addition, the CD-ROM bundled with Hajimete miyoo Cho Kanji -- sekando suteppu contains the latest free software and free data created for the Cho Kanji 3 operating system. Hajimete miyoo Cho Kanji -- sekando suteppu will be available at bookstores throughout Japan at a price of 1,800 yen (consumption tax not included). Those outside Japan can order via the direct sales e-mail address given above.
TRON Project Leader to Give Special Lecture at MST2001
TRON Project Leader Ken Sakamura will give a special lecture titled "The Present State and Future of the TRON Project" (in Japanese) at the 15th Embedded Technology Conference and Exhibition, which will be held at the Tokyo International Exhibition Center [Tokyo Big Sight] West Hall 3 and 4 from Tuesday, November 20, through Thursday, November 22. This event, which is better known by the appellation "MST2001" [Microcomputer Systems & Tool Fair 2001], features a series of "special track" lectures. Prof. Sakamura's special lecture will be on Thursday, November 22, from 2:00 p.m. to 5:00 p.m. in Reception Hall A. This will consist of a lecture from 2:00 p.m. to 3:30 p.m., followed by a panel discussion from 3:30 p.m. to 5:00 p.m. During his lecture, the TRON Project Leader will explain the TRON Project's subarchitecture for passing electronic entities securely around the Internet, eTRON, plus the hardware designed to support it, T-Engine.
In addition, many ITRON-specification and JTRON-specification products wiil be on display at various booths throughout the two exhibition halls. Admission is 1,000 yen for those who do not have invitation tickets.
TRONSHOW 2002, TEPS 2002 to be Held at Laforet Roppongi
The TRON Association has announced that TRONSHOW 2002 will be held at Laforet Roppongi from Thursday, December 13, through Saturday, December 15. The theme of this year's show will be "aiming at ubiquitous computing," which, of course, is the ultimate goal of the TRON Project. In addition, TRON Electronic Prosthetics Symposium (TEPS) 2002, which is also known as the "Enableware Symposium," will be held at the same location on Saturday, December 15.
The address of Laforet Roppongi, which is also known as "Laforet Museum Roppongi," is: Minato-ku, Roppongi 1 Chome 9-9, First Bldg. B1F. It is located approximately halfway between the Russian Embassy and the Ark Hills complex near the U.S. Embassy. Easiest access for subway travelers is via the Roppongi 1 Chome Station of the Namboku Line or the Kamiyacho Station of the Hibiya line. A map showing access routes is available at the following link.
http://www.laforet.ne.jp/museum/homepage/roppongi/rop_access/rop_acce.html
TRON Web will provide more details on these two annual yearend events as they are released by the TRON Association.
---