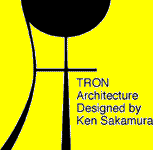 TRON News Items for February 2002
---
Personal Media Announces a Site License for Cho Kanji 4
On February 8, Personal Media Corporation announced it had begun marketing a site license for the latest version of its BTRON3-specification Cho Kanji operating system, Cho Kanji 4. The new site license is priced at 200,000 yen (consumption tax not included) for 21 licenses, which is pretty cheap compared to the 25,000 yen retail price (consumption tax not included) for a single copy of the operating system package with bundled applications. The company is also offering a free copy of "Cho Kanji Web Converter," a 10,000 yen (consumption tax not included) application for creating Web pages using the system word processor and graphics applications that requires no knowledge of HyperText Markup Language, to those who purchase a site license by May 31. In addition, Personal Media has also prepared an academic discount for educational institutions interested in introducing Cho Kanji for educational purposes.
The company said it is mainly aiming its sales promotion at educational and government organizations, where Cho Kanji 4's unabridged kanji character set can be put to good use. These include: language-related research institutes, primary schools, middle schools, high schools, and colleges and universities, plus libraries and local government offices. Although the unabridged kanji font, the GT Shotai Font, that comes with Cho Kanji 4 can be downloaded from the Web free of charge for use with other operating systems, such as Mac OS, MS Windows, and GNU/Linux, the only operating system on the market that has been built around this unabridged kanji character font is Cho Kanji. Personal Media hopes that organizations that have to deal with language data that use kanji not included in the current standard character sets will see the advantage of employing Cho Kanji 4 both on intranets and on the Internet.
For further information, please contact Personal Media's Sales Department.
Improved Digital Museum Technology Demonstrated at "Digital Museum III"
The University Museum of the University of Tokyo unveiled the latest improvements to its TRON-based digital museum technology at the "Digital Museum III: The Museum that Changes via Computers," a special exhibit that was held at the University Museum from January 12 through February 24. The special exhibit, which featured various cultural items of Japanese and Pacific culture from the University Museum's collection, allowed visitors to use the latest non-contact eTRON smart cards, multifunctional kiosks, the latest BTRON-based software with unabridged kanji functions, a Multi-Media Multi-User Dungeon, and even cell-phones to obtain information about the items on display. The main goal of the exhibit was to show how far TRON-based digital museum technologies had been developed over the last several years, and how they could be used to greatly enhance the experience of visitors to museums in the future.
The University of Tokyo's University Museum digital contents can also be accessed from via the World Wide Web. The URL is as follows:
---