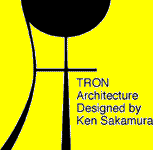 TRON News Items for May 2002
---
NTT DoCoMo Introduces i-mode Cell-Phones with Higher Download Speed
NTT DoCoMo Inc. announced on May 31 that it would begin marketing "mova SO504i" enhanced i-mode cell-phones beginning on June 3, 2002. The new TRON-based i-mode cell-phones feature a download speed of 28.8 Kbps (three times as fast as conventional i-mode cell-phones); Java Archive (storage of Java applications up to 30 kilobytes and associated data up to 100 kilobytes); a 2-inch, 65,536-color TFT LCD screen with a three-dimensional polygon engine for displaying 3D video); and an infrared communication port, which is expected to be used in making purchases without credit cards. Future models are planned with a camera-phone feature.
For further information, go to NTT DoCoMo's Web site (http://www.nttdocomo.com/top.html), where you can find the official press release and a picture of a "mova SO504i" cell-phone under "Latest Press Releases" in the bottom right-hand corner. There is also an English-language news article about the new i-mode cell-phones and their competition at the Japan Inc Communications Inc. Web site (http://www.japaninc.com/). Incidentally, fans of Japanese mobile phone technology should note that there is going to be a wireless technology expo, "Expo Comm Wireless Japan 2002," from July 17 through 19 at Tokyo Big Sight (click here for further information; English is available on the left).
Mozilla for Cho Kanji 3 Available for Download from the Web
The Mozilla browser was officially announced for Cho Kanji 4 at TRONSHOW 2002 back in December 2001. Personal Media Corporation stated it would only support the popular freeware browser from Cho Kanji 4 onward, but some enterprising hackers have somehow modified the Mozilla source code to enable it to run on the older version of the BTRON3-specification operating system, Cho Kanji 3. This source code for this new version of the Mozilla browser was made available for downloading on May 12 at "Pario's Software Workshop." If you are a Cho Kanji 3 user and would like to test out the Mozilla browser on your system, then click here to go to the Japanese language link.
---