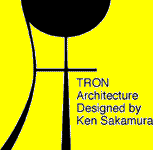 TRON News Items for July 2002
---
T-Engine Forum Sees a Huge Jump in Membership in July
The newly launched T-Engine project, which aims to develop a family of standard development platforms for ubiquitous computing applications, seems to be headed for great success. Speaking at a press conference on July 30 as the Chairman of the T-Engine Forum, TRON Project Leader Ken Sakamura announced that in the first month of its existence the organization saw corporate membership jump from 22 companies to 37 companies, and he said he expects that corporate membership will climb to approximately 100 companies by the end of the year. Prof. Sakamura also proudly pointed out that T-Engine Forum member companies include foreign firms from the U.S. and Europe, and that some Korean companies are slated to join the organization before the end of the year. T-Engine Forum membership as of July 30 is as follows:
A Level Members
B Level Members

Aplix Corporation

eSOL, Co., Ltd.

Dai Nippon Printing Co., Ltd.

DigiOn, Inc.

Fujitsu Ltd.

Hitachi, Ltd.

Hitachi ULSI Systems Co., Ltd.

Grape Systems Inc.

KDDI R&D Laboratories

Kyocera Elco Co., Ltd

Mitsubishi Electric Corporation

NEC Corporation

NTT Data Corporation

NTT DoCoMo Inc.

Oki Electric Industry Co., Ltd.

Personal Media Corporation

PIN Change Co., Ltd.

Picsel Technologies Ltd.

Sharp Corporation

Solid Information Technology Corporation

Toshiba Corporation

Yamaha Corporation

Yazaki Corporation.

Yokogawa Digital Computer Corporation

Yokosuka Telecom Research Park Co., Ltd.

Axell Corporation

A. I. Corporation

Apollo Giken Co., Ltd.

MegaChips Corporation

Nihon Unisys, Ltd.

Nippon Systemware Co., Ltd.

RSA Security Japan Ltd.

Ricoh, Co., Ltd.

Sanritz Automation Co., Ltd.

Semiconductor Energy Laboratory Co., Ltd.

Sennet Inc.

Sophia Systems Co., Ltd.
The good news didn't stop there, though. The first T-Engine development kit to be put on sale, "T-Engine/SH7727 Development Kit," was announced by Personal Media Corporation, which will market it via direct sales starting on August 8. In total, Prof. Sakamura pointed out, T-Engine products will be released by six companies, which will include implementations on microprocessors based on the MIPS and ARM architectures. Once all of these development boards are ready, which Prof. Sakamura said will be by December, the next stage will be to ship them off to the middleware makers. There is, of course, already lots of middleware that runs on T-Engine, which was announced at the annual TRON show held back in December 2001. The full list of that middleware is as follows:
File Systems

BTRON

FAT 12

FAT 16

FAT 32

ISO9660

UDF Ver.1.5 CDR

DVD-ROM

NOR

NAND

NetWork

UNIX FS

CDROM XA

Devices

IDE

ATAPI

SCSI

PCMCIA-ATA

Compact Flash (I/F)

USB

IrDA

SIR

FIR

LAN

Device Drivers

HDD (IDE connection)

FDD

CD-ROM

CDR

MO

Touch panel

Electronic pen

PS/2 mouse

Serial mouse

Infrared remote control

Keyboard

Printer

Memory Cards

Flash ROM driver

Multimedia Card driver

SD Memory driver

SD Audio Manager

SD Sound Manager

SD Video Manager

SD Image Manager

Memory Stick driver

USB

USB host

USB host function

MIDI driver

Audio driver

Bluetooth

Serial port profile

MIDI profile

Communications

TCP/IP (ITRON API)

TCP/IP (BSD)

Telenet

FTP

TFTP

SMTP

SNMP

POP3

BOOTP

HTTP

DNS

PPP

V.42BIS

IEEE 1394

TCP/IP protocol stack

Socket I/F

Bluetooth

RF

IEEE 802.11b

GUI-Related Libraries

Display primitives

Event manager

Window/panel manager

Parts manager

Data box manager

Font-Related Managers

Outline font manager

Gray scale outline font manager
Character Search Engine

Kanji part search

Variant character search

Symbol search

Digital Signature

Elliptical curve encodings

Electronic watermark (invisible, 20 characters)

JPEG

JPEG (ExifVer. 2.0 based)

Motion JPEG

Still Image Compression Expansion

JBIG (ITUT-TT.85 based)

MH/MR/MMR

PNG

Moving Images

MPEG-4 (expansion)

H.323 protocol

Graphics

Compact 3-D graphics

Drawing library

Voice Codecs

G.711

G.726

G.729A

G.723.1

Sound

MP3 decoder

MP3 encoder

AAC decoder

AAC encoder

TwinVQ

DolbyDigital

ATRAC

Voice Recognition

Words, successive numerals

Word spotting

Monotone recognition

Japanese voice recognition

Voice Synthesis

Emotion expression

Sound/Tone Generator

Cell-phone sound source driver

GM sound source driver

XG sound source driver

FM voice parameter set

Sound Sequencer

SMAF sequencer

SMF sequencer

XF sequencer

Sound Application Engine

Auto Arranger

Style Converter

Automatic composition engine

Music score display engine

Three-dimension acoustics

Articulation rate conversion

Internet Applications

Mail software

Browser

HTTP server

Utilities

Image format conversion

Character code conversion

Handwriting recognition

Software keyboard

Electronic Dictionary Dataware

Cho Kanji Kojien

Cho Kanji K'ang Hsi Dictionary

Cho Kanji Tompa font

Others

Kana-to-kanji conversion engine

MicroScript visual language
What the T-Engine project aims at is to create a standardized development platform for embedded systems that will smooth distribution of middleware so that applications can be developed in short order. This will greatly raise embedded systems productivity and lower costs, particularly since the development platform is not tied to any particular firm's microprocessor. In fact, Prof. Sakamura said he expects to see a new business model emerge from the T-Engine project. In addition, since T-Engine runs on a ITRON-based operating system, which has proven itself over 20 years, it is highly stable, and since this operating system, T-Kernel, operates in conjunction with the newly announced eTRON security architecture, it offers safety features not available in other architectures.
Of course, these T-Engine-based embedded systems are planned for use in ubiquitous computing environments, which has been the goal of the TRON Project since its inception in 1982. However, Prof. Sakamura was quick to point out that "ubiquitous" does not necessarily mean the Internet. He noted that ubiquitous computing could also take place in Virtual Private Networks, or VPNs. In order to deal with the wide range of applications, the T-Engine architecture is divided into four subsets: (1) T-Engine for network devices requiring a high-level HMI; (2) µT-Engine for network devices requiring a limited HMI; (3) nT-Engine for very small-scale network devices not requiring an HMI; and (4) pT-Engine for the simplest devices in the network (e.g., lighting fixtures). All of these subsets are capable of operating in real-time, since they are TRON-based.
After Prof. Sakamura gave his presentation, there were presentations on Hitachi's T-Engine and development kit by Hitachi and Personal Media, Mitsubishi Electric's µT-Engine, NEC's VR5500-400-based T-Engine that uses a PCI bus and is ISA compatible (the company is aiming at a handheld PC, it seems), Yokogawa Digital Computer's ARM-based T-Engine, eSol's middleware (eBinder and eParts), and Aplix's Java-on-ITRON-based micro JBlend for T-Engine. In addition, KDDI R&D Laboratories gave a presentation on the porting of its SVG Mobile--SGV standing for "Standard Vector Graphics"--display software to the T-Engine platform. This software, which is standard vector graphics format for the W3C's XML standard, allows for smooth curves to be drawn inside image data.
During the question and answer period, Prof. Sakamura was asked about foreign participation. Prof. Sakamura answered that Finnish, British, and U.S. companies have already signed up, and that two French and two Korean companies are also making moves to join the T-Engine project. He also noted a lot of foreign organizations want to cooperate with the T-Engine project. He also answered a few technical questions. For example, the processors and buses are different for each board (T-Engine uses a virtual bus), although all middleware works on all boards since the object format is the same. All that is needed is recompilation. He also said the project is focused on board development right now. After that the focus will shift to middleware development and application development in that order, so products will go to market by the end of 2003.
Just before the end of the press conference, Prof. Sakamura announced that this year's TRON show, TRON SHOW 2003, will be held at Laforet Museum Roppongi, the same location as last year's show, from Thursday, December 12 through Saturday, December 14. Next year's annual TRON show, TRON SHOW 2004, will be moved to a much larger venue in Yurakucho area with double the capacity, most likely because interest is picking up again in the TRON Project.
Personal Media to Market First T-Engine Development Kit
Personal Media Corporation announced on July 30 that it will begin marketing on August 8 "T-Engine/SH7727 Development Kit" at a standard price of 145,000 yen (consumption tax not included). The new development kit, which is being marketed directly by Personal Media's Sales Department, is the first development kit based on the T-Engine Specification to be be put on sale to the general public. The kit is intended for developing middleware and applications for ubiquitous computing environments, i.e, environments filled with computerized devices linked via networks. Since this is not a processor-dependent development board, middleware and applications developed on top of it can easily be ported to other companies' T-Engine implementations. Accordingly, it opens up new business possibilities to middleware and application developers.
The hardware specification for the T-Engine/SH7727 Development Kit, which uses a Hitachi Ltd. SH series microprocessor, is as follows:
| | |
| --- | --- |
| CPU | SH7727 (SH3-DSP, 96 MHz internal clock) |
| Flash memory | 8 megabytes |
| SDRAM | 32 megabytes |
| LCD | TFT color 240 x 320 dot with touch panel |
| I/O interfaces | USB (Host), PCMCIA card, serial, eTRON chip, key SW (3), headphone I/O, microphone, infrared remote control, expansion bus I/F |
| Other functions | RTC, power source control via H8 |
| Power source | AC adapter |
| External dimensions | CPU board: 120 mm x 75 mm (without protuberances), LCD board: 120 mm x 75 mm, debugging board: 101 mm x 75 mm |
The software development environment included in the T-Engine/SH7727 Development Kit is a GNU-based cross development environment that runs on the the freeware GNU/Linux operating system for IBM-PC/AT compatibles. (Personal Media said it has confirmed that it runs on Red Hat Linux 7.1.) In other words, middleware and/or applications for T-Engine are first developed on a Linux-equipped PC-based workstation using the GNU-based complier and linker, and then they are transferred to the T-Engine development board for evaluation. On the T-Engine side, they run on top of T-Kernel, an ITRON-based real-time operating system, and their performance is evaluated using T-Monitor, a standard monitor for the T-Engine Specification that is used to debug middleware and applications.
The bundled software that comes with the T-Engine/SH7727 Development Kit is as follows.
T-Monitor
T-Kernel

T-Kernel/OS (Operating System)

T-Kernel (System Manager)

T-Kernel (Debug Support)
Basic Software for Development

File management function, CLI (Command Line Interpreter)
Device Drivers (some with source programs)

Serial, LCD, touch panel, ATA card
Sample Applications

Soucre programs included
As for options, Personal Media said it will begin marketing at the end of August an acrylic baseboard, which it refers to as the "T-Engine Development Bench." The expected price of the T-Engine Development Bench is 20,000 yen (consumption tax not included). In addition, the company is planning to market at the end of September the "T-Engine/SH7727 LAN Expansion Board" at an expected price of 60,000 yen (consumption tax not included). A skeleton case with batteries will also be marketed, although the date and price have yet to be set. Drivers, TCP/IP stacks, and other middleware are not included in the development kit, although they will be made available for purchase. Furthermore, Personal Media's flagship product, Cho Kanji for T-Engine, is only available on an OEM basis, the company said.
TRON Project Reappears in English-language Media
The TRON Project has made it back into the English language press. In July, EE Times and Look Japan both published stories about the project. The EE Times story was datelined July 4, 2002, and it related the establishment of the T-Engine Forum in addition to giving a description of T-Engine itself. It was pleasing to see that this article pointed out that there is foreign participation in the T-Engine project. The Look Japan story was the cover story for the July issue of Look Japan, a monthly magazine dedicated to presenting industry and other news about Japan in various languages. Titled "TRON: Twenty Years On: Open Architecture Ushers in New Age of Computers," the story gave an in-depth description of the TRON Project, its technologies, and its goals. Of particular interest is a description what motivated Prof. Ken Sakamura to launch the TRON Project back in the early 1980s. To date, this information has only been published in Japanese.
Clarification: Ubiquitous Networking Laboratory's Official Name
It has come to the attention of TRON Web that the official name of the T-Engine Forum's Ubiquitous Networking Laboratory that was recently established in Tokyo near Gotanda station (see map here) is the "YRP Ubiquitous Networking Laboratory," YRP standing for Yokosuka Research Park. The former name is a abbreviated version of the latter.
---