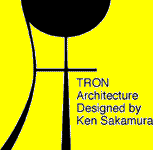 TRON News Items for September 2002
---
Personal Media Begins Marketing µT-Engine Development Kit
Following on the heels of its "T-Engine/SH7727 Development Kit," which it put on the market on August 8, Personal Media Corporation announced on September 10 that it will begin marketing from September 11 a µT-Engine development kit. The new development kit, "µT-Engine/M32104 Development Kit," is a smaller standardized development board (60 mm x 85 mm for µT-Engine versus 75 mm x 120 mm for T-Engine) aimed at applications for ubiquitous networks that do not require a high-level human-machine interface. Since it is equipped with an Artificial Retina, the new development kit is ideal for developing applications, such as robots and intercom systems with a visual function, which is not to mention low-cost security cameras.
CPU

Mitsubishi Electric M32104

(M32R, 216 MHz internal clock)

Flash memory
4 Megabytes
SDRAM
16 Megabytes
Input/output I/F
Compact Flash, Serial, eTRON chip, MMC card, LED (2), Expansion bus I/F
Other functions
RTC
Power supply
AC adapter
LAN
SMSC LAN controller (LAN91C111) 100Base-TX/10Base-T
Connectors
SDI connector (connects SDI debugger), LAN RJ-45 connector, AR board connector, parallel interface (8-bit port I/O)
Artificial Retina (AR) resolution
160 x 144 x 3 (RGB)
AR board other
Package with integrated lens, CDS, AGC, gamma correction, gain level with built-in color tone correction circuits, built-in black level adjustment circuits
CPU board size
60 mm x 85 mm (without protuberances)
Expansion board size
60 mm x 85 mm (same as above)
AR board size
40 mm x 35 mm (same as above)
Power supply board size
40 mm x 35 mm (same as above)
In addition to the above hardware, µT-Engine/M32104 Development Kit includes the following software: T-Monitor, T-Kernel (T-Kernel operating system, T-Kernel system manager, and T-Kernel debugger support), a PC card manager (for the bus driver and CF support), device drivers with source programs (clock [RTC], console [serial], system disk [CF card]). As with the previous T-Engine development kit, the development environment is a GNU-based cross development environment that runs on top of PC-Linux and includes source programs. Personal Media said it is directly marketing the µT-Engine/M32104 Development Kit via its Sales Department at a price of 150,000 yen (consumption tax not included). For sales inquiries, please send an e-mail to the following address.
E-mail: sales@personal-media.co.jp
Memory Bar for BTRON
There are a lot of peripherals for the BTRON3-specification Cho Kanji 4 operating system, but nowhere near as many as for other established personal computer operating systems. That is scheduled to change when T-Engine-based BTRON machines start hitting the market, but until then BTRON users are resigned to second class status when new personal computer peripherals hit the market. How interesting it is then to see BTRON listed among the compatible operating systems when a new peripheral hits the market. That was the case recently when Memory Bar, a large capacity flash memory device, hit the market.
Memory Bar is a USB-based compact storage device for transporting large amounts of data. It comes in seven sizes with storage capacities ranging from 32 Megabytes to 1.2 Gigabytes. Marketed via the Internet by Toko Trading, prices range 3,200 yen to 128,000 yen. In addition to being compatible with Cho Kanji 4, Release 4.017 to be exact, it is also compatible with MS Windows 98, 98 SE, ME, 2000, and XP; MacOS 8.6, 9.x, and 10.x; and Linux Kernel 2.4 or greater. Interestingly, the firm's Web ad goes out of its way to state that Personal Media Corporation has confirmed that it runs with BTRON.
T-Engine Membership Climbs to 50 Companies
Membership in the T-Engine Forum continues to climb. By the end of August, it had already hit 50 companies. (Take a look at the list here, there are now 54 firms listed.) This type of interest in TRON-based technologies hasn't been seen since the late 1980s, when the Office of the United States Trade Representative attacked the TRON Project at the behest of U.S. computer firms. That incident, ironically, led to more, not less, companies taking an interest in the project. What's interesting about this company list is that there are a couple of very large Japanese printing firms on it. This seems to indicate that electronic books based on TRON technologies are indeed planned for release. Are BTRON-based DTP system also planned? Let's wait and see. The possibilities are endless when you are working with a "total architecture" such as the TRON Architecture.
---