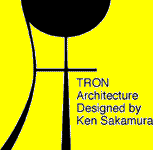 TRON News Items for January 2003
---
Personal Media Announces Disk Shredder Lite
Personal Media Corporation announced on January 30 that it would begin marketing from February 14 via direct sales a new, easier to use version of its popular Disk Shredder software for securely erasing the contents of hard disk drives (HDDs) on IBM-PC/AT-compatible personal computers that are to be discarded. The new version, Disk Shredder Lite, is priced at 8,800 yen (consumption tax not included), and it can be provided in either floppy disk or CD-ROM form, depending on the customer's preference. When ordering Disk Shredder Lite, the user can also chose one among the following erasure methods. The standard method is overwriting one time with a random number, since this allows the highest erasure speed of 10 megabytes per second. By overwriting more times or using a different method, the speed can be reduced down to 1.5 megabytes per second.
Random number write (1~9 times)
U.S. National Security Agency recommended method
U.S. Department of Defense method (DoD5220.22-M)
U.S. Army method (AR380-19)
U.S. Navy method (NAVSO P-5239-26)
U.S. Air Force methods (AFSSI5020, AFI33-202)
U.S. national Computer Security Center (NCSC-TG-025)
Gutmann method
Since it is based on the BTRON-specification operating system, the software is very fast, and it runs across a wide range of Intel-based systems (those based on the 386SX/DX, 486SX/DX, and Pentium microprocessors). Moreover, it can operate on as little as 4 megabytes of main memory and use low resolution VGA graphics. Disk Shredder Lite is designed to erase data on HDDs of the IDE and EIDE (ATA) type. According to the purchase agreement, there is no limit to the number of times the software can be used, although it must be used on only one machine at a time. Personal Media reports that previous versions the Disk Shredder software have become widely used in government, finance, media, and professional services offices in Japan. The company also markets English- and Korean-language versions of the Disk Shredder software for sale to non-Japanese customers.
Cho Kanji 4 Software Updates Bundled in Vol. 79 of TRONWARE
Personal Media Corporation put Vol. 79 of TRONWARE on sale at bookstores throughout Japan on January 31. This latest edition of the popular TRON Project magazine is noteworthy in that it has system updates for the Cho Kanji 4, plus new additions to it, such as the Esperanto compatibility kit that allows Esperanto speakers to use the operating system and its bundled applications in the Esperanto language. The CD-ROM in which these bundled applications are included contains Cho Kanji R4.010 and R4.017 system upgrades, manual and sample data for R4.010, and R4.012 of the BTRON Basic Browser. The magazine is available at many bookstores throughout Japan at 1,200 yen (consumption tax not included), and it can also be purchased directly from Personal Media's Sales Department. In addition, this issue contains a complete Japanese-language description of the events that took place at TRON SHOW 2003, which are illustrated with a large number of photographs.
---