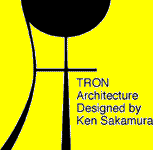 AUCNC 2003, TRON SHOW 2004, TEPS 2004
---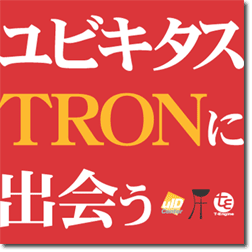 T-Engine Forum: The Largest Real-Time Embedded Systems Group in the World
It's official. The T-Engine Forum is now the largest real-time embedded systems group in the world, and probably the largest embedded systems group in the world to boot. As of December 11, 2003, there were 294 member companies participating in the T-Engine Forum, and Prof. Ken Sakamura, chairman of the T-Engine Forum, announced that IBM Corporation would soon be joining. Startlingly, he also predicted that there would probably be 500 member companies in the T-Engine Forum by the end of 2004, which would seem to indicate that the T-Engine project is gathering industrial support worldwide at a phenomenal rate. In short, the message seems to be that if you're not participating in the T-Engine project, you're "road kill" in the world of embedded systems development. That might be why both desktop software powerhouse Microsoft Corporation and embedded Linux power MontaVista Software Inc. have joined the T-Engine Forum as board level members. To stay out would have been hazardous to their future business prospects.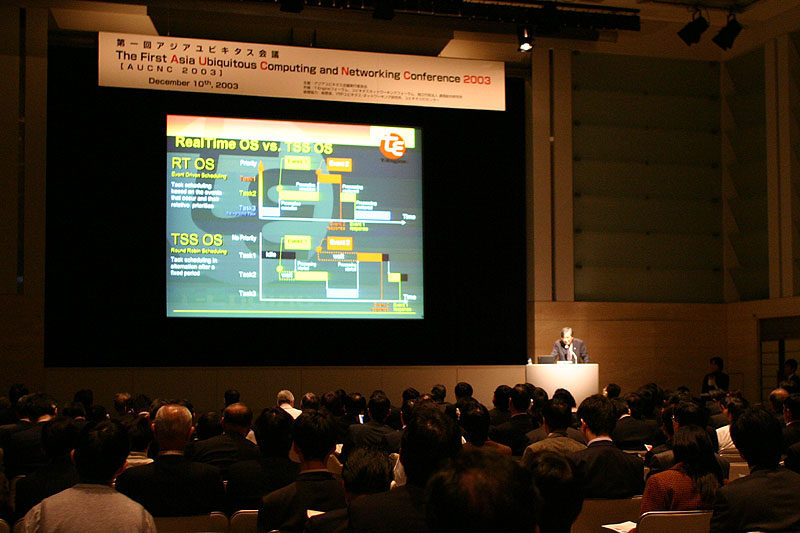 TRON Project Leader Ken Sakamura explains the difference between a RT OS and a TSS OS at AUCNC 2003
The First Asian Ubiquitous Computing and Networking Conference
T-Engine Forum is not just aiming itself at famous American and European corporations, which are not the trend setters in the world of embedded systems development. It is also aiming itself at Asian developers, who are normally on the cutting edge of developments in this field. For that reason, the day prior to the opening of TRON SHOW 2004, the T-Engine Forum, along with Japanese government and other non-profit organizations, hosted "The First Asian Ubiquitous Computing and Networking Conference" (AUCNC 2003) at Park Tower Hall in Shinjuku, Tokyo. As was previously noted on TRON Web, Nanyang Technological University in Singapore recently established a new master's program in embedded systems, and the city state has also created with government backing a T-Engine Development Application Center to spread the T-Engine project in the region. Other nations in Asia are now starting to copy these developments, which means that there will likely be a very competitive Asian T-Engine community in the next few years.
The people who gave presentations and/or participated in the discussion at AUCNC 2003 on December 10, 2003, are as follows:
| | |
| --- | --- |
| Tatsuo Kito | Director-General for Technology Policy Coordination, Minister's Secretariat, Ministry of Public Management, Home Affairs, Post and Telecommunications (MPHPT), Japan |
| Ken Sakamura | Professor, The University of Tokyo; Director, T-Engine Forum; Vice Director, Ubiquitous Networking Forum |
| Tomonori Aoyama | Professor, The University of Tokyo; Vice Director, Ubiquitous Networking Forum |
| Tadashi Shiomi | Vice President, Communication Research Laboratory, Japan |
| Thambipillai Srikanthan | Director, Center for High Performance Embedded Systems, School of Computer Engineering, Nanyang Technological University, Singapore |
| Albert Hanyong Yuhan | Executive Vice President, Samsung Advanced Institute of Technology, Korea |
| Liu Xiang | Professor and Chair of the Department of Embedded System Engineering, School of Software, Peking University, China |
| Rajiv Ranjan Tewari | Professor, Allahabad University, India |
| Charley K. Watanabe | Executive Director for Strategic Planning, Communications Research Laboratory, Japan |
The program was led off by Mr. Tatsuo Kito of MPHPT, who spoke about the Japanese government's eJapan strategy, the basic plans for which were laid down in 2001. The goal is to make Japan a world leader in electronic business and government by 2006, and, more importantly, to lay the groundwork for the creation of new industries. The second version of this strategy has already been announced, and the technologies to make it a reality, i.e., ultra-small RFID chips and networking technologies, are rapidly being realized. In particular, Mr. Kito mentioned that he would like to see these technologies used for the tracking of individual products and in security schemes. He also said he would like to see these technologies become globalized, a contribution from Asia to the rest of the world. This theme of a world contribution was later picked up by Prof. Ken Sakamura, who delivered the keynote speech at AUCNC 2003, a theme he would later mention in his keynote speech at TRON SHOW 2004, also.
Prof. Sakamura began his keynote speech by explaining the reason for the conference. Since Asian countries are strong in the embedded, real-time, and mobile computing fields, he said, ubiquitous computing and networking are areas in which they can make contributions. Thus there is a needed for concerned individuals from Asian countries to gather and discuss what kind of cooperation is needed. Unlike the TRON and T-Engine projects, which are undertakings by academia and industry, the field of ubiquitous computing has government participation also, since it requires government cooperation in many areas. For that reason, the Japanese government officials who gave presentations at AUCNC 2003 were listened to by other government officials from China, Korea, and Singapore. Prof. Sakamura said the task at hand is to decide what to standardize and how to do it. He then introduced ubiquitous technologies that have been recently developed in Japan, including RFID tags, new bar codes, the Ubiquitous Communicator (UC), and the PHS-based UC-Phone.
Ubiquitous computing--also called "pervasive," "calm," or "invisible" computing--is a term that was coined by Marc Weiser in 1991 in an article titled "The Computer for the 21st Century," which appeared in Scientific American. Ironically, a project to realize ubiquitous computing called the TRON Project had begun seven years earlier in Japan, where the concept was called "dokodemo konpyuuta [computing everywhere]." Moreover, two years before Mr. Weiser's article appeared, the TRON Project actually built an intelligent house called the TRON Intelligent House, which incorporated 1,000 microcomputers, making it one of the most computerized structures in the world. Various experiments were carried out in the structure, including key experiments involving the concept of "context awareness." However, the technological level at the time was very low, which meant that the structure was very costly to build, and that the chances of commercializing the technologies demonstrated within were slim.
What a difference 15 years makes! We now have all the core technologies required to realize ubiquitous computing. These are wireless LAN technology (the biggest problem with the TRON Intelligent House was that wire harnessing was required to link all the computers together), a multimode Ubiquitous Communicator (early TRON documents called for a "communication machine") that can seamlessly communicate from one environment to the next, a network security architecture, ubiquitous identification technologies, and back server technologies. The trick now, Prof. Sakamura pointed out, is to organize the research and administrative efforts to disseminate these technologies, which are free and open, throughout the world. He believes that it will take 10 years to spread them, since many practical experiments are still needed. Some of these, such as the tracking of produce from the farmer's field to the supermarket, have already begun in Japan. In fact, solar powered T-Engines have already been installed in vegetable fields as a part of this effort.
After Prof. Sakamura's presentation, there was a presentation by Prof. Tomonori Aoyama of the University of Tokyo, who is also vice director of the Ubiquitous Networking Forum. Since he is a former NTT scientist, he looks at ubiquitous computing from the viewpoint of networking. He said broadband, mobile platforms, IPv6, real-time operating systems, and secure communications are needed for its realization, and he believes that true ubiquitous computing will come on line by 2010. He showed a video that looked a lot like science fiction. In one scene, for example, a scientist under water off the Okinawa shore was using grid computing to create a simulation of what a dead coral reef would look like if it had been alive. In another scene, a person was authenticating his identity using his tongue. One got the feeling that some of these visions of the future might take a little longer than expected to realize, and that there might be some social resistance to their widespread acceptance in Japanese society.
The last Japanese presentation of the conference was delivered by Mr. Tadashi Shiomi, who is vice president of the Communication Research Laboratory CAL), a government research organ that is going to be merged with the Telecommunications Advancement Organization of Japan (TAO) in April 2004 to form the National Institute of Information and Communications Technology (NICT). Like Prof. Aoyama before him, Mr. Shiomi came equipped with illustrations of his visions of a ubiquitous society. These include targeted information appearing on information panels in taxis and on restaurant tables, seats automatically coming down for the disabled on commuter trains, and automatic cash register checkout at the supermarket (something that was to be demonstrated at TRON SHOW 2004). More interesting than his ubiquitous computing visions of the future, however, were his descriptions of CRL network projects, i.e., a high-speed networking via a dirigible called Skynet, networked robotics, and the Japan Gigabit Network.
Mr. Shiomi's presentation was followed by a panel discussion that included foreign researchers, each of whom was allowed to give a short presentation. The first was Prof. Rajiv Ranjan Tewari of Allahabad University in India, where he sees a big demand for TRON. This is because the Indian government and universities are working on pervasive computing projects similar to TRON. The Indian government is also switching over to Linux, which can be used in five of India's languages. The major obstacle to pushing TRON in India, Prof. Tewari said, is that TRON documentation is not easily available. Fortunately, Prof. Tewari has worked his way around this obstacle by teaming up with an Indian computer specialist who previously studied computer science under Prof. Sakamura at the University of Tokyo. In order to better promote TRON and T-Engine in India, he said a middleman is needed, and the sooner one appears, the better. He summed up the TRON Project as a wonderful concept and vision, one that is long-term and non-commercial.
India's biggest rival in the developing world, China, is not sitting on its hands when it comes to ubiquitous computing. Prof. Liu Xiang, a former Motorola Corporation researcher and current professor at Peking University, described what is going on in China. Like Nanyang Technological University in Singapore, Peking University has newly established a department of embedded system engineering in its School of Software. Prof. Liu is the professor and chair of this new department, and one of the research projects he is undertaking is the development of an intelligent house. However, as a result of the wireless revolution, ubiquitous computing will not be limited to networks inside the intelligent house; it will be used throughout society using mobile computing devices. Prof. Liu predicted that mobile computing platforms would have 1 GHz processors by 2007, and that we would see a system on a chip consisting of a central processing unit plus a digital signal processor. The only problem, he said, is that battery technology is lacking.
Singapore's Nanyang Technological University was represented by Prof. Thambipillai Srikanthan, who founded the Center for High Performance Embedded Systems (CHiPES) within the university's School of Computer Engineering back in 1998, when ubiquitous computing was not drawing so much attention. The center also collaborates with computer science departments at U.S. universities, thus lending hope to Prof. Srikanthan's dream of turning CHiPES into a a hub of embedded systems research and development. He said he is committed to Prof. Sakamura's TRON vision, which is why he also helped establish the T-Engine Application Development Center in Singapore, but he admits that there are many problems that one must overcome to realize ubiquitous computing networks, where multiple computers are used by one person and anything can control anything else. One big problem, he pointed out, is solving time-to-market requirements. Another is dealing with the power demands of ubiquitous computing networks, which will be greater than today's network power demands.
The last foreign speaker of the day was Albert Hanyong Yuhan, who is the executive vice president of Samsung Advanced Institute of Technology. Since his institute is not charged with developing actual products, it devotes its time to pondering the future, and the thing it is now pondering is what exactly is ubiquitous computing. Mr. Yuhan correctly pointed out that lots of people have different concepts of it, and he defined it as a vision not specific to any technology. He said that the dispersion of computing resources is a phenomenon that has been in progress for some time, and he proposed that we are using the term ubiquitous computing because we have finally become aware of the process. Personally, he views ubiquitous computing as the "glue" for digital convergence, and he believes that ubiquitous computing will be realized through a process in which it is pushed by technological developments and pulled by new services in fields such as entertainment, health care, and security management. Like Prof. Srikanthan, he also mentioned the need for innovative energy supply.
Since the presentations by the foreign speakers ran overtime, there was little time left for a panel discussion. A quick comment by Prof. Tomonori Aoyama, however, touched on a ubiquitous computing application that has been envisioned for quite some time, i.e., using the nearest display, an application that the multitudes of cell-phone users would find very convenient. Prof. Aoyama said this cannot be realized just by using IPv6. Rather, new middleware is needed to realize this very predictable application. In particular, after user authentication is completed via a common security architecture--this might also have a billing function incorporated within it, if, for example, the user is borrowing a display set inside a coffee shop table for a fee--a firewall has to be built between the guest and the host systems so that the guest system cannot invade the host system without authorization, and there has to be a deletion mechanism so that data transferred from the guest system to host system cannot be saved and/or passed along to others without permission.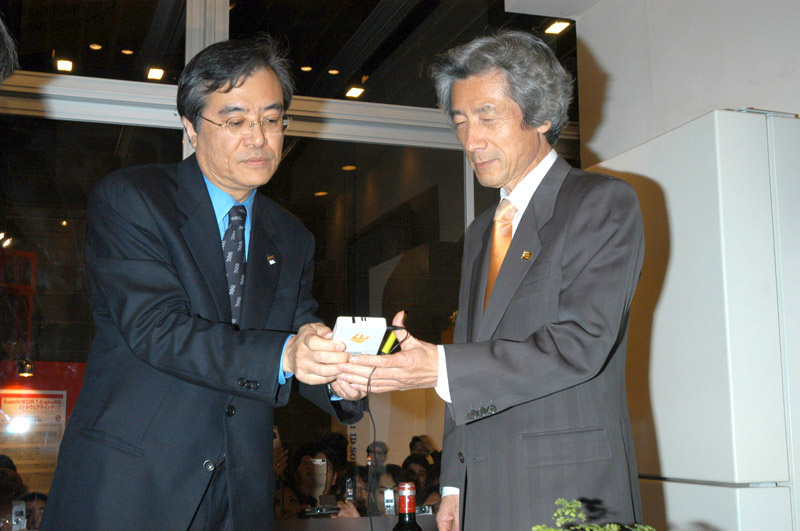 Prime Minister Junichiro Koizumi (right) learns how to use the Ubiquitous Communicator from Prof. Ken Sakamura
TRON SHOW 2004: The Project Draws More Interest as Great New T-Engine Products Are Displayed
The ink in the TRON Web reporter's notebook had no sooner dried than it was time to head off to the preview press conference and reception for TRON SHOW 2004, which took place across town at Tokyo International Forum on the evening of December 10, 2003. Naturally, the star of the press conference was none other than the "ubiquitous Prof. Ken Sakamura," who rattled off the achievements of the T-Engine project while trying to get the message across that the project is not targeting anyone or fighting with anyone. He noted that development of T-Linux had been completed, three RFID chips had been approved for use with "ucode," a PHS-based UC-Phone that also reads bar codes had been developed, a T-Engine/T-Kernel-based T-Wireless kernel extension had been developed by NTT DoCoMo, Inc., and a middleware distribution system called T-Dist had been completed. He stressed that the Ubiquitous ID Forum is cooperating with the Auto-ID Center, and he pointed out that IBM Corporation, Microsoft Corporation, and MontaVista Software, Inc., have all joined the T-Engine Forum.
After the preview press conference, there was a reception. The reception for a TRON show normally takes place at the end of the first day's events, but since Prime Minister Junichiro Koizumi was scheduled to visit the exhibition site at that time, it took place a day early. Unlike receptions held in previous years, there were a lot of high ranking Japanese ministry bureaucrats on hand, a member of the Diet, and even Microsoft Vice President Susumu Furukawa, who made his company's first statements to a TRON audience, which for the most part listened politely. The foreign participants who gave presentations at AUCNC 2003 were also present, and TRON Web spent some time talking with Prof. Srikanthan of Nanyang Technological University. He is very enthusiastic about the T-Engine project. His only problem with the project is the lack of sufficient materials in English. TRON Web suggested that Nanyang Technological University establish a program for training technical Japanese translators, which would allow for later linguistic independence.
Project Leader's Keynote Lecture
The following day, TRON SHOW 2004 officially opened its doors to the public, and the number of people who showed up to listen to Prof. Sakamura's keynote speech, the first event of the show, was close to 800. This has to be a record. The keynote speech was most unusual in that it was to be followed by presentations by MontaVista's James Ready, formerly president of Ready Systems Corporation who gave presentations at the fifth and sixth TRON Project international symposiums in 1988 and 1989, respectively, and Microsoft's Susumu Furukawa, who represents the company that is widely credited with having been the cause of the attempted destruction of the BTRON-based educational computer project back in 1989 at the hands of the Office of the United States Trade Representative. Perhaps it was because of the presence of Mr. Ready and Mr. Furukawa, but Prof. Sakamura gave a much more emotional presentation than he usually gives at the start of a TRON show, which seems to have led him to say a few startling things.
For example, he noted that U.S. government and industry are extremely annoyed that Japan has taken the lead in super computers, so annoyed in fact that they have formed a special committee to develop new super computer technologies that will attempt to leapfrog Japanese super computer technology. Having a strong sense of nationalism himself, Prof. Sakamura said that's not a bad idea for a country like the U.S. that understands its national interests and wants to lead the rest of the world, but he lambasted the Japanese government, which until recently has always showed lukewarm support for the TRON Project out of fear of offending the U.S., as not having the courage to do likewise. He said Japanese government and industry would never form a committee to develop, for example, an operating system that would challenge Microsoft's dominance. In fact, he noted that a lot of people originally weren't happy about the TRON Project, and this includes many people in Japanese industry, since it was going to upset markets.
The fact that the TRON Project was able to survive massive political interference from the U.S. government and halfhearted home support from Japanese industry to successfully go on to metamorphize itself into the T-Engine and Ubiquitous ID projects has a lot to do with the enthusiasm and determination of Prof. Sakamura to realize his computer networking dream, which just happened to be about 20 years in the future back in 1984. As he pointed out at the beginning of his lecture, in 2004, actually June of 2004, it will be a full 20 years since the TRON Project was officially launched within the Japan Electronic Industry Development Association (JEIDA), which is now called the Japan Electronics and Information Technology Industries Association (JEITA). He said a long time ago he created a road map for ubiquitous computing, which is now in its final stage, i.e., the creation of ubiquitous computing environments. The other stages, the creation of basic technologies and the development of applications based on those technologies were completed long ago.
But the goal of the TRON Project is not now, nor was it ever in the past, to get anyone or to drive anyone out of the market. It was, and always has been, a standardization movement aimed at the creation of ubiquitous computing environments to computerize human society. For that reason, Prof. Sakamura pointed out that he was not fighting with anyone. He showed a slide of himself and Kevin Ashton of the Auto-ID Center shaking hands. He said he would participate in a joint lecture at the show with Prof. Jun Murai of EPCglobal at TRON SHOW 2004, where both of them would discuss their respective technologies. He said he is not fighting with Microsoft or the Linux people, and thus he had shaken hands with Mr. Furukawa and Mr. Ready in front of photographers at the show. But this doesn't mean he is going to compromise the T-Engine architecture. He insists on the use of TRON Code inside the architecture, and thus he noted that Sun Microsystems, Inc., has created a special version of Java, T-Java, which is compatible with TRON Code.
A large portion of Prof. Sakamura's keynote lecture was devoted to the description of new technology developments. He talked about the three ucode-compatible RFID tags that had been developed and approved for use. He said he wants not just large distributors, but also small companies and even individuals to use these. He showed a PHS-based UC-Phone, which can also read ucode-compatible bar codes. He explained T-Dist and T-License for distributing T-Engine middleware. He mentioned NTT DoCoMo Inc.'s T-Wireless extension to T-Kernel, which was to be described in a technical session at the show, and he corrected reporters on a report that NTT DoCoMo planned to use only Linux in its cell-phone sets in the future. Moreover, he emphasized that he had never maintained that everyone should use only TRON. As to why his is doing this, a question he is frequently asked, Prof. Sakamura said he just wants to make a contribution to human society just as the U.S. had done with personal computers and the Internet.
MontaVista's CEO Describes T-Linux
After Prof. Sakamura concluded his keynote speech, MontaVista Software President and CEO Jim Ready gave a presentation on his company, which was founded in March 1999, and Linux for consumer applications. He began by saying that he was impressed with what the TRON Project had accomplished 15 years in 1988, and that he is even more impressed with what it has accomplished recently. He said his company, which is capitalized in part by Japanese firms such as Toshiba Corporation and Yamaha Corporation, has 160 employees worldwide, and that it has over 700 customers. Using statistics provided by the TRON Association, he showed that about half of the embedded systems market uses either TRON or Linux, while the other half is fragmented among various other operating systems, many of them proprietary. On that point, he noted that openness is important for the spread of ubiquitous computing, and that there is a need for diversity and competition.
Linux has been successful in consumer applications, Mr. Ready pointed out, because like T-Kernel it is an open operating system, it has strong networking features, there is a lot of middleware for it, and a lot of information about it is available in bookstores. He said he agreed to port his company's version of Linux onto T-Kernel to get the best of both worlds. He showed an organization diagram of Linux on T-Kernel in which User Mode Linux (UML) has been used for the initial implementation. This is wrapped down into T-Kernel to inherit T-Kernel functions. The implementation will eventually be made available as open source. He concluded his presentation by saying that Linux and T-Kernel complement each other, and that he is happy to be a part of the T-Engine project. He also said he believed that the open approach will be the basis on which the penetration of embedded systems will rest in the future. The speaker who followed him, Mr. Susumu Furukawa of Microsoft, didn't necessarily agree with his view, however.
Microsoft's VP Describes Windows CE .Net Extension to T-Kernel
Microsoft is a proprietary software maker trying to get into new and lucrative business areas, but so far it has not been very successful. Against expectations, it failed to set the standards and become the market leader in the PDA and cell-phone fields, not that Japan's giant electronics makers didn't try to help them achieve that goal. The company has also entered the game machine business, garnering some success but no big profits yet. As the computing paradigm changes from concentrated resources on the desktop to distributed resources in ubiquitous networks, computer makers more and more are turning to open systems, such as Linux and TRON. Since the Linux movement is based on the GPL licensing scheme, which Microsoft considers "cancerous," the company had two choices: either either go it alone or cooperate with TRON. The former path probably would have forced Microsoft into the position of paying companies to use its operating system, so the company decided to cooperate with TRON, although it shares a most unfortunate past with the TRON Project.
Mr. Furukawa began his presentation at TRON SHOW 2004 with a description of the new fields his company would like to enter in the future, pointing out that it started out with the goal of "a computer on every desk in every home." Envisioning an age of "new lifestyles," he said the company wants to involve itself in the development of next generation hard disks, next generation digital televisions, video cameras/recorders, etc., to create what it calls "embedded ecosystems." He then showed a T-Engine with a split screen on which both T-Kernel and Windows CE .NET were running together in parallel and communicating with each other via a common bus using synchronous communication and interrupt scheduling. A demonstration program called "Three Balls," in which three differently colored balls moved horizontally in accordance to task priority, was shown to the audience. The purpose of this was to show that cooperative operation with Windows CE .NET did not degrade the real-time capabilities of T-Kernel.
As is well known by TRON Web's regular readers, the Office of the United States Trade Representative went out of its way to try to destroy the BTRON-based educational computer project, which is not to mention the CTRON-specification operating system project. This interference mainly benefited Microsoft Corporation, which eventually went on to become the leading supplier of desktop personal computer operating systems. Since his company is now a member of the TRON Project, Mr. Furukawa felt it necessary to address this unfortunate incident that took place roughly a decade and a half ago. He saved his remarks about BTRON for the very end of his presentation, tacking them on as sort of like a footnote, which indicated he would like to sweep the incident under the rug as soon as possible. Here is a translation of what Mr. Furukawa was quoted as saying about BTRON in the Japanese press.
Formerly, it was said that Microsoft has been in opposition to TRON, but as a living witness to history, there aren't any instances in which Microsoft has tripped up BTRON. We have hoisted [the banner of] co-action and co-existence. Although our standpoints are mutually different, I'm glad that we could actually [technically] cooperate with TRON, and that we could confirm that we were not necessarily on bad terms.
The TRON Project, as a royalty-free, open architecture/open source project, has always been open to participation by Microsoft. Moreover, as Prof. Sakamura has pointed out to TRON Web, the T-Engine project cannot very well call itself an open project if it says that membership is open to everyone but Microsoft. Furthermore, since the main goal of the project is to create true ubiquitous computing networks, which will encompass computerized devices based on all types of operating systems, both proprietary and open architecture/open source, it is better to have Microsoft cooperating with the T-Engine project rather than competing with it. That having been said, if, as Mr. Furukawa seems to be asserting, the USTR actually acted against Microsoft's wishes when it attacked the TRON Project back in 1989, then why didn't Microsoft publicly speak out against that policy? More importantly, if, as Mr. Furukawa asserts, Microsoft was never in opposition to the TRON Project, why didn't Microsoft join the TRON Association way back in 1989?
Auto-ID Project Makes Its Debut at a TRON Show
Microsoft wasn't the only TRON SHOW 2004 participant to turn heads. Prof. Jun Murai, Japan's representative to the Auto-ID project that began at MIT in the U.S. (the Auto-ID project has since left MIT and been renamed EPCglobal; EPC stands for "electronic product code") also appeared in a joint theater session with Prof. Sakamura under the title: "Ubiquitous ID Center and the Auto-ID Center Are Good Friends." This title was intended to debunk numerous reports in the Japanese press that there is a standards battle in the world of RFIDs, which is quite understandable given the history of political interference to prevent the TRON Project from setting standards in the past. However, as Prof. Sakamura pointed out, the two projects are aimed at different objectives (ubiquitous computing environments versus supply chain management), the Ubiquitous ID Center's 128-bit code can overlap the EPCglobal 64-/96-bit code, and that differences in RFID frequencies can be overcome with technological fixes, such as a dual-band RFID chip.
In fact, as Prof. Murai pointed out, EPCglobal's nemesis is not Prof. Sakamura and the Ubiquitous ID Center, but rather Ms. Katherine Albrecht of Consumers Against Supermarket Privacy Invasion and Numbering, or CASPIAN, an organization that views RFID chips as "spy chips" that will allow manufacturers, retailers, marketers, and even government security organizations to surreptitiously gather data on individuals, their buying patterns, and even their whereabouts. This organization actually began protesting supermarket discount cards--it claims supermarket discount cards are actually intended to raise prices, not give discounts to customers--and then expanded its activities as the Auto-ID Center's RFID electronic tag project became known. CASPIAN has become so successful and influential that Ms. Albrecht has become the target of a character assassination attempt, which conversely has made Ms. Albrecht more determined and gives her more ammunition to use against those who would like to see RFIDs come into widespread use in the U.S.
Interestingly, RFIDs are not drawing a lot of flak in Japan. One reason is that the Ubiquitous ID Center has established a policy of clearly indicating where the RFID chips are so that the consumer can remove them--this should be codified into law by legislators in every country; doing so would alleviate consumer distrust and resistance to electronic tags--although Prof. Sakamura said he would like consumers to leave them on so that new consumer appliances, such as an "intelligent machine," could be realized. Another reason is that the RFIDs developed by the Ubiquitous ID Center are difficult to read from great distances--T-Engine Forum personnel sometimes have difficult getting a Universal Communicator to read RFID chips during demonstrations, even though they know where the chip is-- so remote surreptitious monitoring of consumers at the current radio frequency power levels will be difficult. Another reason is that Japan still has a cash economy, and hence most people cannot be tracked through the matching of credit card numbers with RFID numbers.
Prof. Sakamura said that the Ubiquitous ID Center and EPCglobal would be conducting joint proving trials in the near future. Both projects need IPv6, which is a specialty of Prof. Murai, for communication purposes. However, since the TRON Project is aiming at different goals, in particular, "context awareness" in ubiquitous computing environments, it will need to create different protocols. These will have to manage not just the IDs, but objects and their contents, and there will have to be mapping between between IDs and their attributes. For that reason, Prof. Sakamura believes that about 10 years will be required to realize true ubiquitous computing environments. During those 10 years, he pointed out, his laboratory is going to have to conduct a great number of practical experiments, and these experiments are going to have to involve small suppliers in addition to large-scale distributors. Interestingly, his ambitious goals are drawing a lot of attention overseas. He said most of the visitors to the Ubiquitous ID Center are Americans.
Some Notes from the Theater Sessions
A most unfortunate thing happened at TRON SHOW 2004. Normally, theater presentations take place in a single theater, which allows TRON Web's illustrious staff of one to cover everything of interest. This year, for the first time that TRON Web can remember, the theater presentations took place in four separate theaters simultaneously, which is not to mention the fact that the theater locations were spread out all over the large Tokyo International Forum complex. Accordingly, it was only possible for TRON Web to cover a small portion of the presentations given at TRON SHOW 2004. One presentation that TRON Web covered was the above mentioned joint session by Prof. Ken Sakamura and Prof. Jun Murai, which was well attended. Below are some descriptions of the things described at other theater presentations that TRON Web sat in on.
Oracle Corporation Japan gave a presentation on "Oracle9i Lite for T-Engine," which is a compact database management software application optimized for small computing devices, such as personal digital assistants. The thing that amazed TRON Web about this middleware application is that it doesn't rely on non-standard T-Kernel extensions, rather it is built atop "T-Kernel Extension." This puts T-Kernel on a par with the MS Windows, MS Windows CE, GNU/Linux, Palm, and Symbian operating systems, for which there is already Oracle Lite support. The Oracle spokesman said his company ported Oracle Lite to T-Engine, because it wants to get into areas where databases are not used at present. He said the company's vision of the future includes people moving data from cars to homes and offices, for example. Since the company makes one of the leading database management systems for large servers, it will be relatively easy to synchronize data between servers and embedded systems.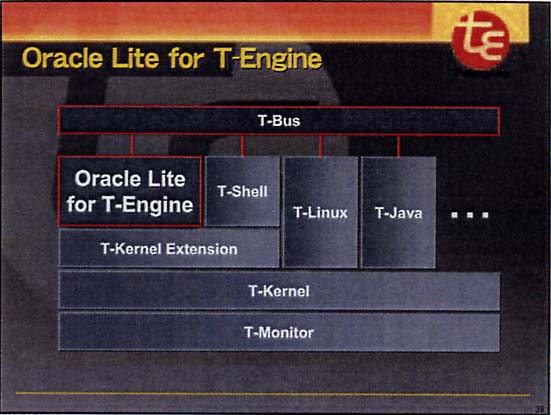 Personal Media Corporation described its approach to T-Engine, which is very comprehensive since the company is the source of all the T-Engine development kits in addition to a lot of literature for developers, e.g., the recently released T-Kernel Standard Handbook (English translation is on the attached CD-ROM). For rapid T-Engine middleware development, the company offers PMC T-Shell, which basically allows developers to make use of the company's flagship product, the Cho Kanji operating system, on top of T-Engine. The company says it's more compact than Java. In fact, it's so compact that it was put on a compact flash card and supplied to the developers of the new T-Cube computer (see below), which is as small as a tangerine but packs almost all the capabilities of a desktop central processing unit. The company also announced two new T-Engines that will be marketed in the near future: T-Engine/ARM926-MB8, based on a Fujitsu microprocessor; and µT-Engine/Nios, based on a processor that allows for programmable logic.
The T-Engine project is all about compiling and redistributing middleware on top of a family of high-performance, standardized, open development boards to enable rapid development of prototype embedded devices. For that reason, developers of middleware that have heretofore appeared on proprietary hardware, such as cell-phones, are now porting their software to T-Engine. One such company is Picsel Technologies Ltd. of the U.K., which markets ePAGE, a platform-independent multimedia content engine that allows cell-phone and other thin client users to easily manipulate multimedia data created with other applications. It does this by extracting from the source file the contents necessary to accurately render them on the display of the output device. Since the extracted data is very compact, 10 types of files are possible with only 2 megabytes of memory. The system is particularly adept at blowing up fonts and graphics, and it can also handle animation. The company said that a Sony Clie based on the system will be available in 2004.
Speakers from the T-Engine Forum and the TRON Association also gave presentations on middleware, which were well attended. Mr. Koichi Sato of the T-Engine Forum gave a description of T-Engine middleware that covered many of the points that he covered in a paper previously translated and posted on TRON Web. He also described the distribution system, T-Dist, which allows developers to post their middleware on line and have others license it and download it in an environment secured by eTRON. In order to ensure the smooth distribution of middleware, the T-Engine Forum has drawn up T-Format, which prescribes the descriptive format and binary format of programs. Another innovation is specifications for standard device drivers. These device drivers include a serial communications device, a LAN network interface device, a system disk (PC card, USB storage, RAM/ROM disk), an eTRON chip SIM interface device, a clock device, a keyboard/pointing device, a screen (display) device, an audio/voice device, and a MIDI device.
The TRON Association's TRON Instruction and Dissemination Group gave a presentation about a topic on everyone's mind--how to move middleware from the various implementations of ITRON to T-Kernel, which is a single source kernel. Popular opinion has it that since both ITRON and T-Kernel are from the same stable, it is relatively easy to port middleware from one to the other, but that's not necessarily the case. The original ITRON specification was designed in 1984 on the basis of weak/loose standardization--later, standard profiles were introduced when weak/loose standardization became a problem--and it was aimed at the microprocessors of that period, which were considerably slower than those available today. One of the advantages of ITRON was that it could be fine tuned and matched to the hardware. The disadvantage was that middleware had to be modified to run on various implementations. It was also impossible to create a standardized development environment for the numerous implementations of the ITRON-specification kernel.
T-Kernel was developed in 2000 on the basis of strong/strict standardization and a single source kernel. Since the kernel cannot be fine tuned to the hardware layer--technically this can be done, but the resulting kernel can no longer be called T-Kernel--there is a slight performance hit for this type of design. However, since the hardware of today is considerably faster, that disadvantage was considered negligible. Conversely, the T-Kernel approach allows for the creation of standardized middleware that can easily be ported from one T-Engine development board to another merely through recompiling. This meets the needs of new types of embedded systems, such as information terminals and miniature personal computers, which run applications that are huge when considered from the viewpoint of embedded systems of the mid 1980s. In this world of embedded development, the software development costs are considerably higher than the hardware development costs, and that is why so many companies are lining up to support the T-Engine project.
At the middleware porting session, representatives from four large Japanese electronics companies gave presentations on their experiences of moving middleware from ITRON to T-Kernel. Mitsubishi Electric Corp. and Renesas Solutions Corp. ported a TCP/IP subsystem from ITRON to T-Kernel, Toshiba Corp. likewise ported a TCP/IP stack plus a Wi-Fi driver, NEC Electronics Corp. ported a text-to-speech system, and Hitachi ULSI Systems Co., Ltd., ported a file system. It should come as no surprise that the most used method in these porting exercises was a "wrapper," which the NEC team referred to as an "absorb layer," since it absorbs the differences between the underlying layers of software. The main advantage to using the wrapper is that it reduces the time to port software from one system to the other. Toshiba, for example, reported that it took about one month and a half, from studying the T-Engine development environment to confirming the operation of a demonstration application. At the end of the session, Mr. Noboru Koshizuka said the group would like to develop a tool for automatic porting.
Special T-Engine Session for the Hackers
On the morning of Saturday, December 13, the final day of TRON SHOW 2004, there was a special session for hacker hobbyists under the title "Let's Try T-Engine." The goal was to tell the technically savvy what they could do on their own with T-Engine, but first the moderator, Mr. Noboru Koshizuka, ran down a list of T-Engine accomplishments. T-Engine, he said, has been used as a test platform for a handheld terrestrial digital television receiver. Oracle database management software has been ported to the platform, and NTT DoCoMo developed the T-Wireless kernel extension for the platform. There is also a multi-operating system car navigation system based on the platform, and Windows CE .NET has been ported to T-Engine. Mr. Koshizuka said that in the exhibits hall there was a ubiquitous computing showcase that showed T-Engine technology applied to a retail sales environment, and which included an intelligent wine cellar. In addition, he explained two of Prof. Sakamura's favorite T-Engine-based applications, the Ubiquitous Communicator and the UC-Phone.
The first speaker at the T-Engine special session was Mr. Takuo Suzuki of the University of Tokyo who over the course of a month developed a T-Engine software application that mixes music and sound into a single stream. Based on a T-Engine sound driver, it consists of several thousand lines of code, which will be released free of charge from the Sakamura Laboratory. He was followed by Mr. Hiroyuki Yamada of Hitachi, who along with Mr. Katsuhiko Neki of NEC Electronics was wearing a T-Engine T-shirt that T-Engine fans in Singapore had specially created for an event there. Mr. Yamada demonstrated the T-Engine-based "Motion Watch" that was on display at the Aplix Corporation booth, which is a Java-based watch that changes its appearance according to the environment and the wearer's current state. It can also be used for communicating with the environment. Mr. Yamada also demonstrated the "Hey Terminal," so called because it can say "hey," which is not to mention output clapping by one or many people and/or simulate the shooting of guns.
After Mr. Yamada spoke, Mr. Shigeki Muramatsu of the YRP Ubiquitous Networking Laboratory demonstrated scalable vector graphics using an SGV-based system on T-Engine. His demonstration involved manipulating a map plus the T-Engine logo, which he was able to spin and enlarge at will. While this may seem like no big deal, this type of software has yet to appear on the BTRON-specification operating system, so it was exciting for BTRON users to watch. Even more exciting was Mr. Neki's demonstration of the T-Engine-based "T-Cube" computer running Cho Kanji, which the Asahi Shimbun dubbed the "tangerine computer." To give an idea of how small it is, Mr. Neki held up a fan for cooling a Pentium-based computer, which consumes 2.5 watts of power and is considerably larger, and T-Cube, which consumes only 5 watts of power and much smaller. It's so small in fact, that Mr. Neki said he's thinking about developing a "mouse computer," i.e., a mouse that incorporates a personal computer main unit.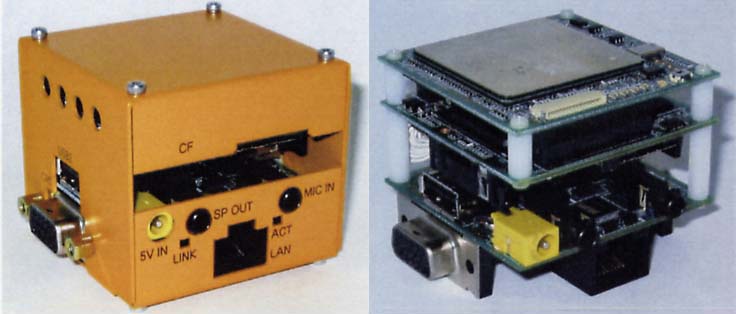 T-Cube has been dubbed the "tangerine conputer" because it literally is as small as a tangerine
T-Engine-Based Products: Tangerine Computer Steals the Show
As noted above, the T-Cube computer, which was developed by NEC Electronics and Shimafuji Electric Inc., drew a lot of attention at TRON SHOW 2004. Imagine an 800 MIPS computer that fits within the palm of your hand, not across it. Interestingly, the operating system of choice for this computer was the BTRON3-specification Cho Kanji 4 operating system of Personal Media Corporation, which Personal Media ported to the hardware platform in a matter of three weeks. The operating system is provided on a Compact Flash card, which also easily fits within the palm of your hand. What a lot of the youngsters, and many of the younger reporters, didn't know is that once upon a time and long, long ago there was another "cube computer" in the TRON Project, the MCUBE computer that was based on a TRON VLSI CPU and marketed by Personal Media back in 1990. In order to give TRON Web readers an idea of just how far TRON-based computers have come, here is a comparison of T-Cube and MCUBE.
T-Cube (2003)

MCUBE/shelf-3 (1990)

CPU
VR5500 (266 MHz/333 MHz; 400 MHz possible)
GMICRO/300 (F32/300 20 MHz)
Flash ROM
16 megabytes
None
RAM (SDRAM/DRAM)
64 or 128 megabytes

4~16 megabytes

(16 kilobytes of cache)

Real Time Clock
RV5C348B (battery backup)
None
LAN
10/100Base-T (1 channel) RJ-45
Ethernet interface, TCP/IP protocols
Video
VGA, XGA, SXGA compatible
Possible to superimpose NTSC signals on a graphic screen
USB
USB2.0 (Type-A 2 channel)
(VME expansion bus)
Compact Flash (CF)
1 slot True-IDE mode
(1 x 3.5" floppy disk drive; 1 x 180 megabyte hard disk drive)
Sound
AC97, microphone input, stereo output
None
Serial
RS232C (2 channel)
RS232C (2 channel)
eTRON
Interface
None
Power supply
DC 5 volts
AC 100 volts
Case size
52 mm x 52 mm x 45 mm
314 mm x 245 mm x 122 mm
Temperature for use
0~35 degrees C
Approximately the same
Personal Media Corporation not only had T-Cube on display at its booth, but it also had on display a new version of the TEA Terminal for educational use, which is currently undergoing testing in schools in Japan prior to being put on sale. The company also had on display a "successfully developed" version of its Genkoo purosessa [manuscript processor] software, which allows the traditional Japanese method of writing on lined manuscript paper to be completely computerized. The first version of this was shown to BTRON users way back in 1998, so one gets the feeling that Personal Media is finally planning to put it on sale. Since the application has modes for editing and revisions plus the pasting of memos, which is not to mention access to an unabridged kanji character set, it should find ready buyers in the Japanese publishing industry. As for T-Engine-related products, Personal Media announced that it would be marketing a new version of UIEvolution Inc.'s UIEngine for T-Engine, which developers can use to easily create cross-platform cell-phone applications.
The cell-phone world got a boost at TRON SHOW 2004 when NTT DoCoMo announced "Wireless T-Engine," a new T-Engine-based hardware/software architecture that is intended to serve as a "common architecture" for 3G cell-phone developers. Developed in an NTT DoCoMo-led working group within the T-Engine Forum that was comprised of 13 companies with cell-phone development experience, the hardware specification is based around a low-power-consumption T-Engine board that becomes a FOMA terminal through the insertion of a special PC card. There is also a special middleware bundle of common functions required for FOMA cell-phones, which includes a wrapper layer to implement a common set of T-Wireless browser APIs. At NTT DoCoMo's booth there was a prototype cell-phone based on this T-Wireless architecture that featured a browser, POP3/SMTP e-mail software, and a camera application. The prototype uses a CPU with a 133 MHz internal clock and 16 megabytes of SDRAM. Power consumption is less than 600 milliamperes.
On December 8, just prior to the beginning of TRON SHOW 2004, the T-Engine Forum held a press conference to announce the UC-Phone, which stands for "Ubiquitous Communicator Phone." Unlike the previously announced Ubiquitous Communicator, this UC implementation is meant to be low cost. Thus it is based on the low-cost-of-use PHS wireless system already in existence in Japanese cities. It is also aimed at low-end uses, which is why it has a built-in bar code reader. Unlike the Auto-ID project, Japan' Ubiquitous ID project plans to continue to use barcodes, since they are less costly than RFID chips. By continuing with barcodes, it is believed that even small suppliers will begin to employ ucodes on their small product runs, and hence allow for the tracking of individual items through Japan's supply chain. It should be remembered that both the Ubiquitous Communicator and the UC-Phone are experimental devices development at a research center. They are intended as demonstrators for companies interested in developing commercial products.
As for other exhibits at TRON SHOW 2004, Toshiba had a very large booth where it displayed its TX4956 T-Engine in action. Toshiba had dropped off the radar screen in TRON Project for a long time, so it was nice to see them back. Fujitsu Ltd. likewise had a large booth, where the company was displaying a dual-core ARM9-based standard T-Engine and FR-V-based µT-Engine. NTT Data Corporation also had a booth in which it was plugging various types of ubiquitous network service that it believes companies in the future will need. As for smaller companies, there was I.A.P. Co., Ltd., which is developing software that integrates Bluetooth and H323 VoIP. The company plans to port this to T-Engine to allow cheap telephone calls on cell-phones. Another interesting exhibit was that of Faith Inc., which has ported the Faith Sound Library to T-Engine. This middleware is is the first of its type on T-Engine to support synchronous audio playback, while offering complete support for the MPEG audio format plus MIDI playback.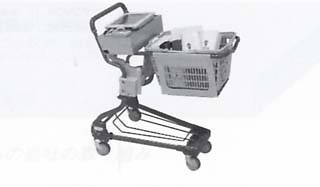 The EPOP Cart reads RFID tags on products
In addition to individual product exhibits at company booths, there was also a "Ubiquitous Computing Showcase" at TRON SHOW 2004, which cost 1,000 yen to get into. The 1,000 yen was to purchase electronic money that could then be used to purchase items in a computerized store where every item on sale had Ubiquitous IDs attached to them. These items were placed in an electronic cart, developed by Toppan Printing Co., Ltd., called the EPOP Cart, which reads the tags and calculates the total. When the cart was pushed through an electronic cashier's gate, the buyer approved the payment using the electronic money, and the totals went into the accounting system. The last stage of the Ubiquitous Computing Showcase, which can be seen in the picture at the top of this section in which Prof. Sakamura is explaining the Ubiquitous Communicator to Prime Minister Junichiro Koizumi, was an intelligent house exhibit in which the refrigerator (on the right) was capable of reading RFID tags, and the television and lighting could be controlled form the Ubiquitous Communicator.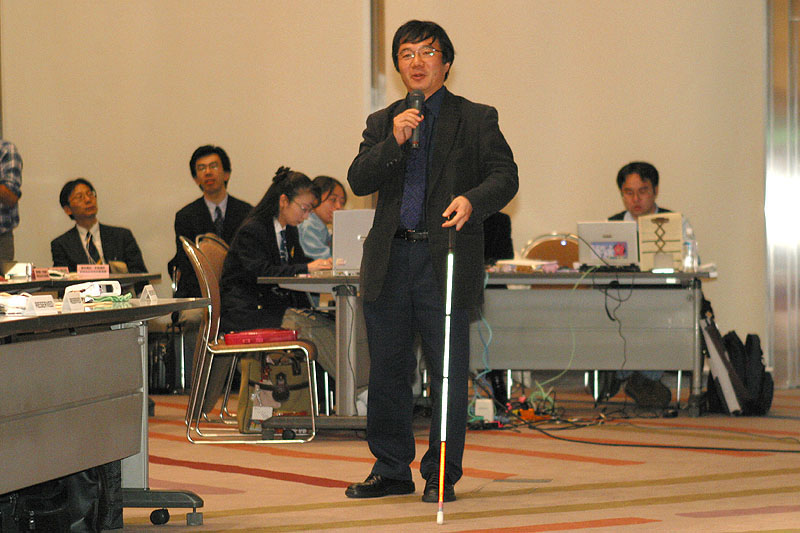 Mr. Yoshitake Misaki of Tokyo Hachiouji School for the Blind explains the use of the "white cane" to engineers
TEPS 2004: Ubiquitous Computing and Enableware (Part 2)
One of the long held goals of the TRON Project has been the creation of standardized technologies that will allow people suffering from various disabilities to use computers and take advantage of computer networks. To that end, the TRON Project established a TRON Enableware research group back in 1987. One of its major accomplishments was the creation of the provisions within the BTRON computer human-machine interface that enable the disabled to use the BTRON operating system and its applications. More recent developments within the project, however, can be used as is to help the disabled overcome barriers that surround them. TRON Project Leader Ken Sakamura opened TRON Electronic Prosthetics Symposium 2004 in a keynote speech in which he explained, for the second time in a year, recent developments in ubiquitous computing technologies and how they will impact the disabled. And since they now actually exist, he was able to demonstrate them in front of his audience, many of whom were disabled.
The TRON Project's ultimate goal is the creation of computerized living and work spaces inside which everything will be computerized, and inside which the computer systems managing those spaces will be capable of "context awareness." Specifically, context awareness means that the computer systems managing computerized spaces will be aware of "time, place, and space," as well as the "attributes" of things and people who exist in and enter those computerized spaces. A lot of this context awareness will depend on RFID tags and sensors that have recently been developed as a part of the T-Engine project. Westerners, for example, might scoff at computerized medicine bottles that read out their contents to a Ubiquitous Communicator and tell a patient not to mix medicine A with medicine B, but such functionality is warmly welcomed by the visually disabled who otherwise would be forced to have a human helper put Braille tags on medicine bottles and then try to remember a doctor's instructions about what medicines can be taken together.
But offering the visually disabled help in taking medicine is not all that the TRON developed RFID system can do. Since the electronic tags can be used to send identification numbers to on-line content description databases, the visually disabled can find out, for example, what color sweater they are holding in their hands or what the contents of a certain food package are. Previously, a human they live with would have to help them with these mundane tasks, and if that human helper wasn't immediately available, the visually disabled person would have to wait patiently until he/she returned. Prof. Sakamura, who is extremely proud of the Ubiquitous ID technologies his project has developed, demonstrated the power of this technology to the disabled using a variety of everyday items. Moreover, since the Ubiquitous Communicator that retrieves the data is a multimedia device, it can also help the hearing impaired by outputting text and image data, either stills or motion pictures. And ordinary folks can create their own electronic tags and content databases, too.
As at every Enableware symposium, Prof. Sakamura pointed out that government policy makers have to help in order to make Enableware technologies available to the disabled, an area, which he continually declares, Japan is weak in. He is a big fan of the U.S.'s Americans with Disabilities Act, which required, for example, that all televisions with 13-inch or larger screen sold in the U.S. to be closed caption equipped for the hearing impaired. If this is done on a societal basis, Prof. Sakamura said, the cost is low. Of course, even in the absence of government regulations, corporations can go out of their way to help the disabled on their own. One of the biggest supporters of the TRON Enableware movement has been Yazaki Corporation, which established a factory for the handicapped to work in. In addition, the company has also developed a talking Braille keyboard for the visually disabled. This has gone through several versions and is now ready for sale to the disabled in Japan. An English version may also be developed.
Yazaki's talking Braille keyboard is officially called "Braille Talk," and it is scheduled to go on sale in June of 2004 at a price of under 100,000 yen. The company calls it a personal digital assistant, which is probably because it can operate either at 100 volts from an AC electrical power outlet using an adapter or on battery power from four penlight batteries. Braille Talk's dimensions are 226 mm x 156 mm x 31 mm, and it only weighs 600 grams, batteries included. Input is done via six keys, and output is based on synthesized speech. The unit is also equipped with serial and USB interfaces, plus an SD card slot. As for software, it comes equipped with a memo pad (braille input and editing), readout of data translated into Braille, readout of text data, and accessories (calculator, calendar, clock, timer, alarm, stop watch, and telephone book. Braille Talk can be used in conjunction with a cell-phone. It will read out incoming e-mail, and send out outgoing e-mail. The output voice can either be a male voice or a female voice, depending on the preference of the user.
Another product announcement at TEPS 2004 was "Pedestrian ITS," or Pedestrian Intelligent Transport System, which is still in the research and development stage. It is basically a scheme in which pathway floor/sidewalk tiles with RFID tags embedded in them are laid down for the visually disabled to follow using their white canes (as antennas), an earphone, and a PDA. One of the problems with this system is that it was tested using non-visually impaired test subjects, who had no problem finding the blocks. However, if you are totally blind, it may not be that easy to find them, as Mr. Sadao Hasegawa later pointed out. Another problem is that to follow the blocks the visually impaired person has to use his white cane passively, which is something they are taught not to do at schools for the blind. This is because they could easily fall over a precipice. Mr. Yoshitake Misaki of Tokyo Metropolitan Hachiouji School for the Blind took Mr. Hasegawa's white cane and demonstrated to the Pedestrian ITS engineers how a blind person uses the white cane.
A speech server for the visually disabled that extracts teletext and closed caption data was also described at TEPS 2004. The teletext data, which include news, weather, and sports, are transmitted free of charge in Japan using the gaps in terrestrial television broadcasts. The closed caption data are those defined by EIA Line 21 Data Services, which are used in television broadcasts and videos in the U.S. and Europe. In the speech server system described, these teletext/closed caption data are received with a tuner (Mojibijon/Limex) and are then transmitted via a serial cable to a Open Block S 266 Linux-based server, from where they are transmitted via a TCP/IP network to MS Windows personal computers to be turned into voice data using a synthesized speech engine. The developers of the system said in the future they would like to take data from home appliances and provide them to the visually disabled, as doing such things as setting an air conditioner are difficult for them. They are also thinking of Braille support, and support for a reader device.
The visually disabled community was represented at TEPS 2004 by Mr. Sadao Hasegawa of the Japan Braille Library, who gave a presentation about the continuing success of the Telesupport Center that helps the visually disabled travel throughout Japan by giving them navigational instructions based on what they see through a visually disabled person's 3G cell-phone equipped with a built-in video camera. Mr. Hasegawa noted that the latest NTT DoCoMo FOMA-compatible cell-phone he uses, the FOMA P2102V from Panasonic, has 70 percent better resolution than the last version he used, which makes it easier for the guides at the Telesupport Center to help him. Although he is based in Tokyo, he said he traveled to Hokkaido, where he received telesupport from a person in yet another region on which bus to ride on. The telesupport service has been so successful, he said he hopes that it will be exported to the rest of the world.
Mr. Hasegawa has been participating in the Enableware symposiums since they began in 1987. However, even before that he was interested in using computer technologies to help the visually disabled. His biggest dream has been to enable the visually disabled to freely use the Japanese, and 30 years ago he used a mainframe computer to write Japanese. Thanks to Yamazaki Corporation and its new Braille Talk PDA, that dream is going to finally be realized, and for less than 100,000 yen. He also wanted to use video telephone technology to get around town, and he has achieved that with video camera equipped cell-phones and 3G service connected to the Telesupport Center. One might think he is ready to rest on his laurels, but actually he is thinking of new challenges. Believe it or not, he wants to help people who are both visually and hearing impaired, and the way he wants to help them is through the use of a new concept that he calls "body Braille." Since he's a leading authority on Braille in Japan, he just might succeed.
The hearing impaired also had a chance to speak on their problems and on their desires for technologies to enable them to overcome their handicaps. Mr. Hiroshi Hasegawa, an instructor at Tsukuba College of Technology who is hearing impaired himself, said he would like to see ubiquitous computing realized in his lifetime. Unlike the visually impaired, going places has never been a problem for the hearing impaired, but they are not able to drive, and when they are on public transportation they cannot hear emergency announcements. However, there has been progress. The wide dissemination of cheap facsimile technology 20 years ago made it possible for others to contact them from a distant place within the same day. When Internet-based personal computer and e-mail came on line 10 years ago, they took another leap forward. When those technologies were combined together in the cell-phone, it actually became possible for the hearing impaired to go out on an appointment and change their plans after they had left home.
The hearing impaired are currently aided at home by lights that alert them when a guest has arrived at the door or when a facsimile has been received. They also have vibrators that, for example, wake them up when they are sleeping. If these are attached to a cell-phone, then they can be immediately contacted with text messages via the Internet. Mr. Hasegawa said he would love to see voice recognition realized, although he said he would still like to see people's faces so that he could pick up nuances that go with the words. He would also would like to see some technology that would convert sounds into visual data so that the hearing impaired could drive vehicles. That's something that might become possible if head-up displays ever become widely used in automobiles, particularly if they were connected to multiples types of sensors, e.g., heat and sound. In closing his presentation, Mr. Hasegawa said no matter how much technology advances, social support is still needed, which is very true.
The final event at TEPS 2004 was a panel discussion among the presenters that was moderated by Prof. Ken Sakamura. The first comments were made by one of the Pedestrian ITS engineers, who said he realized that it won't be easy to create a practical guidance block system for the visually disabled. He thought GPS could be used to direct them toward the guidance blocks, but GPS is mainly for sighted people trying to locate things outdoors, since the civilian version of GPS is not very accurate. Prof. Sakamura commented that engineers don't know when something is poorly made or inconvenient, and that people like the hearing impaired also have problems. He said that in Japan, the maximum signal power to be used with passive RFIDs such as those embedded in the blocks is 10 milliwatts, which goes about 5 centimeters. But what happens if there is strong electromagnetic interference? To get a longer and more practical range from the passive RFID chips in the guidance blocks, it is necessary to send a much stronger signal, he said.
The developers of the speech server for the visually impaired pointed out that the companies that sell the teletext/closed caption tuners did not want to release their proprietary protocols. The only reason they were able to develop their speech server system was that they were able to successfully analyze those protocols. Prof. Sakamura said that there should be a law to reveal things like this, and that it shouldn't take 10 years to get results. Mr. Hiroshi Hasegawa said that he once had a person write down the words in a broadcast to put on a video for distribution to the hearing impaired. That led to a copyright problem with the copyright holder that almost landed him in court. Prof. Sakamura countered that many members of the Enableware group fought the JR railways when they switched from button operated ticketing machines to touch panel operated ticketing machines. As a result, the JR railways have decided to leave a button operated ticketing machine in each station for the visually impaired.
There was an interesting question from the audience. Prof. Sakamura was asked how he got involved in developing Enableware. He replied that in his younger years he volunteered to read out printed material onto reel tape recorders for the visually disabled, but that he was turned down because the people in charge felt he was not a good reader. There was also a suggestion that Prof. Sakamura invite a politician or legal affairs specialist to the Enableware symposium next year. Prof. Sakamura replied that Japan's Prime Minister, Junichiro Koizumi, had come to view the TRON-based technologies the previous day, and that it was too bad he didn't come on the day of TEPS 2004. It was very interesting to note, that many of the questions coming from the audience were from engineers, who year after year come to the Enableware symposium to find out what they need to do to achieve universal design. Many of them want to exchange views with Prof. Sakamura and engage in projects that help the disabled. In that sense, the Enableware symposiums have been a success.
---