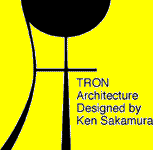 TRON News Items for February 2003
---
TRON SHOW 2004 Information Released
The TRON Association released via its official Web site the dates and location at which TRON SHOW 2004 will be held. TRON SHOW 2004 will be held from Thursday, December 11 through Saturday, December 13, 2003, in Hall B of Tokyo International Forum, which is just a one-minute walk from the JR Yurakucho Station and a five-minute walk from JR Tokyo Station. Hall B occupies the 7th and 8th floors of B Block, and it has 1,400 square meters of floor space for exhibits and theater programs. (Laforet Roppongi, the site of last year's TRON show, had a lobby floor space of 435 square meters and a hall space of 675 square meters.) Unlike the last year's venue, this year's venue comes equipped with facilities for simultaneous interpreting. English language information about Hall B of the Tokyo International Forum and a Japanese/English video presentation with instructions about the venue can be accessed here.
Freeware Paint Software Program Ported to Cho Kanji 4
XBrush, a freeware paint program originally developed for X-window that runs on the FreeBSD and GNU/Linux open source operating systems, has been ported to the BTRON3-specification Cho Kanji 4 operating system and is now available for downloading from the World Wide Web. The version ported the Cho Kanji 4, Version 0.51, is available in both binary and source form. In the BTRON version of this software, the drawing window and the control windows are separate. The specification and the controls are said to be almost the same as the other venisons of the software. The brush is controlled through a two-dimensional function formula and a graph, and RGB color can be specified up to 8 bits respectively, making it possible to realize 24-bit color. The brush has 8-bit density, and its size can be adjusted from 1 to 180 dots. The only drawback with the program seems to be that it is not yet equipped with an undo function.
---