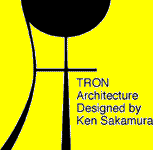 TRON News Items for September 2003
---
Microsoft Joins the T-Engine Forum
The T-Engine Forum and Microsoft Corporation held a joint press conference on September 25 at the Miyako Hotel Tokyo to announce that Microsoft would be joining the T-Engine Forum as a A level (board) member, and that the company would port its Windows CE .NET operating system to the T-Engine development platform as a non-native extension of T-Kernel, the real-time operating system that forms the basic software platform for T-Engine hardware. Mr. Susumu "Sam" Furukawa, a vice president of Microsoft Corporation in charge of advanced strategy and policy, said that the company hopes to have a working prototype of Windows CE.NET on T-Engine to show off at TRON SHOW 2004, which will be held in Tokyo from December 11 through 13 at the Tokyo International Forum. T-Engine Forum Chairman Ken Sakamura, who also appeared at the press conference, said that the 21st century is the age of cooperation, not an age in which companies forcefully take markets. Thus, he said, there should be cooperation in places for cooperation.
Some non-specialist reporters wrote that the T-Engine Forum and Microsoft had agreed on joint operating system development, but this is incorrect. In actuality, Microsoft will be re-engineering its Windows CE .NET operating system to run on top of T-Kernel and T-Monitor, plus the eTRON security architecture. As a non-native extension of T-Kernel, it will form yet another middleware environment. Other non-native extensions are: T-Linux, T-Integrator, T-Java, and T-Wireless. Native extensions of T-Kernel are: T-Kernel Tiny Extension, T-Kernel Standard Extension, and T-Kernel Enterprise Extension. Although some observers are worried that Microsoft could end up dominating this architecture, it is not very likely given how many competing middleware environments are available for the T-Engine platform. In fact, it wouldn't be an exaggeration to say that there will be more competition on the T-Engine development platform than any platform ever developed. And if other companies decide to port their operating systems to T-Engine as non-native extensions, there will be still more competition.
PMC's MicroScript the Basis for "Programming Language T"
Personal Media Corporation's MicroScript, the visual programming language that comes as standard equipment with the company's BTRON3-specification operating system Cho Kanji, has been used as the basis for creating a new programming language for use in high school computer education classes in Japan. The new language, Programming Language T, differs from MicroScript in that almost all the reserved words of the language are in Japanese, and that the syntax of the language resembles that of the natural Japanese language. In spite of this, Programming Language T is compatible with MicroScript, and programs written using English-based MicroScript statements can run in the Programming Language T programming environment without modification. The programming environment for Programming Language T consists of a control panel and a console application, both of which were creating using the language itself. There is also a debugging tool to help students find errors they may have entered into their programs. Classes using the new language began in the current school year.
Popular Opera Browser to be Ported to µITRON
On September 26, at a press conference to give a preview of and the road map for the Japanese version of the Opera 7.20 Web browser, Opera Software ASA CEO Jon S. von Tetzchner revealed that his company had formed a partnership with Japan's Kyocera and would be porting its popular Web browser to the µITRON real-time operating system, which is widely used in Japan as the operating system in many portable information appliances, such as cell-phones. The Opera browser, which is known for its small footprint (3.4 megabytes), high functionality, and rapid rendering speed, is already used on cell-phone operating systems developed in Europe, such as Symbian OS. It is also used on Sharp Corporation's Zarus personal digital assistant. In the embedded Web browser field, the company's main competition in Japan is Access Co., Ltd.'s NetFront, which already runs on top of the µITRON real-time operating system. In Japan, the Opera Web browser sells for 4,800 yen for the downloaded version, and 5,480 yen for the packaged version.
China, Japan, Korea to Develop Joint Operating System?
At the very end of August, a strange story about China, Japan, and Korea cooperating on a new operating system appeared on the Nikkei news Web site, from where it spread like wildfire around the world. Apparently the idea of the Japanese government, which previously tried to standardize UNIX in its failed "Sigma Project," the project seems to revolve around creating a new version of Linux that is better suited for East Asian languages. The exact details of the project have not been decided upon, although the Japanese government has said that it will earmark US$8.6 million for the project. In Europe, many government organizations have begun to switch over to Linux, because MS Windows is both expensive and very vulnerable to hacking. Whether any TRON-based technologies will be incorporated in the new CJK version of Linux remains to be seen. A Tokyo-based Microsoft Corporation spokesman and former USTR official protested the plans of the governments involved, although if the project actually involves Linux, it would be impossible to prevent its results from being freely distributed in East Asia.
---