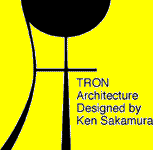 TEPS 2005, TRON SHOW 2005
---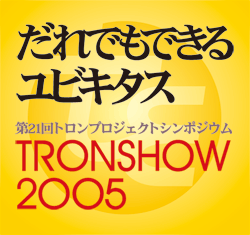 New Components for Ubiquitous Computing Networks Unveiled at YRP UNL
The TRON Project's year end events for 2004 began on December 3 at the YRP Ubiquitous Networking Laboratory near Gotanda station in Tokyo, where a special press conference was held to exhibit the latest component technologies for creating ubiquitous computing networks. Prof. Ken Sakamura, representative of the T-Engine Forum, also announced that a new intelligent house, "Toyota Dream House PAPI," he had developed in cooperation with Toyota Motor Corporation and other companies had been completed and would be opened to members of the public for viewing on the basis of a reservation during the period of Expo 2005 Aichi Japan, which is in the vicinity of the intelligent house and will run from March 25 through September 25, 2005. In addition, he announced that the number of member companies and organizations in the T-Engine Forum had climbed to 470, that the source code for T-Kernel would be made available for downloading on line from January 2005, and that Hitachi had developed a new read/write "µ-chip" for RFID use.
The first new technology for ubiquitous computing networks that Prof. Sakamura introduced at the press conference had no electronic circuits at all. Called denshi sukashi tagu' in Japanese, it is actually an "electronic watermark tag" that contains a ucode. This new printed tag system is meant to complement the already developed barcode system based on ucode. Like the barcodes before them, the new electronic watermark tags are designed to be read by the high-resolution electronic camera of the Ubiquitous Communicator (UC). Prof. Sakamura showed reporters an example of an airport sign with a pictogram of an airplane on it that included an electronic watermark tag. This could be used for obtaining information on how to access an airport via the UC. Since it is a printed technology, it has been certified by the Ubiquitous ID Center as a Category 0 system, which means it is only intended for low security level use. The main advantage of it is that it can be used to provide ucodes at very low cost compared to other systems developed to date.
Table ucode Tag Systems

Category 0

Printed tags

Category 1

RF tags

Category 2

Active IR tags

Category 3

Active RF tags

Class 0

Data loss detection

x

x

x

x

Class 1

Resistance to physical duplication; resistance to physical illegitimate reproduction

-

x

x

x

Class 2

Identification prevention

-

x

x

x

Class 3

Tamper resistance (physical and logical); resource-specific access control management

-

x

x

x

Class 4

Secure communication with unknown nodes

-

x

x

x

Class 5

Time-dependent resource management

-

-

x

x

Class 6

Internal program/security information updating

-

-

x

x

x : Exits in principle

- : Does not exist in principle
Prof. Sakamura stressed the point that in world of ubiquitous computing, a system based on a single type of identification tag, such as a single RFID chip, is bad. Multiple tag types are required to meet the needs of a wide range applications. And even when it comes to RFID chips, these must be based on an open protocol so that multiple companies can compete and drive down the cost of the chips. Moreover, if all RFID chips are based on an open protocol, such as the Ubiquitous Network Protocol (UNP) below, it is possible to create a device such as the UC to read all these RFID tags. These are the policies of the T-Engine Forum and the Ubiquitous ID Center, and it is because of this openness there is a lot of attention from overseas, although it is rarely mentioned in the Western technical press. Another thing that has drawn little interest from the Western technical press are the ubiquitous computing verification trails that have taken place in Japan. There have been 30 of these to date in Japan, and in 2005, Prof. Sakamura said that 100 trials would be under way.
UNP Protocol Stack
Application Layer
Transport Layer
Security Layer
Data Link Layer
Physical Layer
The most important announcements of the press conference were were nanoT-Engine (nT-Engine), which is based on a specially developed ASIC and a UNP connector, picoT-Engine, and the successful development on top of T-Kernel of a high-speed hand over function for mobile IP network use that allows for seamless communication in wireless networks. Unlike T-Engine and µT-Engine, which are primarily intended as development platforms, nT-Engine and pT-Engine are what Prof. Sakamura referred to as "execution platforms." In other words, although there can be many variations of them depending on what types of sensors and controls (e.g., switches) are loaded onto them, they are basically network components that require no further development. nT-Engine, which uses a 32-bit CPU, is aimed at wired networks in which an external power supply is used. pT-Engine, which has a less powerful CPU and hence less power consumption, is intended for wireless use; it can use either batteries, which last about a year in normal use, or solar cells as a power source.
nT-Engine Basic Board Outline Specification

pT-Engine Specification

CPU
32-bit
CPU

Renesas H8/SLP (Super Low Power) 10 MHz

Implemented with a special Chip Size Package

External dimensions
28 mm x 33 mm x 11 mm
External dimensions
20 mm x 20 mm
Built-in memory

Flash ROM: 512 KB

RAM (stack): 16 KB

RAM (exec.): 8 KB

Power consumption

SND: 36 mW

RCV: 69 mW

WAI: 14 µW

Connector
UNP Commo Connector
Commo frequency
315 MHz (weak wireless)
Slot
eTRON SIM slot
Commo speed
19.2 Kbps
Security
Supports encoded commo via DES
Sensor
Temperature sensor loaded on the board; possible to load other types sensors
Prof. Sakamura said that the important thing to keep in mind about nT-Engine and pT-Engine (he also referred to pT-Engine as an "active tag" during the press conference, and pointed out this is being employed in tracking the distribution of medicines in hospitals) is that they allow for the creation of sensor and device control networks in which communication between the nodes is in real time and encrypted. He said, to the best of his knowledge, this is the first time in the history of the world this type of technology has been realized. As to the high-speed hand over function for mobile IP network use, which is aimed at applications such as wireless video streaming, a handout provided to reporters stated: "We implemented this system on T-Kernel using Elmic Systems Inc.'s KASAGO IPv6, which is a TCP/IP stack for T-Kernel use, plus its option protocol Mobile IPv6, IPsec as a base. For the Mobile IP functions at the network side, such as the router and the home agent, we utilize, after making improvements, free IPv6 software called KAME on top of FreeBSD."
The products of two companies were also mentioned at the press conference. Prof. Sakamura mentioned that Hitachi ULSI Systems Co. would be making an important announcement to reporters on December 7, the opening day of TRON SHOW 2005, about a read/write version of its famous RFID tag called the "µ-chip." (Those who can read Japanese can download a PDF file of the company's Japanese language press release here.) Prof. Sakamura stressed that reporters should, in particular, pay attention to the memory capacity and read distance of this chip (see the table below). The other company product mentioned is a Location-Based Services framework for the UC that Oracle Corporation Japan had developed on top of Oracle Lite for T-Engine, which it announced at last year's show. An Oracle spokesman described the product, which is intended for use with the maps of various companies, and he demonstrated it by using his finger on the UC screen. Similar versions of the application are already available on top of cell-phones sold by various makers.
Hitachi ULSI Systems' µ-chip RW MWD6502, MWD6503

Frequency
2.45 GHz
Chip size
1.5 mm x 1.5 mm
Read/write function
Standard equipment
Memory size
128 Bytes (110 Bytes user area)
Read/write number of times
100,000 times
Data collision avoidance function
Standard equipment
Read distance
60 cm
During the question and answer period, Prof. Sakamura answered many predictable questions. He stated that the UC is designed and intended to read anything that is made public. He pointed out that any firm can develop their own versions of nT-Engine and pT-Engine, and that TRON technology is based on completely open specifications. The designs of chips based on those open specifications are, however, proprietary, and thus they must be licensed. When asked about the relationship between Japanese companies and other Asian companies in the T-Engine Forum, Prof. Sakamura said that Asian companies are really happy and welcome this leading edge technology, while Japanese companies are very conservative. When asked about the future, he said that at present they are a lot of projects are proceeding along individual tracks, but in the future all these technologies will be connected together to create ubiquitous computing networks; your refrigerator will tell you what food is in it, and multilingual functions will be similar to those seen in science fiction movies.
____________________
TRON Electronic Prosthetics Symposium 2005
For the past several years, the annual TRON Electronic Prosthetics Symposium (TEPS), popularly known as the Enableware symposium, has been held on the third and final day of the annual TRON show, which has usually fallen on a Saturday, the most convenient day for the handicapped, their teachers, and their helpers to come to a symposium. Since TRON SHOW 2005 was scheduled from Tuesday, December 7 through Thursday, December 9, it was decided to hold TEPS 2005 on Saturday, December 4, at Tokyo International Forum, the same venue where TRON SHOW 2005 was scheduled to take place. However, unlike past Enableware symposiums, this Enableware symposium featured representatives of several companies participating in the Autonomous Movement Support Project, plus Japanese government officials. According to statistics released after the symposium, attendance at TEPS 2005 was 308, which helped to push attendance at the TRON Project's year end events over the 10,000 visitor mark. This is very high compared to previous years.
The keynote lecture at TEPS 2005 was given by Prof. Ken Sakamura under the title "Toward the Realization of Universally Designed Ubiquitous National Territory," which probably sounds ridiculous to westerners, but this has been the goal of the TRON Project since its inception in 1984. Originally, just Japanese industry supported this goal, but at long last the Japanese government has lined up behind this goal, and what was originally an academia and industry project has now turned into an academia, industry, government, and people's project. Academia does the design work, industry implements the designs, government helps create and regulate networks based on those designs, and the people test them out. Prof. Sakamura said this system for computerizing Japan's national territory is so huge in scope that developing it is like building the Internet all over again. And it also has to take into account all sorts of scenarios so that it will be useful to everyone within Japanese society, not just the able-bodied, but also disabled Japanese and foreign tourists visiting Japan for a short time.
The ubiquitous computing network scheme itself is fairly easy to understand. Points in physical space and everything in it are given a unique number, sensor networks envelop this uniquely numbered physical space, and people moving through and living and working in the uniquely numbered physical space communicate with it and the things in it via a Ubiquitous Communicator on the basis of their needs and their unique personal profile. In the simplest terms, the entire country--well, the parts that people live and work in, anyway--gets turned into a giant "intelligent house," and so that everyone can make use of it, including the disabled, the design of the networks is based on "universal design concepts." Some of the sensor networks, such as GPS, are already in existence, but GPS alone is not good enough for many applications--particularly since it is U.S. government controlled and can be turned off in a U.S. national emergency--and thus a variety of new location markers have been developed to allow pinpoint positioning of people and things in ubiquitous computing networks.
Pre-opening verification trials, in which the disabled have participated, have already taken place in the port city of Kobe to the west of Tokyo, and Prof. Sakamura showed the audience a short video clip of this to the audience. The full-scale trials will last a year, and will extend to a dozen places in the city. Prof. Sakamura said the location information system is the most important part of the project, and that the purpose of the verification trials is to find out what works and where there are problems. He said that using peer-to-peer technology, a short range (within 10 meter) help system could also be developed. He also pointed out that technologies for the visually and hearing impaired could be used to help the able-bodied in places where it is difficult so to see or hear, so designing for universal use is not necessarily a one-way street. The most important thing in universal design is working it in at the initial design stage so that its cost can be spread across all systems, thus reducing the overall cost to society. Prof. Sakamura mentioned closed caption television as an example.
Prof. Sakamura's spent a good portion of his lecture discussing the role of government in creating "ubiquitous national territory" in a country. Responsibility has to be divided among government and others, he said, because government can't do it alone. Interestingly, he went out of his way to point out that the government has to establish "privacy and security" policies, plus create new laws. He praised the U.S. government for actually enacting universal access laws, such as the Americans with Disabilities Act (1990) and the Television Decoder Circuitry Act (1991), and he criticized Japan for having just guidelines but no laws. He also praised Sweden and Denmark for establishing good public services through government initiatives. He said in Sweden even the wealthy go to state run hospitals, because former Prime Minister Olaf Palme reasoned that people would only use them if they offered high quality service. With that in mind, he summed up saying that he wants to create an ideal system, a system that Japan can export to the rest of the world.
After Prof. Sakamura finished his lecture, a very unusual event took place. Seven companies and organizations gave short presentations concerning products and services they had developed based on universal design principles that are aimed at helping the disabled. In previous Enableware symposiums, the products of one or two companies have been mentioned and/or displayed, but this was the first time in TRON Web's memory that this many companies and organizations gathered together and gave presentations on products and services that were developed with the disabled in mind. The following is a brief summary of what was presented.
It was interesting to long time TRON Project observers to learn that software companies, both Japanese and foreign, have ported their products to the the native extensions side of the T-Engine Architecture. It was even more interesting to hear the representative of a famous U.S. software firm praise the Ubiquitous Communicator, which, in fact, is the realization of the BTRON-based "communication machine" concept that Prof. Sakamura proposed when he launched the TRON Project back in the mid 1980s.
Following the product presentations, the panelists for the panel discussion, who included both the able-bodied and disabled, were introduced one by one, and each of them gave a short presentation. The first of these was Ms. Nami Takenaka, chairman of the board of Prop Station, a social welfare nonprofit corporation whose goal is "turning the disabled into taxpayers." Ms. Takenaka, who got involved with helping the disabled as a result of her experiences with her seriously ill eldest daughter, showed a video clip about Prop Station that was aired on NHK, the government broadcasting service in Japan. The video clip showed the disabled using personal computers to work at home, where they create Web sites and databases. Since broadband Internet connections are widely available at low cost in Japan, they can also have video conferences with each other to discuss their projects. Ms. Takenaka summed up her presentation by saying that the disabled like receiving pay, which results in them paying taxes to government, rather than receiving government welfare payments.
The second panelist to give a presentation was Mr. Sadao Hasegawa, a 70 year old Braille specialist and member of the board of trustees at the Japan Braille Library. He said the IT pedestrian guidance blocks are a good idea, but they need improvement (he would like to feel them through his shoes), and he said he also likes the UC, although it could use better headphones. With the help of Mr. Yoshitake Misaki, he unveiled what he claims is the world's first "body Braille system," which is aimed at helping people who can neither hear nor see. It consists of a T-shirt, headband, and gloves that have vibration pads attached to them. He also demonstrated Fujitsu's FOMA 3G Raku Raku cell-phone voice synthesis function, which can be used to send text messages to the visually disabled. He said Japan's TeleSupport NET, which uses video camera equipped 3G cell-phones for assisting the visually disabled via wireless networks, can be used to locate the pedestrian guidance blocks that are otherwise difficult to locate. He said he would like to see TeleSupport NET spread worldwide.
Mr. Hiroshi Hasegawa, a hearing impaired assistant professor from Tsukuba College of Technology, spoke next. He said he went to Kobe and participated in the pre-opening verification trials of the Autonomous Movement Support Project in Kobe, where he learned that the newly developed markers can help people who are hearing impaired. He said he also received a message from a store via the system. Prof. Hasegawa said he likes this technology, and he would like to see a ubiquitous society realized. He said ubiquitous technology is particularly needed around train stations, which are dangerous for the hearing impaired. Unlike the visually disabled and people in wheelchairs, he pointed out, the hearing impaired normally don't look disabled, which is why they can more easily end up in traffic accidents. They cannot hear vehicles coming up behind them, although the drivers of vehicles think they can. Traffic accidents rank high along with diseases as the major killers of people in modern societies, so anything that can reduce these will be good news.
The fourth speaker was Mr. Yoshitake Misaki, a mathematics teacher in the High School Department of Tokyo Metropolitan Hachiouji School for the Blind, who is a regular speaker at TRON Enableware symposiums. As a teacher of the visually disabled, he said his job is to find something that his students are good at and then to expand on that. During the course of educating the visually disabled, he said he has made a lot of unique discoveries about handicapped children. Mr. Yoshitake said he believes that the ubiquitous computing network technologies that Prof. Sakamura is developing in cooperation with Japanese government and Japanese industry will be useful in enabling the handicapped to go to regular schools. He also pointed that they will enable them to go home if there is a fight. Handicapped children will be able to fight like able-bodied children, he opined, which drew laughter from the audience. However, one of the reasons handicapped children are sent to special schools is exactly because of situations such as this, where autonomous movement is required.
TEPS 2005 drew a new participant this year, Ms. Aki Terai, a wheelchair bound paralympian who placed seventh in the women's air rifle competition at 2004 Paralympics in Athens, Greece. She is also an office worker who is employed at the Kansai branch of NYK Line, a famous Japanese shipping company that is heavily involved in using Ubiquitous IDs for tracking shipping containers and managing the inventory of its warehouses. She said she lost the use of her legs seven years ago due to disease, and as a result has normally had to rely on friends to take her here and there. Since the verification trials for ubiquitous computing networks are taking place in the port city of Kobe, which is close to where she lives and works, she has had a chance to see what these new technologies can do. She said they will enable the handicapped to learn about the environment around them, which in her case means finding out where wheelchair ramps and elevators are located. She summed up by saying that she would like to see ubiquitous computing network technologies spread throughout the country.
The final participant of the panel discussion group to give a presentation was Mr. Takaya Fujimoto, who heads the Ministry of Land, Infrastructure and Transportation's Kinki Regional Development Bureau. The Kinki region is the region in which the Autonomous Movement Support Project verification trials are scheduled to take place. He explained the long history of the IT pedestrian guidance block technology, which originally could only output two signals, and he also explained the Japanese government's barrier free policy for helping the disabled. This policy is now moving into a universal design phase based on ubiquitous network computing technologies that will be tested by means of the Autonomous Movement Support Project. He said the pre-opening trials in Kobe were held from October to December in three places, but in the coming year they will extend to 12 areas of the city. He also showed the audience multimedia materials of various tests that were carried out using Ubiquitous Communicators, IC tags, and new developed markers.
There were some interesting comments during the panel discussion. Ms Takenaka said the Japanese government is willing to give social welfare payments to the disabled, but the disabled have a right to become taxpayers like ordinary people. She said overseas people have different ideas. In countries such as Sweden and the U.S., they want to bring out the best in people. Prof. Sakamura expressed his admiration to Mr. Sadao Hasegawa, who he said is always suggesting new technologies. Mr. Hasegawa said he would like people to be able to use this anywhere. Mr. Hiroshi Hasegawa pointed out the possibility of the hearing impaired getting into traffic accidents, and Prof. Sakamura said that the Autonomous Movement Support system has to be linked with electronics in cars. Mr. Misaki pointed out that the typewriter was originally developed for the visually disabled, and the telephone for the hearing impaired. He also drew attention to the fact that IBM Japan Ltd. has developed software for the visually disabled that allows them to read Web pages on the Internet.
TRON SHOW 2005
Although TRON SHOW 2005 took place at Tokyo International Forum, the same location as last year, the show was considerably different. For example, last year theater sessions took place at four different locations scattered throughout the complex, but this year there were only two theaters that were side by side in Hall B7. It was very easy to change theaters if you found yourself at the wrong one. Conversely, the exhibits were split into two locations, with half of them in Hall B7, and the other half in an exhibits area in the basement of the Glass Hall. Moreover, the keynote lecture session, which lasted four hours, took place in Hall C, and it took place in the afternoon of the first day of the show rather than in the morning after the opening ceremony. There were, of course, lots of guides throughout the complex to give people directions, but some people who were under the impression that TRON SHOW 2005 was the same as TRON SHOW 2004 since it was taking place in the same complex may have missed the company exhibits in the basement of the Glass Hall.
In spite of the differences, attendance at TRON SHOW 2005 was better than last year's show. When the attendance totals for TRON SHOW 2005 and TEPS 2005 are combined, the total is over 10,000, which is very good for a technology show that mainly deals with behind the scenes infrastructure that is rarely discussed in the U.S. or European technical media. Here is a breakdown of the attendance figures posted by the TRON Association on their Web site.
Ordinary Visitors

VIP Visitors

December 7

2,698

503

December 8

2,441

314

December 9

3,313

521

Total

8,452

1,338

Note: These figures are only for visitors who passed through the reception desk, and they do not include visitors who visited the site of the show on multiple occasions. The grand total is 9,790, and it surpasses 10,000 if the 308 people who attended TEPS 2005 are included.
Opening Session
The theme of TRON SHOW 2005 was "Ubiquitous Computing for Everyone," and it was on that note that Prof. Ken Sakamura began his keynote lecture. Ubiquitous computing technologies are for everyone, Prof. Sakamura said, and anyone can use them, try them, and build their own systems based on them, although the entry level is a little high at present. To cope with that problem and get more people to use his ubiquitous computing technologies, he came up with an Experimental Activity Procedure (EAP), which can be taken advantage of by contacting the YRP Ubiquitous Networking Laboratory. There is a fee for taking advantage of EAP, but it is cost only, not cost plus. That is to say, it is not a service aimed at making a profit from the people who request it; it only aims at recovering actual expenses incurred during the provision of services rendered during the course of helping a client. EAP services include: ucode tag provision, UC provision, uID survey system provision, system integration cooperation, and complete system consulting.
Prof. Sakamura ran through the accomplishments of the TRON Project over the preceding year. He began with the "Toyota Dream House PAPI," which he said envisions the technical level of 2010. As with the previous TRON intelligent house, he also did the architectural design work for this one, since building architecture is one of his interests. Toyota agreed to his doing the design work under the condition that he take a look at the operations of Toyota Home--yes, Toyota is also in the manufactured housing business, and Prof. Sakamura said he paid a visit to the factory where they make the modules--and that he integrate the firm's automobiles into intelligent home's overall system design. The result is a "green design" that makes good use of recycling, and which also makes use of alternative energy sources. It has solar cells on the roof, and it is equipped with fuel cells. In an emergency, Toyota Dream House PAPI can be supplied with electricity generated by one of Toyota's Prius hybrid automobiles that are famous for their high mileage and low pollution.
The features that really make Toyota Dream House PAPI different from the TRON Intelligent House of the late 1980s are the wireless networks based on encrypted nodes and the Ubiquitous Communicator, which is sort of like a BTRON machine in the palm of your hand. The UC is capable of "context awareness," and thus its functions change from room to room. In the television room, for example, it becomes a remote control for the television. Another interesting feature of the new intelligent house, Prof. Sakamura said, is that its nT-Engine-based networks are capable of configuring themselves without servers. One feature the old and new intelligent houses have in common is an intelligent dumb waiter, which is probably because Prof. Sakamura likes large uncluttered rooms. He summed up Toyota Dream House PAPI by saying that it is just one experiment, and that a lot of experiments have to be done before introducing this technology into widespread use. Prof. Sakamura stressed the point that he doesn't want to rush ubiquitous computing to market.
After introducing Toyota Dream House PAPI, he described the food traceability experiments his laboratory had been involved over the preceding year. He pointed out that food traceability involves more than supply chain management; it actually includes both the producer/grower and the consumer/end user. This allows the consumer to find out who produced or grew what, when, where, and how. Thus the Ubiquitous ID chips are useful to many, which parallels the concept of "universal design," he said. Prof. Sakamura announced that starting in 2005, the main branch of the famous Mitsukoshi department store chain will begin participating in food traceability, while the Keikyo supermarket chain will continue. In addition, the Ohta market is also participating in the food traceability project; it is using the same technologies to track vegetable and fruit distribution. Prof. Sakamura explained the new pT-Engine active tag that has its own power supply. He said is able to able to send radio frequency signals several tens of meters, and is capable of being reused, also.
Other verification trials that Prof. Sakamura introduced were those of NYK Line, which is using uIDs to find inventory in its warehouses; Fuji-Xerox, which is using uIDs to track toner cartridges at the University of Tokyo; and the University of Tokyo, which is using uIDs to track medical items and prevent their misapplication. Prof. Sakamura said that in the case of medical items used inside hospitals, the 900 MHz frequency band used for the EPCglobal RFIDs is no good, because it interferes with medical equipment. For that reason, he pointed out, you cannot create a ubiquitous society using just a single type of chip, rather you need lots of different chips--and even barcodes, which are the cheapest of all to use. In closing his keynote lecture, Prof. Sakamura told the audience that demonstrations of the technologies he just described, such as the Tsuwano tourist information guide system, were available for viewing on the seventh floor exhibits hall. He said his goal was to use a single system for many applications, which is definitely one way to reduce costs.
After Prof. Sakamura, Dr. Ryo Imura, the division chief of Hitachi's Mu -Solutions Division, gave a presentation on his company's efforts in the RFID field using his firm's µ-chip. This is currently used in many things, he said. At first, the µ-chip recognized only signals at 2.45 GHz, and it was originally a read only chip, although has changed with the arrival of the µ-chip R/W. At present the µ-chip is being adapted to various frequencies, which involves changing antennas, since they vary with the frequency. Certain frequencies offer greater range, but if the range is too long, there are privacy problems. He said open standards are needed for communication among different projects, and, he said his firm wants its µ-chips to handle multiple frequencies and multiple protocols. The big problem at present is raising production yields so as to lower the per-chip cost, which at present is 10 yen per chip on an order of 10 million chips. In two or three years, Dr. Imura believes this may drop to five cents, but firms like Hitachi still have to make a profit, he said.
The next speaker at the opening session was Prof. Hiroshi Ishii of the Massachusetts Institute of Technology's Media Lab, who gave a presentation on "originality." Prof. Ishii left Japan because he feels you, if you're Japanese, can't do anything original in Japan. He blames this on the educational system and the cultural tendency to strive for cooperation. Conversely, he believes that there is a low barrier of entry in the U.S. if you are original, although he admits that at MIT there is a "demo or die," as opposed to a "publish or perish," philosophy that determines who gets tenure. Those who do receive tenure, however, are usually leaders in their field. So what's the recipe for being original? According to Prof. Ishii, it is: "imagine and realize, critique and reflect, and iterate and compete." Prof. Ishii, who heads the "Things That Think" project at MIT whose goal is to "invent the future of digitally augmented objects and environments," also said young researchers should have a sense of honor, and that they have to determine what their goal is and figure out a means of attaining it.
The opening session moved back to the topic of the T-Engine open development platform, when Microsoft Corporation Vice-President Susumu Furukawa appeared in a video presentation to outline his company's efforts in merging the Windows CE .NET operating system with T-Kernel. He said that his firm had developed code and sent it to its customers, although that improvements would need to be made. He also said that Microsoft employees are participating in the Autonomous Movement Support Project, which is undergoing verification trials in the port city of Kobe, and he pointed out that Microsoft is a Board Member company of the T-Engine Forum. Mr. Furukawa also said that what is coming out of the T-Engine Forum will need guidelines and device drivers that must be made compatible with other functions. He asked the audience to take a look at the Microsoft booth to see what it had accomplished so far, which he described as just one step. Next year will be another step, he said, adding that he would like to see the T-Engine culture blossom in the future.
MontaVista Inc. CEO and President Jim Ready gave the next presentation, which was on his firm's efforts to merge the Linux kernel to T-Kernel. He showed the audience a T-Engine on which balls were moving in two halves of a split screen, the balls in one half running under T-Kernel and the balls in the other half running under Linux. His most interesting comments, however, were on the issue of software quality in the world of Linux. Although the Linux kernel source code is free, there are 35 million lines of it, and it is constantly changing. To keeping things working, patches have to be created. In the case of Linux 2.4, he said there were 5,000 patches, but in the case of Linux 2.6, there were 12,000 patches in just the first six months, which is one patch for roughly every 3,000 lines of code. Accordingly, when it comes to developing quality software, there is nothing free about the Linux, he said, since bugs have to be worked out among the conflicting patches. To make matters worse, the expectation of quality is higher in embedded systems than enterprise software.
The long opening session ended on a technology update from KDDI R&D Laboratories Inc. and some final words from Prof. Sakamura. The KDDI technological update was a demonstration of a UC-based terminal for receiving digital broadcasts, which interestingly used a Qualcomm operating system, not T-Kernel. The spokesman, who demonstrated 480 x 320 dot video at 300 Kbps (200 Kbps for the picture, 50 Kbps for sound, and 50 Kbps for the network) said it could also be used inside a LAN for receiving video streams like a cell-phone. Prof. Sakamura closed the session saying that he would like to train more programmers, and he pointed out that device drivers would be opened up next year. He noted that T-Java, which can handle TRON Code, has already been opened up, and he talked about a universal extension board and an FPGA development board that have been developed for T-Engine. He also proudly mentioned the fact that T-Engine is rapidly expanding its presence in Asia, having already spread into China, India, Korea, Singapore, and Thailand.
After the first day's events had ended and the exhibition site had been closed to the general public, a reception was held in the Rose Room of Tokyo Kaikan, which is where only the most prestigious receptions are held. From the windows, one can literally look down into moat of the Imperial Palace. But the really interesting thing to see was inside, where one Japanese VIP after another, many of them high ranking government officials, got up on stage and gave a short speech. After years of being given the cold shoulder by the Japanese government, the TRON Project is now a source of pride for Japanese politicians and bureaucrats.
Theater Sessions, Exhibits, and a 'Happening'
At TRON SHOW 2005, as at the previous annual TRON show, theater presentations took place in multiple theaters simultaneously. Once again, this made it impossible for TRON Web's staff of one to cover everything presented in the theater sessions. Accordingly, TRON Web's policy for covering the theater sessions at TRON SHOW 2005 was to cover what is of interest to the Web master, plus what would most likely be of interest TRON Web's readers overseas. The theater sessions that TRON Web did attend dealt with the BTRON3-specification Cho Kanji operating system and its multilingual processing capability, presentations on new technologies--in particular, automatic voice input translation systems developed by several Japanese electronics makers for use in next generation cell-phones--created by some big name Japanese and foreign technology companies, and the activities of organizations and companies in China and Korea that are participating in the T-Engine project. Below is a summary of the contents of these theater sessions.
Mr. Akira Mitsui of Personal Media Corporation, speaking on behalf of the TRON Multi-Character Application Group, gave a presentation on the multilingual character capabilities of his firm's BTRON3-specification Cho Kanji operating system, which offers users an unabridged kanji character set for Japanese language processing. The company is aiming this capability at the Japanese publishing industry, and it has even created a unique manuscript processing application, called Genkoo Purosesssa in Japanese, which allows publishers to process manuscripts using traditional manuscript paper simulated on a computer screen. The big news in 2005 was that a system that allows this excellent kanji character processing on top of other operating systems and existing applications--most importantly, existing desktop publishing software applications--to process data. This new system is called the TRON Font Traceability System (TFTS), and it was the main topic of Mr. Matsui's presentation at TRON SHOW 2005.
Mr. Matsui pointed out that Unicode is not really aimed at the Japanese publishing industry. Moreover, the Japanese publishing industry, unable to wait for an unabridged kanji character set to be issued by the Unicode developers, has already created large numbers of user defined characters in scalable font format for use in publishing. Unfortunately, these cannot be used in e-mails, on Web pages, or in databases of residents' names, such as the Japanese government's Jukinet. In fact, Mr. Matsui noted, that because of this lack of kanji processing power in industry standard computing systems, the Japanese government recently issued rules proclaiming that certain kanji are not to be used in personal names. To get around this problem, the TRON Project has proposed TFTS, which basically uses TRON Code as a "pivot character encoding system." TRON Code characters not included the Shift JIS character table are written into the user defined font area, which can handle from 1,800 to several thousand characters, thus allowing current DTP software to use TRON Code.
However, TFTS is just one way of using TRON Code on other operating systems. Mr. Matsui summarized the ways that TRON Code can be used as follows:
| | |
| --- | --- |
| (1) | One can check the character list on the Web, which is at the following URL: http://www2.tron.org/ |
| (2) | One can turn a TRON Code character into a graphic image using Personal Media's "Cho Kanji Web Converter" application |
| (3) | One can employ text format TRON Code (&Txxyyyy;) in databases using "Cho Kanji Solution for Oracle" |
| (4) | One can use TFTS to bring a Cho Kanji document over to a MS Windows or Macintosh DTP environment; this is the basic function of TFTS |
In addition, Mr. Matsui pointed out that TFTS output can be combined with the Ubiquitous ID Center's ucode unique individual numbering system. This allows for large numbers of user defined character tables to be managed, both for individual printing companies and individual printed works. In fact, the combination of TFTS and ucodes was demonstrated to the press back in March 2004 using a Ubiquitous Communicator. When the UC read a uID tag attached to a book, the character table appeared on the UC's screen.
Although the T-Engine project has not attracted much attention in the West, it has been enthusiastically received in the East, and training programs are sprouting up all over Asia to train engineering personnel to develop T-Engine-based applications. At TRON SHOW 2005, TRON Web listened to representatives from both China and Korea give presentations about T-Engine-related activities in their countries. While it is well known that China along with India are going to form the core of the world economy in the present century, what a lot of people do not realize is that these countries are not planning to pay out massive royalties to foreign technology firms to develop computer products for their home markets, hence the great interest in the T-Engine project with its open standards and royalty free real-time kernel. China has gone so far as to develop its own MPEG4 replacement for use internally. In addition, it has developed its own digital television processor, plus it has developed MIPS-based CPU that is to be loaded onto a T-Engine board to which T-Kernel will be ported.
The goal of the Chinese researchers is to construct low cost personal computer and home networks, which is not to mention telecom networks, and most of the things connected to those low cost networks are going to be embedded devices. For that reason, there is a tremendous demand for embedded systems programmers, and Chinese universities are rising to the challenge. Peking University's School of Software and Microelectronics, which began in 2002 with 1,100 students, now has a Department of Embedded Systems Engineering with 150 M.S. program students who are taking courses in embedded systems and mobile and home appliances. A joint laboratory with Prof. Sakamura's YRP Ubiquitous Networking Laboratory was founded in 2004. The Chinese Academy of Science's Institute of Computing Technology has also set up a joint laboratory with Prof. Sakamura, and a TRON-related course was set up in Fudan University. This is because Chinese government officials and researchers believe that TRON is important software.
The Chinese are not the only ones training a new generation of embedded systems programmers. The Koreans, whose language is very similar to Japanese, are also launching training programs, and their training programs combine technical training with Japanese language training, which gives them a big advantage over programmers in other regions. While the Chinese who gave presentations at TRON SHOW 2005 spoke either in Chinese or English, the Koreans gave their presentations in fluent Japanese. One such program is the Korean International Trade Associations IT-Master's Course (English video here), which is a one year, 2,200 hour program that combines intensive IT training, which includes TRON (T-Engine), with intensive foreign language (English or Japanese) training in a grueling 10 hour a day schedule. Another Korean organization involved in T-Engine is Korea OS Research (KOSR; formerly Korean System Programmer), which is using T-Engine to develop advanced humanoid robotics technology. KOSR has 6,000 members.
In the exhibits area, there was actually an Asia Pavilion, which in addition to exhibitors from China and Korea also housed exhibitors from Singapore, and a booth for an Indian organization was close by, too. China Computerworld, China's largest IT-related computer publication, had an exhibit at this pavilion, and a spokesman from the magazine also described the publishing house's activities in a theater session. From the view of the foreigner who knows little about T-Engine, perhaps the most interesting exhibit at the Asia Pavilion was that by Singapore's T-Engine Application Development Center (TEADEC), which had on display a T-Kernel training board and T-Kernel training materials that it intends to use for T-Kernel training in the future. There were also some newcomers from Singapore at the Asian Pavilion, which shows that the T-Engine movement is rapidly spreading in Southeast Asia. The Institute for Infocomm Research and Republic Polytechnic, both in Singapore, had an exhibit that demonstrated how T-Engine could be used in warehouse sensor networks.
TRON Web sat in on theater sessions by NEC Corporation and Toshiba Corp. to get a view of what large corporations are doing in the world of T-Engine. As everyone knows, one of the leading embedded applications at present is the ubiquitous cell-phone. Millions and millions of cell-phones are produced each year, and each new model packs more functionality than the last. A spokesman for NEC said that set makers have a lot of problems, since the life cycle is so sort. They have to finish development within a few months. He said his company's goal is to help them with system integration, and it aims to increase system integration efficient using T-Engine and Teacube, the latter of which has been sold in the hundreds by Personal Media. The spokesman said Teacube has been used in FA systems, in a VoIP system, a multimedia cooperative system, and a translation everywhere system. He praised Personal Media's PMC T-Shell, which he said allowed for the development of a panel computer system in a much shorter time than required by MS Windows.
The translation system NEC mentioned, which is aimed at "simple daily translation tasks" using handheld terminals such as cell-phones, was demonstrated at NEC's booth where voice input was recognized and translated into character output. However, NEC's system wasn't the only one at the show. Both Fujitsu Ltd. and Toshiba also had such systems on display. A spokesman from Toshiba gave a very detailed description of voice synthesis and voice recognition in a theater session, which that company is aiming at car navigation systems, broadcast services, and animation/game applications. For voice synthesis, the company creates databases using the utterances of professional announcers, which are then reduced into small voice synthesis dictionaries that together with code and language analysis dictionaries take up about 2.3 megabytes of ROM. About 1 megabyte of RAM is required to run this, and the CPU burden is 70 to 100 MIPS. The voice recognition system, which filters out noise, divides speech into segments, and does dictionary matching, requires 150 MIPS.
As to the exhibits at the show, there were two types: (1) non-commercial exhibits that demonstrated the basic ubiquitous computing technologies developed by the T-Engine Forum in cooperation with member companies, which were located in Hall B7; (2) and exhibits of current and/or future commercial products developed by T-Engine Forum members, with were located in Hall B7 and the Glass Hall basement exhibits area. In regard to the former, Prof. Sakamura definitely wanted to demonstrated every bit of progress achieved to date, because every single ubiquitous computing technology mentioned on TRON Web to date was on display for people to see in action. A miniaturized version of the Kobe verification trials was created so that people could walk through and test it. There was also a drugstore exhibit where uID tagged drugs could be "purchased," a hospital exhibit where medicines were uID tagged, an intelligent house exhibit where people could walk through an intelligent room, an intelligent farm field display, and intelligent warehouse exhibits that used uIDs.
Some of the most interesting commercial product exhibits were down in the Glass Hall basement. Microsoft's exhibit area was down there, but it wasn't the only U.S. affiliate. Nihon Unisys Ltd. also had an exhibit across from Microsoft. Nihon Unisys is aiming at providing back end services to help run ubiquitous computing networks, in particular next generation enterprise middleware. Oracle Japan, which has a very positive attitude about the T-Engine project, had an exhibit of its Oracle Lite database and Location-Based Services framework, which run on the Ubiquitous Communicator. As for Japanese companies, Aplix Corporation had a working model of a T-Engine-based wristwatch, called "Motion Watch EBI," which runs a Java-based software environment that all sorts of programs can be loaded onto. Personal Media Corporation had a large booth with a miniature theater where products such as the Cho Kanji operating system were described to visitors. TRON Web even spotted a foreign visitor, who looked like a Japanese language scholar, listening in.
Ah yes, listening in. Now it's time to end this TRON SHOW 2005 report on a humorous note--a "happening," which is an English word the Japanese use to describe a "sudden or unexpected event." While taking pictures at the Asia Pavilion, a representative of Republic Polytechnic mentioned to the Web master's that his ancient 35 mm film camera is superior for taking pictures, since it's heavier and thus absorbs minor hand movements that can spoil a digital camera shot. The Web master countered that there is on the market a line of digital cameras made by Matsushita Electric Industrial Co., the Lumix line, which has a gyro stabilizer that allows perfect pictures to be taken even with lightweight digital cameras. Suddenly and unexpectedly, a voice politely called out from behind the Web master. A Mr. Mitsuaki Oshima, an Executive Inventor of Matsushita, introduced himself as the inventor of the gyro stabilizer device, which he invented 25 years ago. The Web master informed him that he had first seen it back in 1988 with foreign engineers at the Matsushita Museum.
You never know what will happen at a TRON show, but the shows are always interesting, and sometimes there's even a "happening."
____________________
---