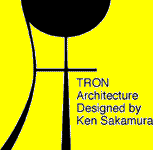 TRON News Items for July 2004
---
YRP Ubiquitous Networking Laboratory Unveils the Micro Ubiquitous Communicator
Nikkei Net reported on July 7 that the YRP Ubiquitous Networking Laboratory had developed a wristwatch-style "micro Ubiquitous Communicator" that is capable of reading IC tags attached to commercial products and other items. The new micro-Ubiquitous Communicator, which measures 18 mm x 24 mm and weighs approximately 100 grams, allows the wearer to automatically obtain information on merchandise in stores or, for example, the contents of medicine bottles at home just by holding the items in his/her hand. It also contains digital wristwatch functions that give the date and time of day. The report said that the new IC tag reader would be made into practical form within three years through technical cooperation between the YRP Ubiquitous Networking Laboratory and interested industrial firms participating in the T-Engine Forum. The Nikkei Net report speculated that the new micro Ubiquitous Communicator cost about 200 million yen to develop, with the YRP UNL providing one third of that amount.
The µUC gives you information on wine and medicine--and just about anything else you can attach a uID tag to. The display is 120 x 160 dots, which is large enough to show small images and text. The µUC, which also functions as a wristwatch with date and time, weighs about 100 grams.
Personal Media Releases Mozilla Firebird for Cho Kanji
On July 5, Personal Media Corporation made "Mozilla Firebird 0.7 for Cho Kanji" available for downloading from its Cho Kanji Web site (click here for downloading instruction in Japanese). The open source Firebird browser--due to trademark issues, The Mozilla Organization has changed the name Firebird (which replaced the original Phoenix) to Firefox, the current designation--has many new features compared to the old Mozilla browser, which has already been ported to the Cho Kanji operating system. In the world of BTRON, the Mozilla/Firebird browser complements the BTRON Basic Browser, a very simple browser that does not support JavaScript, Secure Sockets Layer (SSL), etc. Since "Mozilla Firebird 0.7 for Cho Kanji" is freeware, Personal Media will not reply to inquiries about its installation or use, guarantee its operation or suitability for a particular purpose, or bear any responsibility for damages resulting from its use. In other words, BTRON users are free to install it and use it at their own risk.
µITRON Study Kit On Sale
TRON Web readers have read a lot about the T-Engine/T-Kernel open development platform, but what if you would like to use µITRON4.0 instead of T-Kernel? Are there any other boards available? If you can read Japanese, then Fukuoka-based Kyoei Electronics Co. has a µITRON study kit that you might be interested in. The company's "µiTRON kumikomi gakushuu kitto [µiTRON embedded study kit], which went on sale on April 1 at a price of 102,000 yen (tax included), contains a Hitachi SH2-based study board, an AC adaptor, an RS232C cable, a user's manual (either instructor's or student's), and a CD with sample programs and other information. The company has also prepared an option board, which sells for 57,750 yen (tax included), which contains a 7SEG LED, an 8 x 8 matrix LED, a buzzer, a motor control driver (stepping motors), a 2 row x 16 column LCD, A/D and D/A converters, and DI/O input/output software. The company is even offering seminars for instructors, which are priced at 200,000 yen plus travel expenses.
Some TRON-Related Tidbits
It was announced in July that membership in the T-Engine Forum had reached 420 member companies and organizations. Prof. Ken Sakamura, who heads the T-Engine Forum, predicted that membership would eventually total 500 member companies and organizations, a number that may be achieved by the time of the annual TRON show in December. Even at the present number, T-Engine Forum is the largest organization in the world dedicated to the development of real-time embedded systems.
TRON Web readers who can read Japanese might be interested to know that the August 2004 issue of the Japanese technical magazine Interface has a special feature on T-Engine, which includes articles on the T-Engine philosophy, an outline of T-Engine hardware, details of the T-Kernel real-time operating system, T-Engine developments kits and Teacube, and the principles that underlie cooperative operation between Windows CE and T-Kernel.
---