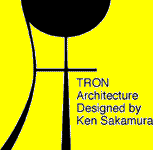 TRON News Items for August 2004
---
Autonomous Movement Support Project Verification Trials Under Way in Kobe
The August 2004 issue of TRONWARE reported that verification trials of the previously announced Autonomous Movement Support project, which links various overlapping component technologies together with ubiquitous technologies to provide universal services to people moving around cities, are now under way in the port city of Kobe in western Japan. The trials were kicked off in a well attended three-day demonstration, which ran from May 26 to 28 at the Kobe Harborland Space Theater. The verification trials are also receiving a high level of central and local government support. After Prof. Ken Sakamura, who is chairman of the committee promoting the project, introduced the project concept in a keynote speech, Hisakazu Oishi, an engineering official of the Ministry of Land, Infrastructure, and Transport and overall coordinator of the project; Toshizo Ido, governor of Hyogo Prefecture; and Tatsuo Yada, mayor of Kobe, all gave speeches. They stated their support for the project, which they hope will lead to the realization of a society with universal access for all.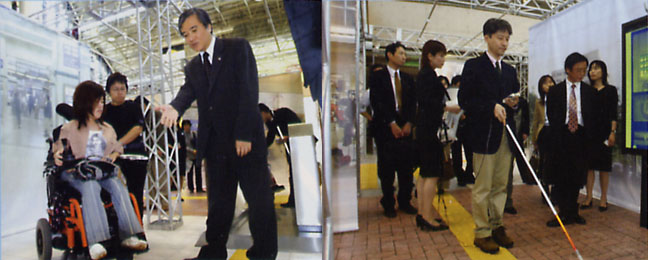 Prof. Ken Sakamura explains ubiquitous technologies to a young woman in a wheelchair (left), while a young man with a Ubiquitous Communicator (UC) and a white cane that serves as an antenna tries navigating with the aid of pedestrian blocks equipped with Ubiquitous IDs (right).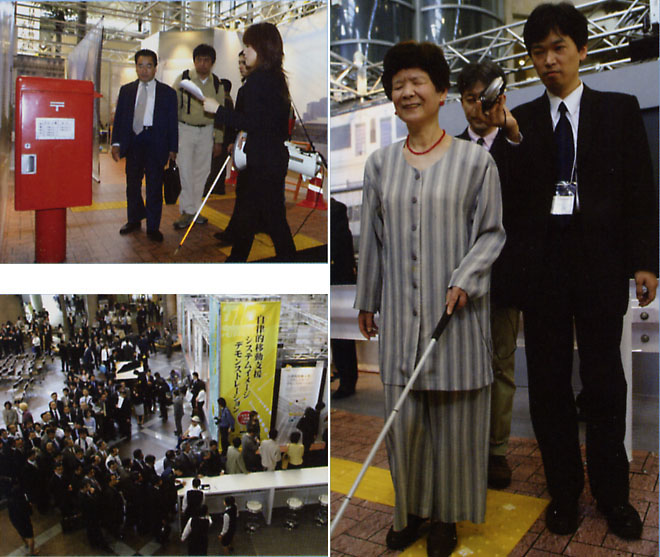 A universal access mailbox is demonstrated to a visually disabled person (upper left), who was one of hundreds of visitors (lower left). These included many visually disabled people, such as the woman on the right, who is trying her hand at navigating IC tag-equipped pedestrian blocks with a UC.
Although the people in the above pictures are handicapped, it should be stressed that the Autonomous Movement Support project is not a project aimed at developing universal services solely for people suffering from various disabilities. Since these technologies are based on "universal design," they can also be used to support the movement of able-bodied Japanese, and even foreign visitors in Japan. For example, the universal access mailbox above could also be used by a foreign visitor to Japan, provided that he/she was equipped with a Ubiquitous Communicator with an appropriate user profile and the post office took the time to prepare multilingual data to be transmitted to it. One could also imagine the above IC tag equipped pedestrian blocks above being used as pathways for cleaning robots after facilities have closed to the public. Once you have created computerized space with IC tags everywhere, the possibilities are endless. It will be interesting to see if any new applications of these technologies emerge when the verification trials reach completion in 2005.
Personal Media's Cho Kanji Genkoo Purosessa Wins Best Business Application Award
On August 28, it was announced that Personal Media Corporation's Cho Kanji Genkoo Purosessa [Cho Kanji manuscript processor] had been selected to receive the IPA SOFTiC Software Products of the Year 2004 award in the business applications field, one of four fields in which the Information-Technology Processing Agency of Japan and the Software Information Center present awards for the best software products of the year. (The other three awards are for best software products in the system, engineering, and social life fields.) To commemorate the award, which Personal Media will receive in an awards ceremony on September 10 in Tokyo International Forum, the company has decided to offer its unique Japanese language manuscript processing software preinstalled in a laptop with Windows XP in one partition and its own Cho Kanji 4 and bundled applications in the other partition for 251,790 yen (tax included), offering purchasers a savings of 19,510 yen. The hardware specification for "Cho Kanji Note R3DG" is as follows:
CPU
Intel Pentium M processor 1.1 GHz
Chip set
Intel 855 GME
Main memory
256 megabytes (768 megabytes maximum)
HDD
40 gigabyte (Ultra ATA100)
Display
10.4 inch, 1,024 x 768 dot TFT LCD capable of displaying 32-bit color (external display possible)
Communications

100BASE-TX/10BASE-T LAN

(IEEE802.11b/g WiFi, Windows XP only)

Dimensions
229 mm x 183.5 mm x 24.2 /41.6 mm
Weight
approx. 990 grams
Cho Kanji Genkoo Purosessa was developed in cooperation with Japanese writers who actually make a living writing manuscripts with pen and paper. The application, which runs on Personal Media's BTRON3-specification Cho Kanji 4 operating system, simulates on a computer screen the vertically lined paper traditionally used for writing manuscripts with a pen in Japan. However, it makes the process considerably easier, since the operating system it runs on is equipped with an unabridged kanji character set that can be quickly searched with a powerful search utility. In addition, the application is equipped with a wide range of editing features that are traditionally used in Japanese publishing houses for correcting handwritten manuscripts and preparing them for publication. For that reason, it is expected that the Japanese publishing industry will be one of the major markets for Cho Kanji Genkoo Purosessa. Another area where traditional manuscript paper is often used for writing is in Japanese schools, which might provide additional sales for Personal Media.
Personal Media is very serious about selling this new software application, and, in an unsual move for the company, it has posted a roadmap to the future for Cho Kanji Genkoo Purosessa (translated below) on its Web site, which also gives us some hints as to what direction the company's BTRON3-specification Cho Kanji operating system is headed.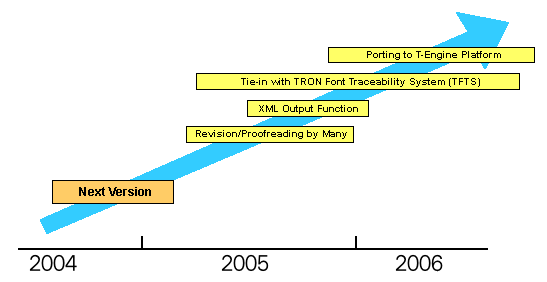 T-Engine Evangelism in Full Swing in East and Southeast Asia
Although the T-Engine project is rarely reported on in the western technical press, which mainly covers GNU/Linux developments in the field of embedded systems development, T-Engine evangelism activities are taking place all over East and Southeast Asia. During the summer months, Singapore's T-Engine Application Development Center, or TEADEC, held a seminar/exhibition in Bangkok, Thailand, and a five-day training seminar at the Department of Embedded System Engineering, School of Software, Peking University in Beijing, China. Both of these activities took place in the month of July. In August, Prof. Ken Sakamura, who spent most of the summer outside of Japan evangelizing T-Engine/T-Kernel, Ubiquitous IDs, and TRON-based ubiquitous networking, did some evangelization of his own. He helped explain the T-Engine platform to Korean system engineers at the Korea System Programmer's First Overseas Prominent Developer Invited Seminar, which was held Seoul, Korea, on August 2 in the Coex Grand Ballroom.
---