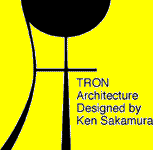 TRON News Items for January 2005
---
Food Traceability Verification Trials Take Place at Mitsukoshi Department Store in Tokyo
The T-Engine Forum announced on January 26 that food traceability verification trials utilizing Ubiquitous IDs (both barcodes and electronic tags) would take place at the Nihonbashi branch (main branch) of the Mitsukoshi department store chain in Tokyo from February 2 through 15. The goal of these verification trials, which will target fruits and meat in the department store's supermarket section, will be to successfully track food items through the stages of the distribution system and at sales points within the department store. As with previous trials that took place last year, it will also be possible to obtain information on the origin and producer of the food items in question, which will be sold to the general public. In addition to the T-Engine Forum and Mitsukoshi Ltd., the following organizations are taking part in the verification trials: Ministry of Agriculture, Forestry and Fisheries; Ministry of Internal Affairs and Communications; K.K. San Furutsu; Niko Ltd.; K.K. Imahan; K.K. Asahi Buroiraa; Meat-Companion.Co.; South Shizuoka Branch of the Shizuoka Prefecture Greenhouse Agricultural Cooperative; Tokyo Seika Co.; and Yokosuka Telecom Research Park, Inc.
Personal Media Announces µT-Engine/NiosII Development Kit
Together with Altera Japan Ltd. and Altima Corporation, Personal Media Corporation officially announced on December 7, 2004, that it would begin marketing in the first quarter of 2005 a new µT-Engine development kit based on Altera Corporation's 32-bit NiosII soft core embedded processor family, which allows embedded systems developers to customize the logic employed in their applications using Altera's Cyclone Field-Programmable Grid Array (FPGA). Personal Media said the new development kit, "µT-Engine/NiosII Development Kit," will be marketed at a price of 260,400 yen (consumption tax included). In addition, the company announced that it began marketing in November 2004 an FPGA expansion board for the rest of the T-Engine/µT-Engine family of open development boards at a price of 102,900 yen (consumption tax included). The hardware and software specifications for the µT-Engine/NiosII Development Kit are given below. For sales inquiries about either product or further information, please contact Personal Media Sales Department.
Hardware Specification of µT-Engine/NiosII Development Kit

FPGA
Altera Cyclone FPGA EP1C20F400
CPU
Altera NiosII (32-bit RISC)
Flash memory
4 megabytes
SDRAM
16 megabytes
Input output I/F
Compact Flash (CF) card, serial, eTRON chip I/F, MMC card, expansion bus I/F
Power supply
AC adaptor
External dimensions
60 mm x 85 mm (without protuberances)
Software Bundled with µT-Engine/NiosII Development Kit

T-Monitor
Standard T-Engine monitor
T-Kernel
T-Kernel/OS (Operating System), T-Kernel/SM (System Manager), T-Kernel/DS (Debugger Support)
PC card manager
Bus driver
Device drivers
RTC, console (serial), screen (LCD), system disk (CF) with source programs included
Sample programs
Source programs included
Personal Media Puts T-Linux Evaluation Kit on Sale
Personal Media Corporation announced on December 2, 2004, that it will begin marketing in the first quarter of 2005 a T-Linux evaluation kit at a price of 207,900 yen (consumption tax included). The T-Linux evaluation kit to be marketed is compatible with the "T-Engine/SH7751R Development Kit," and hence it has been designated the "T-Linux/SH7751R Development Kit." This is the first in a series of T-Linux evaluation kits for the T-Engine family of open development boards that will be marketed in cooperation with MontaVista Software Inc. of the U.S., the company that developed the Linux version that was ported to the T-Engine open development platform. The company's Japanese affiliate, MontaVista Software Japan Inc., will provide free technical support for one month from the purchase date of the T-Linux evaluation kit, which can be extended on the basis of an optional service contract thereafter. For further details about the T-Linux evaluation kit series and support arrangements, please contact Personal Media's Sales Department.
TRON SHOW 2006 Dates Announced
The TRON Project Symposium Executive Committee has announced that TRON SHOW 2006, the 22nd TRON Project symposium to date, will be held from Wednesday, December 14 through Friday, December 16, 2005, at Tokyo International Forum, the same venue that the annual TRON show and symposium has been held at for the last two years. The details of the show and the theater sessions schedules will be released at a later date via the T-Engine Forum Web site.
---