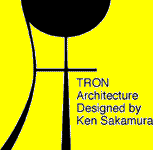 TRON News Items for February 2005
---
Personal Media Begins Marketing UC-Phone Evaluation Kit
Personal Media Corporation announced on January 31 that it had begun marketing a "UC-Phone Evaluation Kit" as a means for constructing and evaluating traceability systems that employ radio frequency identification tags (RFIDs) and new generation barcodes. The new evaluation kit, which Personal Media is marketing for 367,500 yen (consumption tax included), is based on a PHS-compatible phone terminal with RFID reader and barcode scanner functions that is compatible with WILLCOM Inc.'s (Japan's largest PHS service provider) PIAFS network infrastructure. Since it can communicate with people, places, and things, it is called a Ubiquitous Communicator hence the name "UC-Phone." The idea behind the kit is to allow users to slowly experiment with RFIDs and barcodes locally using an on-site personal computer equipped with a PHS communications card as a server. At a later date, when a system worth implementing on a permanent basis has been developed, it can be linked with the Ubiquitous ID Center's servers, and unique individual identification numbers can be issued for tracing items.
The main specification of the UC-Phone terminal is described in the following table.
Table 1 Main Specification of the UC-Phone Terminal

Main functions
RFID reader, barcode scanner, telephone
Compatible RFIDs
µ-chip (as an option, compatibility with T-Junction and FerVID is a possibility)
LCD
2.4-inch TFT color LCD with touch panel, QVGA (320 x 240 dot), approximately 64,000 colors can be displayed
Others
Externally attached connector, earphone jack, speaker
Main unit use conditions
0 to 40 degrees centigrade
Recharger use conditions
-10 to 50 degrees centigrade
External dimensions
143.5 mm x 55.14 mm x 26.6 mm (without antenna extended or protuberances)
Weight
155 grams (when battery pack is installed)
Power supply
AC 100 volt (50/60 Hz)
The contents of the UC-Phone Evaluation Kit are described in the following table.
Table 2 UC-Phone Evaluation Kit Standard Configuration

In its standard configuration the UC-Phone Evaluation Kit contains the following.
UC-Phone terminal main unit
1
Special AC adaptor
1
Ubiquitous ID Center certified RFID tags
10
PCMCIA size PHS data communications card
1
Sample software for server use (with a portion of the source bundled) and a CD onto which have been copied sample content data, manual, etc.
1
Devices required to employ the UC-Phone Evaluation Kit, plus optional items and services, are described in the following table.
Table 3 Devices Required to Use UC-Phone Evaluation Kit and Options

Required Devices
IBM-PC/AT compatible personal computer
1
Must be able to run WindowsXP or Windows 2000 and have a PCMCIA slot
Optional Devices and Services Offered by Personal Media
Additional UC-Phone terminals
Additional RFID tags
Special printer for outputting barcode labels
Construction support service for medium- or large-scale systems using exchanges
Personal Media Begins Shipping FPGA Expansion Board for T-Engine/µT-Engine
Personal Media Corporation announced on February 9 that it has begun marketing a new Field-Programmable Grid Array (FPGA) expansion board for use with T-Engine and µT-Engine development boards. The new expansion board, which is intended for prototyping custom logic solutions, is priced at 102,900 yen (consumption tax included). Personal Media also pointed out via its Web site that it is now shipping a new version of the popular Teacube ultra small cube computer based on an NEC Electronics Corp. VR5701 microprocessor, which it is marketing as the "Teacube/VR5701 Evaluation Kit." The new evaluation kit is priced at 207,900 yen (consumption tax included). The company also announced that it is marketing a T-Engine/SH7727 Development and LAN expansion board set for the price of 207,900 yen (consumption tax included). For further information about these products, please contact Personal Media's T-Engine sales specialist.
Personal Media Announces Cho Kanji 4 Update
Personal Media Corporation announced on February 16 that a Cho Kanji 4 Release 4.112 update package was available for downloading from its Web site by Cho Kanji users. The update package, which is 798 kilobytes in size, includes updates for the character code conversion library and Cho Kanji Mail e-mail application. Those who haven't updated their systems since purchasing the original version of Cho Kanji 4 must first download and update their systems with Release 4.100B and Release 4.104 update packages. Download instruction are available on line in Japanese at Personal Media's Cho Kanji support site, from which other freeware is available for downloading by Cho Kanji users.
Personal Media Issues Caution to Disk Shredder Users about High-Capacity Disks
Personal Media Corporation issued a warning via its Web site on February 7 that its Disk Shredder software for eliminating the contents of hard disk drives is only to be used with IDE and EIDE (ATA) type drives whose capacity is less than 130 gigabytes. If the disk to be subject to data elimination by Disk Shredder has a capacity in excess of 130 gigabytes, then data in the area in excess of 130 gigabytes will not be eliminated, and the original data will remain on the disk. For further information, please contact Personal Media's Sales Department.
Personal Media to Move Its Headquarters to Higashi Gotanda
Personal Media Corporation has announced that it is moving its headquarters from the MY Building in Hiratsuka to the Shirakiji Building in Higashi Gotanda, which is slightly to the northeast of Gotanda railway station. It is also very close to the YRP Ubiquitous Networking Laboratory, which is located in Nishi Gotanda. Personal Media did not give a reason for the move, but it certainly must include better communications with the YRP UNL. The company's new contact details, which will be valid as of March 7, are as follows:
New address:

Shirakiji Building

1-2-33 Higashi Gotanda, Shinagawa-ku

Tokyo 141-0022 Japan

New telephone and fax numbers:
(Representative)

TEL.03-5475-2181; FAX.03-5475-2182

(Business)
TEL.03-5475-2185; FAX.03-5475-2186
(Publishing)
TEL.03-5475-2183; FAX.03-5475-2184
Autonomous Movement Support Project Announces Technical Committee Meeting
The Ministry of Land, Infrastructure and Transport announced on February 10 that it had established and held the first meeting of a new technical committee related to the Autonomous Movement Support Project, which is currently conducting trials in the port city of Kobe. Directly translated from Japanese, the name of the new technical committee is: "Autonomous Movement Support Project-Related Location Information Study Technical Committee." As the name implies, the committee's goal is to devise a system to provide location information to people in computerized space, and it will investigate three main topics: (1) a method for granting location codes, (2) the way intelligent triangulations points ought to be, and (3) how to tie in the location codes with the intelligent triangulation points. Consisting of 25 academic and government members, the new technical committee is headed by Mr. Hisakazu Oishi, and it includes representatives from the Aomori prefectural government and the Tokyo metropolitan government. Interestingly, Prof. Ken Sakamura is not a member of the technical committee.
Ubiquitous ID Center Announces Another Food Traceability Trial in Yokohama
The T-Engine Forum and the YRP Ubiquitous Networking Laboratory announced on February 16 that another food traceability trial would be taking place at the Nokendai branch of the Keikyu Store chain, which is located in Keikyu Shopping Plaza fifteen hundred meters to the west of Nokendai railway station in the city of Yokohama to the south of Tokyo. The food items to be covered in this verification trial, which will run from Thursday, February 24 through Wednesday, March 2, will be milk, tofu, uncooked rice, juice, and green grocery items. As with previous food traceability verification trials, these trials will include both ucode-based IC tags and barcodes, which will allow the tracing of food items in question from the producer and on through the various stages of the distribution system. The end consumer can also use this information to gather information about the items he/she has purchased. The Keikyu Store chain operates 30 retail outlets in the Tokyo and Yokohama area. The Nokendai outlet is one of the three largest, and thus it carries the largest selection of merchandise offered for sale by the chain.
New Web Site for T-Engine Developers Goes On Line
A new T-Engine Web site created by an experienced T-Engine software developer has recently gone on line. The Web site is the brainchild of Mr. Mohit Sindhwani, who has received training on T-Engine in both Singapore and Japan. He told TRON Web he is interesting in hearing from others in the English speaking world who would like to know more about T-Engine and software development on top of T-Kernel. Eventually, he would like to set up an on-line discussion group at his new site. If you're interesting in finding out more about T-Engine, T-Kernel, and real-time embedded systems development, you can check out his Web site at the following URL.
---