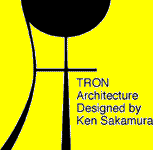 From the TRON Association
Top 10 TRON Association News Items in 1997
(Not in Chronological Order)
---
Activities to Spread ITRON Actively Carried Out
Participated in the OSEK/VDX technical committee (related to an OS for automotive use) and introduced ITRON (February)
Gave a presentation in a technical session at Embedded Systems Solutions '97 (Tokyo Ryutsu Center) (on recent trends on the ITRON specification concerning the construction of "The Base Soft and Ware of a Computer Reinforced Environment") (April)
Held an ITRON Open Seminar under the title, "Challenges toward Broader Application and New Standardization;" gathered a large number of participants exceeding last year's number; the lecture on ITRON hard real-time support drew attention (July)
Put on an exhibit at Embedded Systems Conference '97 held in San Jose, California (U.S.); also, held an ITRON Supporters Meeting and obtained a large number of participants (September, October)
Put on an exhibit at Microcomputer Systems & Toolware '97, and gave an ITRON-related presentation in a technical seminar (November)
Activities to Spread TRON in Asia Became more Active
Members of the TRON Association's secretariat were dispatched in cooperation with the Sakamura Laboratory of the University of Tokyo in order to carry out activities to spread the TRON Project at a trade fair (The 12th India Engineering Trade Fair) held in New Delhi, India (February)
A CTRON China Seminar was held, and the prize-winning entry of the CTRON-specification-based OS contest from last year was introduced to China as introductory/educational-use free software (Beijing, Shanghai in June, July)
A BTRON, HMI, CHIP seminar was held; together with demonstrations of 1B and TiPO, demo software was distributed; and a lecture by Prof. Ken Sakamura (University of Tokyo) titled "Our System of Operation BTRON" drew attention (Beijing, Shanghai in July)
The TRON Association's proposal for "Development of a Multimedia Network Service Platform" was chosen for the "Advanced Software Enrichment Project" in which the Information-technology Promotion Agency, Japan (IPA) publicly solicited proposals (this is the second TRON Association proposal selected following last year's "Development of Base Technologies for Computer Reinforced Environments") (March)
TRON Association-related Activities and Expansion Activities Gained Force
Java Technology on ITRON-specification OS Technical Committee
ITRON HRT [Hard Real-Time Support] Study Group
RTOS Automotive Application Technical Committee
Embedded TCP/IP Technical Committee
Interface Design Study Group
New participation in ITRON Technical Committee (2 cos. members, 7 cos. observers)
New Revised Edition of the micro-ITRON3.0 Standard Handbook Published (July)
Contents were filled out, and the entire text was improved to make it easy to understand
A Survey on the Trends in the Examination Business Was Implemented in Europe and America (U.S., Britain, Finland) (September)
Learned that a new system is being carried out in which testing is implemented by having examinees receive test items via the Internet
TRONSHOW '97/TEPS '97 Held as Part of the 14th TRON Project International Symposium (December)
Main theme: "What the TRON Project is Aiming at in Japanese Language Processing," "Technologies Supporting Open Academia"
"Overcoming Barriers to Enjoyable Entertainment"
TRON multilingual processing and TRON-specification products played an active part at the University of Tokyo's "Digital Museum" and in the "Open Academia" exhibit, which was one of the events to commemorate the 120th anniversary of the founding of the University of Tokyo. In addition, a TRON-specification product played a role also as a rapid reporting system for recording sporting competitions at the "Namihaya National Athletic Meet,"
There Were Many Introductions/Announcements of New TRON-Specification-Related Products and Technologies in 1997
Seiko Instruments Inc. put in sale "BrainPad TiPO," a personal digital assistant loaded with a BTRON-specification OS (February)
Metrowerks Inc. announced it would develop the application programming software "Code Warrior for SII TiPO & BTRON" for "BrainPad TiPO" (December)
Aplix Corporation developed the real-time OS "JBlend" that combines a micro-ITRON-specification-based kernel with Sun Microsystems Inc.'s Java OS (December)
Personal Media Corporation announced the BTRON3-specification-based OS "3B/V" (tentative name), which can handle 100,000 kanji and multiple languages, and the software application Genkoo purosessa [manuscript processor] (December)
New Admissions of TRON Association Members Follow in Succession (list includes those in the process of admission approval procedures)
The following nine companies and one organization:
Access Co., Ltd.
Advanced Data Controls Corp.
Aplix Corporation
Citizen Watch Co., Ltd.
Metrowerks Inc.
Mentor Graphics Japan Co., Ltd.
Nihon Cygnus Solutions
Optrum, Inc.
Seiko Instruments Inc.
Japan Systems House Association
On the Distribution of the Public Relations Pamphlet
"The TRON Project 1998"
We are offering to persons who desire it a public relations pamphlet titled "The TRON Project 1998" in which we have collected outlines and the status of activities of the basic projects and application projects of the TRON Project. Those who would like to receive a copy should address their request to the Secretariat of the TRON Association.
TRON Association
5th Floor, Katsuta Bldg.
1-3-39 Mita, Minato-ku
Tokyo 108, Japan
Tel.: +81-3-3454-3191
Fax: +81-3-3454-3224