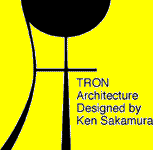 May, June '98 News Items from the TRON Association
---
The following news items were complied on June 20, 1998, from news items posted on the TRON Association Web page.
May 15, 1998
The ITRON Technical Committee of the TRON Association announced that the Japanese-language version of the "ITRON TCP/IP API Specification" is now available for downloading from the ITRON home page at the Sakamura Laboratory of the University of Tokyo. The URL is:
http://tron.um.u-tokyo.ac.jp/TRON/ITRON/SPEC/tcpip-j.html
The announcement said that an English-language version of the specification will be available for downloading in several months.
According to the announcement, the specification is for application program interfaces (APIs) that make possible the implementation of TCP/IP [Internet] protocol stacks that are more compact and faster than "socket interfaces." Socket interfaces are widely used, but they are not suitable for the small-scale, embedded systems that are based on the ITRON specification. Once TCP/IP APIs based on this specification become commercially available, it will become possible to link small, embedded systems based on the ITRON-specification via the Internet and other networks based on TCP/IP protocols.
Details of Upcoming Events
July 8~10: Embedded Systems Expo & Conference in Tokyo
The TRON Association has announced that it along with several TRON Association members will take part in the "1st Embedded Systems Expo & Conference '98" (ESEC '98), which will be held at the Tokyo Big Sight exhibition center in Tokyo between Wednesday, July 8, and Friday, July 10, 1998. For further information in English, please go to the following URL.
http://www.reedexpo.co.jp/ESEC/eng/index.html
July 15: ITRON Open Seminar
The TRON Association has announced the program for the ITRON Open Seminar will be held at Arukadeia Ichigaya in Tokyo on Wednesday, July 15, 1998. The program for the event, which will run from 10:00~18:15, is as follows:
10:00~10:30

Present State of the ITRON Specification

10:30~12:00

Outline of the micro-ITRON4.0 Specification

14:00~14:30

Panel Session

14:30~15:00

Outline of Embedded TCP/IP

15:00~15:30

Outline of JTRON

15:45~17:30

Introduction to Examples of Applications and Products

17:30~18:15

Special Lecture by Prof. Ken Sakamura
---