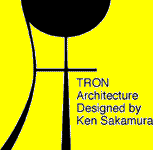 FCI Wants to Make BTRON the Asian OS
---
The TRON Association reported that the representative of the secretariat of the Forum of [the] Computer Industry (FCI)--a non-profit Japanese computer organization with approximately 140 members from industry, academia, and the mass media--visited its offices on July 27, 1998, to inform the association that it intended to establish a "TRON Study Group" to propose plans for establishing businesses dedicated to promoting the BTRON subarchitecture.
The representative of the FCI's secretariat, Mr. Tomohiko Suzuki, is the representative director of Adamusu Sisutemuzu and a columnist for the Yomiuri Shimbun who believes that the BTRON-specification operating system should be made into the personal computer operating system of Asia. Why? Because the BTRON-specification operating system is the only personal computer operating system in the world that can handle all the character sets for the languages used in Asia.
According to what he told the TRON Association, the FCI's TRON Study Group will be open to both FCI members and non-members. Applications by "venture capitalists," it seems, will be highly welcome. Within the TRON Study Group there will be a "committee for drafting Asian OS strategy plans," which will draft business plans and proposals for developing BTRON into an Asian operating system.
The TRON Study Group held its first meeting on Friday, August 14, 1998, in Shimbashi. Mr. Akira Matsui of Personal Media Corp. gave a lecture on the BTRON-specification operating system and products that his company has developed to date. The second meeting is scheduled to be held at 6:00 p.m. on Friday, September 11, 1998, at Nihon Silicon Graphics (31st floor, Ebisu Garden Place Tower Bldg.)
For further information, contact Mr. Tomohiko Suzuki at the Secretariat of the FCI.
Tel.: 03-5828-2516
Fax.: 03-5828-2518
---