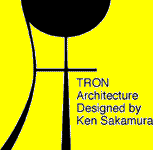 September '98 News Items
---
ITRON Seminar
The TRON Association has announced it will hold an ITRON seminar on October 14, 1998, between 9:30 a.m. and 4:30 p.m. at Merupaku Tokyo (Postal Savings Hall, Shibakoen 2-5-20, Minato-ku, Tokyo), which is located between Tokyo Tower and the Hamamatsu-cho railway station.
The seminar, titled "Thorough Explanation: ITRON TCP/IP & JTRON2.0," will feature a lecture on embedded TCP/IP in the morning from 9:30 a.m.to 12:30 p.m., and two lectures on Java technology on ITRON-specification OS in the afternoon, which will run from 1:30 p.m. to 4:30 p.m. The admission fee is 12,000 yen for TRON Association members, 15,000 yen for non-members, and 12,000 yen for students.
For further information, contact the TRON Association at:
Tel.: (03) 3454-3224
Fax: (03) 3454-3191
In addition, the TRON Association has reported that it has begun selling the English-language translation of the micro-ITRON3.0 specification for 5,000 yen. The book, titled micro-ITRON: An Open and Portable Real-Time Operating System for Embedded Systems (ISBN 0-8186-7795-3), is published the IEEE Computer Society Press.
Market News: BTRON-specification Products Selling Extremely Well
According to the latest issue of TRONWARE, Vol. 53, the new BTRON-specification operating system put on the market by Personal Media Corp. on Saturday, July 18, 1998, immediately became a hit in the Akihabara electronics district of Tokyo. Sales of B-right/V (40,000 yen, consumption tax not included) at Laox's The Computer-Kan were so strong that it attained the number four position in the weekly ranking of PC software sales on July 20, 1998.
The same issue of TRONWARE also reported that sales of Seiko Instruments Inc.'s BrainPad TiPO Plus (48,900 yen, consumption tax not included) are very strong. According to a PDA sales ranking at Sofmap's Yokohama store August 20, 1998, sales of BrainPad TiPO there were number one, outstripping those of other popular PDAs, such as Zaurus Pocket and Mobile Gear II.
Sales of BTRON-specification products are expected to gain further momentum at the end of 1998 when Personal Media Corp. puts a new version of the BTRON3 Specification operating system with true multilingual capability and an unabridged Japanese character set on the market.

---
B-right/V is a registered trademark of Personal Media Corporation