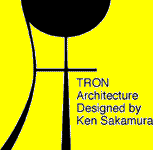 TRON News Items for April '99
---
TRON-GUI Study Group Holds First Meeting
The TRON Association reported that it held the first meeting of the TRON-GUI Study Group on April 16, 1999, at the University Museum of the University of Tokyo. The purpose of the newly founded study group is to establish standard interfaces for use with liquid crystal displays and touch panels that are used in numerous home appliances and office equipments. By standardizing the application program interfaces (APIs) for graphical user interface (GUI) functions for embedded systems, it will become much easier to create and reuse GUI functions, and development time and costs will be greatly reduced. The second meeting is scheduled to be held at the University of Tokyo at 1 p.m.on May 20, 1999. For further details please contact the TRON Association.
Personal Media Offers Course for MicroScript Programming Language
Personal Media Corporation, which develops and markets the BTRON3-specification B-right/V operating system and bundled applications, has begun offering a new introductory course on the MicroScript programming language to fill out its line-up of introductory courses for the general public. The company began offering introductory courses for new personal computer users and/or new users of the B-right/V operating system in the fall of 1998. (See TRON News Items for October 1998 for further details.)
TRONSHOW '99 Report and Images on the Web
ASCII magazine, a popular Japanese magazine for personal computer enthusiasts, has posted a report with pictures of TRONSHOW '99 on its Web site. Although it requires a Japanese capable browser to read the Japanese, six pictures pictures can be viewed with any browser (to view them, click here). From top to bottom these are:
(1) a peep hole exhibit in which images of past TRON-based technologies were shown
(2) a CPU board to which the JTRON-specification JBlend OS was ported
(3) the JTRON-specification J-right/V OS running on an IBM-PC/AT compatible
(4) a new electronic mail application running on the B-right/V operating system
(5) a model of a multifunctional TRON intelligent house based on the G-cube concept
(6) TRON Project Leader Ken Sakamura giving a presentation
For further details on TRONSHOW '99, please refer to last month's news.
---