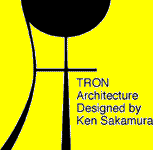 TRON News Items for June '99
---
Yahoo! Japan Lists Links to Free BTRON Software
Yahoo! Japan now has 15 items listed under its TRON heading, which can be found under Operating Systems. Two of those items have subitems listed under them. One of those contains links to TRON-related "enterprises," i.e., Personal Media Corporation and Sennet Inc. The other contains the following list of links to free BTRON software available for downloading via the Internet.
Thumb Shift Layout for B-right/V - Keyboard setup file (1999/1/15, 22,414 bytes, freeware)
Japanese-English Dictionary RO.72 - Does dictionary look-up of Japanese-English dictionary data described in text format (1999/1/11, 22,627 bytes, freeware)
Unit Conversion Table - Table for converting units of weights and measures (1997/5/3, 10,630 bytes, freeware)
English-Japanese Dictionary RO.71 - Does dictionary look-up of English-Japanese dictionary data described in text format (1997/11/16, 17,296 bytes, freeware)
Hand Safe R1.1 - A document depository (cabinet) that cannot be opened without inputting a personal indentification number (1998/12/14, 13,366 bytes, freeware)
Metropolitan 3.6 - micro-ITRON3.01-specification operating system (SN) (1995/1/20, 29,756 bytes, freeware)
TAD Specification 1.0 - TRON Application Data-bus (TAD) ; standards for data transfer that are employed with BTRON (1998/4/1, 173,586 bytes, freeware)
Check List - Check list for briefly listing things to do (1997/9/14, 27,608 bytes, freeware)
Scheduler R2.1 - Small schedule book (1998/12/14, 73,540 bytes, freeware)
Quick Memo - Useful when you want to write a quick memo by hand (1998/8/25, 5,269 bytes, freeware)
Age Quick Search Table - Table for converting a year of an Emperor's reign into a year of the Chrisitian calendar (1997/5/3, 9,331 bytes, freeware)
Yo-Nagisa Edition 10,000 Word Medical Dictionary 0.9a - Medical dictionary for B-right/V with the VJE Japanese-language input system for BTRON (1999/1/11, 217,885 bytes, freeware)
DVORAK Layout for B-right/V - Makes the B-right/V keyboard layout into the DVORAK keyboard layout (1998/12/14, 15,759 bytes, freeware)
I/O Library 1.3 - Library for carrying out input/output (I/O) operations (1997/8/26, 7,512 kilobytes, freeware)
PCM Replay 1.007 - PCM voice replayfor BTRON 1B/V3 (1998/6/20, 26,015 bytes, freeware [contributions welcome])
PCM Replay Source 1.007 - PCM voice replay for TRON 1B/V3 (1998/6/20, 26,639 bytes, freeware [contributions welcome])
TRON Layout for B-right/V - Keyboard set-up file (1999/1/15, 21,706 bytes, freeware)
Toyota Chooses micro-ITRON4.0 as Its Standard RTOS for 32-bit MPUs
According to a front page story in the June 24, 1999, issue of the Nikkan Kogyo Shimbun, Toyota Motor Corporation has announced it will use 32-bit microprocessors in all its car electronics systems in the future. In addition, the company announced that it would employ micro-ITRON4.0 as its standard real-time operating system (RTOS) for those 32-bit microprocessors.
While this announcement might come as a surprise to some observers in the automotive industry overseas, it is not a very surprising announcement to observers inside the TRON movement. This is because the micro-ITRON4.0 kernel specification, which has recently been completed, includes a special subset for automotive applications.
As a result of Toyota's decision, millions of automobile owners throughout the world are going to become silent, unknowing users of TRON-based products.
Personal Media Launches Low-Cost Version of B-right/V
Personal Media Corporation has begun marketing a new, low-cost version of its BTRON3-specification operating system, B-right/V, to mark the first anniversary of B-right/V's marketing to the general public in Japan. The new, low-cost campaign version will be priced at 15,000 yen for direct sales. The company said its sales target for this version over the next year is 50,000 packages.
The original version of B-right/V, which is actually an operating system plus bundled software applications, was put on the market in Japan in the middle of July 1998 at a price of 40,000 yen. To date, the company has sold 30,000 packages, which is below its first-year sales target.
In order to allow prospective buyers to "test drive" B-right/V before they purchase it, Personal Media is also distributing a demo version of the operating system in Vol. 57 of its computer magazine, TRONWARE, which can be purchased at bookstores throughout Japan.
---