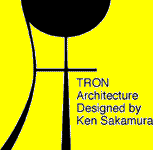 TRON News Items for December '99
---
Multilingual OS Application Study Meeting Held in Tokyo
Under the title of "Multi-Character, Multi-Kanji, Multilingual OS Application Study Meeting," which undoubtedly was made up to get across the idea that the BTRON-specification operating system can handle more characters than any other operating system in existence, the TRON Project millennium ending events were kicked off on Tuesday, November 30, 1999. The meeting began with a short introduction by the new TRON Association Managing Director, Mr. Takao Nakano, after which TRON Project Leader Ken Sakamura and Mr. Akira Matsui of Personal Media Corporation described and demonstrated the new version of the BTRON-specification operating system, B-right/V R2, to which Personal Media has given the trade name Cho-Kanji (Ultra-Kanji ).
In years past, a TRON Project event of this nature usually resembled a sleep inducing church service, but the announcement that Personal Media has successfully developed and has begun to market a personal computer operating system that can freely handle multiple character sets, including a character set of all known kanji (Chinese characters), brought a near capacity crowd of roughly 50 to 60 people into the small room prepared for the event at the Tokyo Prince Hotel next to Tokyo Tower. Moreover, the audience was a mix of implementers from computer firms and people from organizations that would like to introduce the new operating system into their office operations.
Prof. Sakamura, who is never at a loss for words when it comes to computer architecture, gave a brief rundown of the TRON Project and the history of character sets in Japan. The most important point he made is that drawing up character codes and creating mechanisms for manipulating them is extremely important, but to most people it is not a big topic. Another important point he made is that if you live in an area where rare kanji are used in place names--an he provided a list of examples from throughout Japan--then you have to use those kanji on a regular basis. The same goes for people's names in Japan, for which there are all sorts of variations of standard characters, in addition to rare characters. These have to be used by both individuals and administrative organs on a daily basis.
According to Prof. Sakamura, Microsoft Corporation is keeping a close watch on what is going on in the TRON Project in the area of character processing. As evidence of this, he showed the audience some "user defined characters" for MS-Windows that are based on examples previously given in TRON Project symposia. Unfortunately, when these characters are transferred to other systems, such Apple Computer Inc.'s Macintosh OS, the result is character corruption. In addition, he pointed out that since the Unicode standard cannot handle the differences among the Chinese characters for Chinese, Japanese, and Korean, a multilingual person would have to buy multiple versions of MS-Windows; and even then there would be data compatibility problems among the various versions of the operating system, since there are no language identifier codes.
Although TRON Web previously reported that the BTRON-specification operating system was waiting for the GT Mincho character set of 64,000 characters under development at the University of Tokyo to be completed before moving up to a true multilingual system, it was eventually decided to use the results of another large character set project called Konjaku Mojikyo, a set of 80,000 characters drawn up by the Mojikyo Institute, which had attained a higher level of completion. The BTRON-specification is the first operating system on the market to come with this huge character set as standard equipment, since it is the only operating system that can handle it from the system level. Prof. Sakamura pointed out that there is yet another large-scale character set development project in Japan called "eKanji," or "electronic kanji [Chinese characters]," which is underway at Kyoto University.
After Prof. Sakamura described the basics of the new multilingual system, Mr. Akira Matsui of Personal Media gave a demonstration of B-right/V R2 and its true multilingual functions. Because there were people who were not computer specialists in the audience, the demonstration began with boot up and partition selection, which was extremely fast on the B-right/V R2 side of the dual operating system computer. Mr. Matsui then displayed a long list of characters used in personal names that cannot be written with other operating systems on the market. Next, he opened a window filled with characters from the Dai Kan-Wa Jiten, the largest dictionary of kanji ever compiled in Japan, and then he opened the Character Search Utility. By simply selecting a character and dragging it to the the search utility, all the information about the character appeared (character number, pronunciations, readings, radical, stroke number, etc.). He also showed how it is possible to search for characters using radicals, or other partial information. The characters that appear are color coded to show the user what character set they belong to (black for JIS levels 1 and 2, blue for JIS auxiliary, and green for non-JIS [Konjaku Mojikyo] characters).
During the question and answer session, there were very specific questions from system engineers, which seems to indicate that certain Japanese system makers are seriously studying B-right/V R2 for commercial projects. Questions covered a wide range of topics: from extensions to the character set (it will be Unicode compatible) and support for Thai language input (not available at present) to available fonts, level of finish, compatible printers, layout functions, and upgrade and localization support (joint development is already being planned with Korean partners). Perhaps the most interesting questions were those from the members of a Tokyo ward office, who are studying the introduction of BTRON-specification computers into their organization. Their questions centered around data conversion, and security.
BTRON Takes Center Stage at TRONSHOW 2000
TRONSHOW 2000 and the 16th TRON Project International Symposium were successfully held between Thursday, December 2 and Saturday, December 4, 1999, at the Tokyo Design Center in the Higashi Gotanda section of Tokyo. Large crowds turned out on all three days of the scheduled events, and in many cases presentations in the small theater were standing room only. There was also more interest than usual from the Japanese press, with several reporters from major Japanese news media organizations in attendance. This was no doubt a result of the fact that Personal Media Corporation had released for sale a new version of its BTRON3-specification operating system that can write all known kanji, functionality that no competing operating system on the market can match.
TRON Project Leader Prof. Ken Sakamura of the University of Tokyo launched the scheduled events with a discussion of the "TRON Project in the 21st Century." He began by pointing out that today's problems with computers, such as Y2K, inadequate character sets for multilingual processing, and a general lack of accessibility for the disabled, are the result of poor planning at the initial design stage. In Japan, the lack of an unabridged kanji character set has been a real headache, since even writing people's names correctly has been an impossibility. It has also been impossible to create a digital archive of Japanese history and culture along the lines of a project that is currently in progress in the U.S. Fortunately, that problem has been solved through the implementation of true multilingual TRON Code on Personal Media Corporation's B-right/V R2 operating system.
As everyone overseas knows, the world is moving away from stand alone personal computer systems to networked non-computers. Since this is a scenario that Prof. Sakamura predicted at the beginning of the TRON Project back in 1984, he thoroughly enjoyed giving a rundown on what is to come. He said that companies are going to switch from the Microsoft Corporation business model of supplying software to supplying services, since a lot of software is being given away for free. He also noted that the age of "intelligent objects" has arrived, and many of them are powered by ITRON. As an example, he showed the audience Sony Corporation's new MD DISCAM mini-disk video camera, which is based on Aplix Corporation's JTRON-specification real-time operating system (RTOS) JBlend. Bill Joy of Sun Microsystems Inc. showed off the same video camera at the fall COMDEX show, Prof. Sakamura said, although it was not clear whether the audience there was told that it was "JTRON powered."
For the embedded systems world of the 21st century, Prof. Sakamura said a compact RTOS, a standardized graphical user interface (GUI), network functions, and free software are essential. Accordingly, he said, TRON Project study groups are currently investigating specifications for a BTRON-based TRON-GUI, embedded CORBA (Common Object Request Broker Architecture), and further JTRON developments. There is also the JCG Project, the goal of which is to put embedded CORBA and GUI middleware on a JTRON-specification platform. He also said that there will be a network center established from which ITRON developers can download "open source parts," in addition to a character database for the BTRON subarchitecture to which users can request the registration of characters and from which they can download the necessary fonts.
After Prof. Sakamura gave his presentation, members of the Sakamura Laboratory of the University of Tokyo gave a presentation on the LAB 2000 Project. Since this is described elsewhere in TRON Web, a detailed discussion will be omitted here. However, one of the key goals of the project is to merge the BTRON real object/virtual object filing model with the hypertext data model of the World Wide Web and hence create a distributed filing system. The goal is to eventually create a network-centric BTRON-specification multimedia personal computer for academic and scientific research, which will probably be well appreciated in other circles, also.
The current state of the TRON Project was described in the afternoon sessions on Thursday, December 2, 1999. Mr. Kiichiro Tamaru, who described the ITRON subproject, said the main goal of the project at present is developing peripheral specifications and middleware, plus creating a portable development environment, software parts, and a debugging environment. Improved training of software engineers is also an important, as is moving ITRON overseas, he said. JTRON was then described by a representative of Aplix Corporation, who said that the English-language version of the JTRON2.0 Specification has already been made public, and that the JTRON2.X specification study group is investigating the question of whether JTRON "profiles" are needed, which has been the determination in the case of ITRON. He also said that an Automotive Multimedia Interface Collaboration (AMIC) group has been formed by Japanese, U.S., and European automobile manufacturers to study the application of JTRON in the field of car electronics.
The CTRON subproject was described by Mr. Toshikazu Ohkubo of NTT Software Corporation. He said CTRON is now supporting millions of Japanese Internet users who have opted for ISDN connections, which are considerably faster than the analog circuits most Internet users in Japan currently employ. He said that the transmission of CTRON overseas is going well, particularly to China, where the CTRON specifications have been translated into Chinese and an introductory textbook on the CTRON subarchitecture has been independently created. His presentation was followed by that of Mr. Akira Matsui of Personal Media Corporation, who described the latest developments in the BTRON subproject. First and foremost is the release of B-right/V R2, the first true multilingual BTRON-specification operating system, which is going to be marketed by Sennet Inc. in the U.S. and China. He said the next topics in the development of BTRON are localizing the user interface and figuring out how to interoperate with other systems.
The following day, on Friday, December 3, 1999, the program began with an ITRON panel discussion on "Embedded Systems and Software Development," which was led by Mr. Hiroshi Monden of NEC Software Design Laboratory. The other panel members were Mr. Nalin Advani of EnThink Inc., Mr. Tomoji Kishi of NEC Software Design Laboratory, and Mr. Kazumi Hirota of Mitsubishi Electric Semiconductor Systems Corporation. During the discussion, the participants spent a lot of time discussing what is necessary to internationalize ITRON. However, Mr. Advani, who spent a lot of time working in the Japanese software industry, does not think that will be possible without major changes. He believes the ITRON movement has to become more like the Free Software Foundation, and that tool interfaces have to be unified so that there can be multivendor support, including support from overseas vendors. He also said that there has to be a strategy to introduce ITRON into foreign colleges and universities. The other participants agreed with many of his points.
In the afternoon, there were ITRON and JTRON product presentations sandwiched in between two sessions on Personal Media Corporation's new operating system, B-right/V R2. The products described were: Applied Microsystems Corporation's CodeTEST tool suite for embedded systems development; Metrowerks Inc.'s PowerParts for rapidly building GUIs for embedded systems; Grape Systems Inc.'s µITRON4.0-specification "NucleusµiPLUS" RTOS; and Aplix Corporation's remote debugger for its JBlend JTRON-specification operating system.
The first B-right/V R2 presentation was interesting in that it included two non-specialists. The first, writer Haruhiko Yoshimeki who sits on a Japanese writers' multimedia committee, said that the appearance of B-right/V R2 with its unabridged kanji character set is very important for Japan, and he wondered out loud why something like the BTRON multilingual system has not appeared on Microsoft Corporation's MS Windows or Apple Computer Inc.'s Macintosh operating systems. However, he said that problems remain, such as how to protect copyrights, and he expressed amazement that some people were talking about putting Klingon characters in the system before practical things, such as vertically written Japanese, have been implemented. The second non-specialist to speak was Mr. Tsuneo Yatagai of the Mojikyo Institute. In spite of the fact that he was born long before the personal computer revolution began, he demonstrated how easy it is to use the tool for searching for kanji and information about them. He said he was very pleased that his organization's work was incorporated into B-right/V R2, and he also noted that it was very easy to create a database of radicals (the key elements of kanji) with BTRON.
The final presentation of the day was a technical presentation by Mr. Mineyuki Kimoto of Personal Media Corporation on the B-right/V R2 cross development environment, a CD-ROM copy of which was given to each person in attendance. This development environment runs on GNU/Linux, FreeBSD, SPARC Solaris 2.5, and Solaris 2.6 for x86. Mr. Kimoto gave an in-depth explanation of the new features that have been incorporated into the BTRON-specification operating system, such as variable length TRON Code, a device driver for a wheel mouse, new networking functions, and new character embellishments (proportional spacing and gray scaling). He then explained the documentation and cross development software that had been loaded onto the CD-ROM disc.
On Saturday, December 4, 1999, the final day of TRONSHOW 2000, there were three presentations. The first was a presentation by Mr. Akira Matsui of Personal Media Corporation and Mr. Takuro Sone of Yamaha Corporation on the TRON-GUI specification for information appliances that is currently being drawn up. Mr. Matsui said that TRON GUI Specification Study Group,which began in April 1999, created its first draft in August 1999, which is scheduled for revision in December 1999. The final draft is scheduled to be released to the public in the middle of 2000, he said. Mr. Sone gave an in-depth description of what things are being standardized. These include events, scenes/panels, parts, and display primitives. He said that development is in progress on FreeBSD, and that a TRON-GUI emulator is running on X Windows. He also said there is a good possibility that Yamaha will release a product based on the research some time in the coming year.
The second presentation of TRONSHOW 2000 was the most interesting from the viewpoint of the westerner. Mr. Kazz Shimazaki of Sennet Inc. gave a rundown of his company's plans for marketing a B-right/V R2-based operating system in both the U.S. and Chinese markets. The company, which only got up and running this year, has already created a U.S. subsidiary called Global OS Corporation, located in Redwood City, California. Mr. Bryan Williams, Global OS's executive vice president and general manager, gave a brief speech in which he said he is very excited about the direction of BTRON, since it provides a very easy-to-use specification. Mr. Shimazaki said that Sennet is going to do some new things on top of B-right/V R2. The company has already developed and marketed an icon-based application start-up program called Oberon. In addition, he said Sennet is developing a LISP-based scripting language code named Maestro, an image converter that supports JPG, PNG, GIF, PPM, PBM, XBM, and TIFF formats, and a WWW browser based on the BTRON real-object/virtual object filing system. Sennet's new operating system is scheduled to go on sale in package form in March 2000, and an Internet appliance based on it is scheduled for release at the beginning of 2001, he said.
The final presentation of TRONSHOW 2000 was by the members of the TRON Fan Forum, who introduced their Web sites and gave their opinions of the BTRON subproject. People overseas who do not believe that BTRON is penetrating the Japanese market would do well to take a look at the TRON-related sites that have come into being and how many hits they are getting each day. The FTRON Web site is said to have over 15,000 users, and the BTRON.COM site gets 300 to 500 hits per day. Moreover, new TRON-related sites are being added frequently. One topic of interest recently is how sales of B-right/V R2 are going. It turns out that the new version of the BTRON operating system is selling very well. It is in the top 10 on the operating system sales list, which means it is outselling some versions of GNU/Linux and Windows NT.
British Disability Specialist Speaks at TEPS 2000
Chief Scientist Dr. John Gill of the Royal National Institute for the Blind (RNIB), a non-profit, non-governmental British organization that operates internationally in helping the visually disabled and other handicapped persons, gave a Japanese audience an in-depth description of what it is like to work in the field aiding the disabled in Europe at TRON Electronic Prosthetics Symposium 2000 (TEPS 2000), which took place on Saturday, December 4, 1999. Following a brief introduction by TRON Project Leader Ken Sakamura, Dr. Gill launched into a description of his organization, its activities, and the problems he has encountered in promoting "inclusive design," a British term for designing reasonable accessibility for the handicapped into social infrastructure technology, such automatic teller machines, railway ticket machines, and the like.
Speaking to a packed house through a team of two consecutive interpreters, Dr. Gill began by describing RNIB and its activities, which has a staff of 2,815 and an annual budget of 11 billion yen. Very little of that budget is spent on scientific research and development, and thus his organization encourages external research and development in the private sector to benefit the disabled. It also tries to influence the design of equipment for the able-bodied, in addition to getting involved in the drawing up of relevant standards for the benefit of the disabled in Europe. Out of a European population of 800 million, there are tens of millions of people who are handicapped. For example, 45 million people need aid to walk, 30 million people are intellectually impaired, 80 million are hard of hearing, and 11 million have low vision.
As is the case in other areas of the world, the number of people with minor impairments is vastly greater than the number of people with total impairments (e.g., 1 million people totally blind versus 11 million people with low vision). Moreover, as regular attendees to TRON EnableWare symposiums have heard over and over, there is an enormous variation from one disabled person to the next. To demonstrate this. Dr. Gill showed a series of slides of the same London street scene to demonstrate what members of the visually disabled community see. One type had a black dot in the middle to simulate a cataract-like impairment, so in order to read the person in question needs large characters. Another had scattered patches to simulate diabetic blindness, and still another depicted "tunnel vision" resulting from glaucoma, whose sufferers need small print.
As to technology for helping the disabled, Dr. Gill said there are new possibilities and new challenges for accessibility that are coming about as a result of the convergence telecommunications, broadcasting, and computing technologies. Under the British concept of "inclusive design," the goal is to "as far as is reasonably possible design in for the handicapped." One of the challenges in pursuing what is reasonably possible is to present engineers with proper guidelines to carry out the design, he noted. For example, he noted that the data in the guidelines for the Americans with Disabilities Act are in fact based on data from university athletes. Accordingly, it is very important to check the source of the data, and also to get a good sampling of data from the disabled themselves.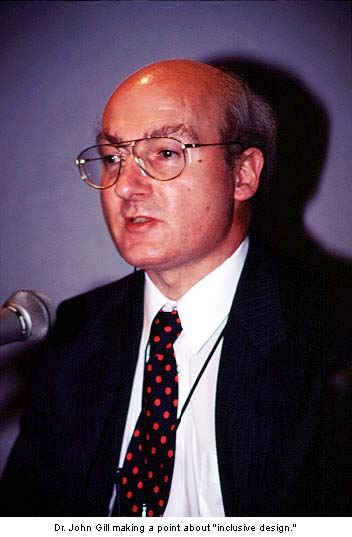 As in Japan, the disabled in Europe have considerable difficulty using public telephones, automatic teller machines (ATMs), and ticket vending machines, since in many instances they were not designed in accordance with the concept of "inclusive design." As a result, there are non-standard keypads, low contrast touch screen panels, excessive numbers of buttons (one British railway ticket vending machine has 300 buttons!), and equipment whose dimensions prevent access to people in wheelchairs. The solution to the last problem, Dr. Gill said, is an infrared link between a personal device (e.g., smart card) and an equipment such as an ATM, but unfortunately there is still no international standard for infrared links.
Also, as the four-digit personal identification number recorded onto the magnetic strip on the back of bank cash cards is extremely insecure, financial institutions are planning to implement new methods of verifying personal identity. These include iris, fingerprint, and hand geometry reading, in addition to voice recognition. The information for these new methods is being recorded into smart cards, and therein lies the possibility of helping the disabled. This is because personal preferences that allow a person to select among the various methods plus information on how one would like the machine to behave can be loaded into them. Requested machine behavior could include more time between inputs, keyboard input only, touch screen input only, reduced operational functionality, character output only, language output only, etc. One thing that will not be included in the user's personal information is whether the person is disabled and what type of disability the person has, he said.
Television and the Internet should be a boon to the disabled, but Dr. Gill pointed out that there are many problems with these media, also. One problem has been the typeface used in British teletext systems to date, the letters and numeral of which have been easy to confuse. For example, the numerals '6', '8', and '9' are very difficult for people with low vision to distinguish. Accordingly, a new "open letter" typeface was developed, which is also easier for people without visual impairments to read. As a result, the use of this typeface has been made mandatory for all teletext on digital television in Britain. Another problem for the visually disabled is the design of Web sites on the Internet. The visually disabled are most eager to use home shopping and home banking services via the World Wide Web. However, there are no suitable browsers for the disabled, and the design of most Web sites prevents access by the disabled, in spite of the fact that there is an international consensus on Web site design, Dr. Gill said.
In regard to standards, Dr. Gill gave a brief description of his troubles in this area. He called advisory standards "useless," since they do not have to be followed. Mandatory standards, on the other hand, are powerful tools, but they require organizations such as his to lobby politicians, which has not been a very fruitful undertaking to date. He said he has had most success lobbying the bureaucrats who actually author the standards. When it comes to requesting cooperation from companies, on the other, he said the most helpful people are the members of board at the top of a company and the young designers in the twenties and thirties at the bottom of a company. The least cooperative company members are those in the middle of the company who write actually the product specifications. So vexing is this problem that he has decided to fund a research student for three years to do his Ph.D. dissertation on the question of who makes decisions in companies.
Dr. Gill closed his presentation by giving a list of links to Web sites that deal with the issue of standardizing technology to be used by the disabled (see below). Since there were many visually disabled Japanese people at his presentation, he also introduced "Moon type," a typeface developed by Briton William Moon in 1847 that is easier than Braille for the visually disabled to learn. Unfortunately, it is much bulkier. While Braille takes up 20 times as much room as print, Moon type takes up four times as much room as Braille, making it 80 times bulkier than print. Consequently, reading speed is very low--roughly 10 to 20 words per minute. Total readership at present is 300 to 400 people, about one-third of whom can also read Braille, he said. Since there are so few people who can read it, he said there is little point in using it on, for example, public telephones.
After Dr. Gill gave his presentation, four Japanese speakers gave their presentations. Mr. Sadao Hasegawa of the Japan Braille Library discussed the development of Braille kanji in Japan and his work with the developers of convenience store bank ATMs and debit card readers. Mr.Yoshitake Misaki of the Tokyo Municipal Hachioji School for the Blind, who said he really likes the term "inclusive design," gave a rundown on JR ticket machines and what they cannot do. One important function that is missing at present is a function that allows the visually disabled to buy transfer tickets that will enable them to go from one train line to another without purchasing a new ticket. Mr. Tetsuya Fukui of the Tokyo Municipal North Rehabilitation Center gave a presentation on appliance switches, which have almost all become electronic. He said that feedback in the form of buzzers and reset functions are necessary for the visually disabled to use them. Finally, Mr. Akira Takamura, a mathematics professor at Tsukuba University School for the Blind, talked about the need for new computer interfaces for the blind, including Web pages; and Mr. Noboru Koshizuka, a TRON researcher at the University of Tokyo gave a brief description of TRON HMI guidelines that have been drawn up and published.
During the question and answer period that took place at the end of the EnableWare symposium, Dr. Gill said one advantage that the disabled Japanese people in the audience have is that they can directly contact equipment manufacturers, since they are headquartered locally. When asked about disability laws in Britain, Dr. Gill replied that those also are governed by the principle of "what is reasonable." For example, a restaurant does not have to prepare Braille menus for the visually disabled, but if their staff refuses to read the menu for a visually disabled person, then they can be charged with a violation of the disability act. Dr. Gill said one of his biggest triumphs was enlisting the chairman of Lloyds Bank, the largest bank in Britain, to help in preparing a banking services access report, which was well read after it was rewritten in bankers' style with lots of small print and a foreword by the Lloyds chairman himself.
EnableWare-related links
Telecommunications: Access for Disabled People and the Elderly
INCLUDE: INCLUsion of Disabled and Elderly people in telematics (TELEMATICS project 1109)
Trace Research & Development Center: Making information technology more usable for everyone
Information for Professionals Working with the Visually Disabled (Dr. John Gill's Web site)
Dr. John Gill's e-mail address:
---