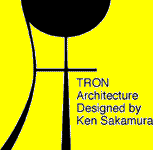 B-right/V Gallery
---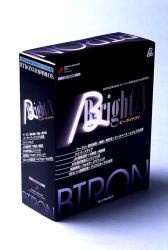 B-right/V--the first 32-bit implementation of the BTRON-specification operating system for IBM-PC/AT compatibles--was put on sale by Personal Media Corporation on July 17, 1998. Its appearance marked the start of a new era in the BTRON subproject, an era in which BTRON became as powerful as the competition!
But B-right/V is not just something that has caught up with the competition. In many areas, such as ease-of-use, level of desktop integration, data linking and storage, responsiveness to user inputs, multilingual performance, etc., it is far ahead of the so-called "industry standard." And things are going to get even better in the near future when a true multilingual follow-on version to B-right/V, tentatively named "3B/V," hits the market.
Of course, since B-right/V is the new kid on the block, there is not that much software written for it. But now that there is a full 32-bit version of the BTRON-specification operating system, which will soon be supported by Metrowerks Inc.'s CodeWarrior development environment, lots of software developers are beginning to take a new look at BTRON--and many of them are impressed!
So what is it like to use B-right/V? Let's take a look at some screen shots that appeared in Vol. 53 of TRONWARE. (Note: these are 1,024 x 768-dot, 8-bit color screen shots, so they have been put off on separate pages.)
1. Multilingual Text and the WWW Linked Seamlessly Together
In this screen shot, on the left, there is a multilingual text real object (file) titled "Greetings of the World." Next to it in the background is another text real object (file) titled "Japanese-language Search Engines" in which a virtual object (link) titled "YAHOO! (URL)" has been opened. In the active window in the foreground, the entrance to YAHOO! Japan is opened in the WWW Basic Browser.
(Click here to view the first screen shot.)
2. Powerful Hypermedia Filing and Data Integration
In the windows of this screen shot, the data, which deal with the 12 astrological signs of the zodiac, were created with four applications: the Basic Text Editor, the Basic Figure Editor, MicroCard (database software), and MicroScript (programming language). This is intended to show the high level of data integration that can be achieved on B-right/V using standard applications.
(Click here to view the second screen shot.)
3.Chinese and Korean Word Processing Across All Applications
BTRON-based operating system are the first personal computer operating systems that can input/output Chinese, Japanese, and Korean language text as a standard feature. In this screen shot, Chinese and Japanese are mixed in the window in the upper left-hand corner (it appears to be the Japanese translation of a line of a seven-character Chinese poem); a Korean wire service (the dateline reads: Tokyo AFP Yonhap) on cooperation between Japan's Self-Defense Forces and the U.S. military appears in the window in the lower left-hand corner. On the right, Korean is used inside MicroCard, B-right/V's database software, showing that the multilingual functions operate across all applications. The keyboard input layout for the Korean language is shown at the bottom on the right.
(Click here to view the third screen shot.)
4. Powerful Features for Creating Presentations
This screen shot shows a demo that explains B-right/V features using animation. It was created using MicroScript, which is an easy-to-use programming language especially suited for creating presentation materials.
(Click here to view the fourth screen shot.)
Japanese speaking readers of TRON Web who would like to give B-right/V a test drive can do so if they purchase a copy of Vol. 53 of TRONWARE. There is a demo CD-ROM with the operating system and applications attached to the back of the magazine, which can be purchased for 1,400 yen (consumption tax not included) in bookstores throughout Japan.

The B-right/V software package itself, which is shown at the top of this page, sells for 40,000 yen (consumption tax not included). For further information on purchasing B-right/V and/or TRONWARE, please go to Personal Media Corporation's Web site. The URL is:
http://www.personal-media.co.jp
---
B-right/V is a trademark of Personal Media Corporation.