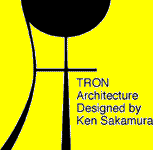 TRON News Items for October 2002
---
New CD-ROM Chinese Character Dictionary for Cho Kanji 4
Personal Media Corporation announced on October 22 that it will begin marketing on November 15 a new Chinese character dictionary for its BTRON3-specification Cho Kanji 4 operating system (click here for a screen shot), which will be sold via direct sales for 7,000 yen (tax not included). The new dictionary, "Cho Kanji Iwanami Shin Kango Jiten," is the CD-ROM version of the second edition of Iwanami Shoten's Shin Kango Jiten [New Chinese word dictionary]. Unlike previous CD-ROM versions of printed Chinese character dictionaries that relied on user defined characters or graphic elements to display the rare kanji not included in standard character sets, the Cho Kanji 4 version of this dictionary can handle all of the characters in the original printed version, and thus the contents of the Cho Kanji Iwanami Shin Kango Jiten can easily be reutilized in word processor documents and/or transmitted across the Internet in e-mail messages or posted in Web pages.
Personal Media said there are more than 12,000 individual Chinese characters, including 11,800 major entries, in Cho Kanji Iwanami Shin Kango Jiten, which is more than other dictionaries of its type. These characters include more than 6,300 Chinese characters that are not included in the JIS levels 1 and 2 character sets (for examples, click here; numbers below the characters are TRON Code), and more than 2,700 Chinese characters that are not included in either the JIS levels 1 and 2 or the JIS auxiliary character sets (some characters not included in Unicode 2.0 can be seen here). In order to search through this massive number of Chinese characters and the 36,000 Chinese character compounds based on them, Personal Media has made sure that the CD-ROM disk can operate smoothly together with the powerful Character Search utility that comes as standard equipment with the Cho Kanji 4 operating system software package.
Personal Media is also marketing via direct sales, the following two dictionaries on CD-ROM for Cho Kanji 4 users.
Cho Kanji Kojien (13,800 yen; same as fifth edition of the popular paper version published by Iwanami Shoten)
K'ang Hsi (Kang Xi) Dictionary (25,000 yen; two-disk electronic version of archived historical materials)
Both of the above prices do not include the consumption tax. For direct sales inquiries, please contact Personal Media's Sales Department at: sales@personal-media.co.jp
Project Leader to Give Presentation at Embedded Technology 2002
TRON Project Leader Ken Sakamura will give a lecture in Japanese titled "T-Engine for Ubiquitous" at the Embedded Technology 2002 conference and exhibition on Wednesday, November 20, from 1:00 p.m. to 2:00 p.m. Other famous figures in the world of embedded computing will also gives lectures at the Embedded Technology 2002, which will will run from Wednesday, November 20 though Friday, November 22 at Pacifico Yokohama. These include Sir Robin Saxby of ARM Holdings plc., Susumu Furukawa of Microsoft Corporation, Shinichi Okamoto of Sony Corporation, and Takashi Shigematsu of Toyota Motor Corporation. Embedded Technology 2002 is a follow-on to the Microcomputer Systems & Tool Fair (MST) conferences and exhibitions that ran from 1998 to 2001 at Tokyo Big Sight.
---