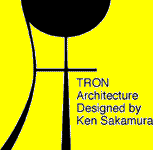 TRON News Items for June 2002
---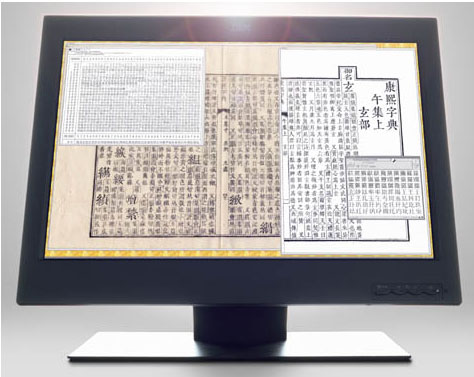 High-Definition Cho Kanji 4 Systems Go on Sale
Personal Media Corporation announced on June 11 two high-definition Cho Kanji 4-based imaging systems for use in such areas such as desktop publishing, computer-aided design, and museum exhibits. The two systems, which were put on sale via direct marketing on June 25, use a special high-definition version of the Cho Kanji 4 operating system that supports 24-bit color on very high resolution screens. The two screens being offered by the company are TFT LCD panels with respective resolutions of 3,840 x 2,400 dots and 2,048 x 1,536 dots. Both LCD panels have a response rate of 50 milliseconds and a pixel pitch of 0.1245 mm (204 dpi) and 0.207 mm, respectively.
Both systems use an IBM-PC/AT-compatible main unit based on a a 2.2 GHz Pentium 4 microprocessor, 256 Megabytes of SDRAM main memory, a 40 Gigabyte hard disk drive, a 40-speed CD-ROM drive, a Matrox Millennium G450 DVI graphics card, a 100Base-TX Ethernet LAN card, plus a 109-key keyboard and a three-button mouse. In addition to the newly developed high-definition version of the Cho Kanji 4 operating system, the system also come equipped with Windows 2000 Professional (SP2). The prices of both systems have yet to be set by Personal Media Corporation, but they are expect to be excess of 1 million yen. For further and purchase inquiries, please contact Personal Media's Sales Department.
BTRON English and Esperanto Compatibility Kits Available for Free Downloading
Speakers of English and Esperanto who would like to try Cho Kanji 4 but are unable to use a Japanese-language interface received good news on June 19. On that day, Personal Media Corporation announced that it had made available for downloading via the World Wide Web English-language (click here for a screen shot) and Esperanto-language (click here for a screen shot) compatibility kits. The two foreign-language compatibility kits, which are free of charge, run on Cho Kanji 4 R4.010 and enable a foreign BTRON user to use both the operating system interface and the bundled applications in either English or Esperanto. For information as to how to download, please click here.
Since the download page instructions are in Japanese, people wishing to try the either language kit are advised to ask a Japanese speaking friend for for help. In addition, since the BTRON manuals have yet to be translated into English, it would be good to have a Japanese speaking friend who knows how to use BTRON to demonstrate the basic techniques of using the operating system. Some of these, such as basic operations, mouse operations, and the Real object/Virtual Object file system are already explained on TRON Web.
BTRON Basic Browser Updated Again
Personal Media Corporation announced on June 19 that it had made further improvements to the BTRON Basic Browser (BBB), which are being made available for downloading free of charge via the Internet. The improvements incorporated in the new version of the BBB, R4.012, are as follows:
Fixed a defect in which character corruption occurred when a single character selected in a BBB R4.011 window was copied into a text window
Fixed a defect in which it was impossible to operate the previous/next page buttons when a URL was in selected state
Fixed a defect in which copying using the mouse inside a form was not possible
Improved a form input switching switching operation based on the Tab key
For download information (in Japanese), please click here.
T-Engine Forum Launched by 22 Japanese Firms
Twenty-two Japanese and foreign hardware and software firms announced on June 24 that they had formed a consortium to develop and popularize ubiquitous computing based on the T-Engine platform, an open, TRON-based hardware and software development platform announced in December 2001 just prior to TRON SHOW 2002. Prof. Ken Sakamura of the University of Tokyo will serve as the chairman of the new organization, T-Engine Forum, which seems to indicate that he will have more authority in this new organization than he has in the TRON Association. The Forum has established a Ubiquitous Networking Laboratory in Tokyo near Gotanda station (click here for a map), where T-Engine and three subsets--µT-Engine (microT-Engine), nT-Engine (nanoT-Engine), and pT-Engine (picoT-Engine)--we be developed for creating an environment in which everything is computerized.
Among the 22 member companies of the T-Engine Forum, the following 11 are the principal corporate members: Aplix Corporation; eSOL, Co., Ltd.; NTT DoCoMo Inc.; Toshiba Corporation; NEC Corporation; Personal Media Corporation; Hitachi Ltd.; Fujitsu Ltd.; Mitsubishi Electric Corporation; Yokogawa Digital Computer Corporation; and Yokosuka Telecom Research Park Co. Ltd. The following 11 companies are regular corporate members: NTT Data Corporation; Oki Electric Industry Co., Ltd.; Kyocera Elco Co., Ltd.; GrapeCity Inc.; Solid Information Technology Corporation; Dai Nippon Printing Co., Ltd.; DigiOn, Inc.; Picsel Technologies Ltd.; PIN Change Co., Ltd.; Yamaha Corporation; and Yazaki Corporation.
Famous Japanese Author Writes a Book about Using BTRON
Mr. Haruhiko Yoshimeki, an awarding winning Japanese author and renowned supported of the TRON Project, has written a book about why he has chosen the Cho Kanji operating system and a personal computer to do all of his writing, things that not all authors in Japan use. Titled Subete-no shippitsu katsudoo-wo pasokon-de [All writing activities with a personal computer], the book is divided nine chapters, and it describes both the Cho Kanji operating system and its applications, plus Mr. Yoshimeki's methods of employing them.
While it may seem like common sense to westerners to write everything with a personal computer and word processing software--actually, there are some writers in the West who prefer a typewriter to a personal computer and word processing software--many Japanese writers have continued to write on traditional "manuscript paper" in Japan, since the Japanese-language character set of conventional computer operating systems has been so limited. Mr. Hiroshi Aramata, another literary supporter of the TRON Project, touched on this point in an interview with Prof. Sakamura (click here).
Those who would like to purchase Subete-no shippitsu katsudoo-wo pasokon-de can purchase it at bookstores in Japan or contact Personal Media's Sales Department for direct sales information. The price of the 248-page book is 1,600 yen, consumption included. Free software included with the book can be downloaded from here.
TRON Project Leader Receives Another Award
On June 3, 2002, it was announced that Prof. Ken Sakamura, TRON Project Leader and professor at the University of Tokyo, had been selected for a 2002 "Individual Commendation for Contributing to the Promotion of Informationalization," an annual award presented by the Minister of Public Management, Home Affairs, Posts and Telecommunications. The award states he was cited for contributing to the construction of Japan's information infrastructure by announcing the TRON concept for a new computer system for the computer society of the future, and by promoting the spread, research on, and the development of a pure Japanese operating system.
---