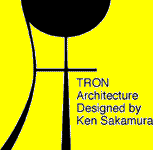 TRON News Items for May 2003
---
Motorola MX1-Based T-Engine Put on Sale
Personal Media Corporation announced on May 15 that it had begun direct marketing of a new implementation of T-Engine based on Motorola Corporation's "DragonBall i.MX1" processor, which itself is based on the ARM 920T core of ARM Ltd. (Click here for a photograph.) The new T-Engine implementation is part of the "T-Engine/ARM920-MX1 Development Kit," which carries a price of 198,000 yen (consumption tax not included). Like other ARM-based T-Engine development kits put on sale to date by Personal Media, the T-Engine/ARM920-MX1 development board was created by Yokogawa Digital Computer Corporation, which has taken a leading role in the T-Engine open development board project. The main specifications of T-Engine/ARM 920-MX1 are as follows:
T-Engine/ARM920-MX1 Hardware Specification

CPU
Motorola MC9328MX1 (ARM920T core, 200 MHz)
Flash memory
16 Megabytes
SDRAM
64 Megabytes
I/O interfaces
USB (host), PCMCIA card, serial, eTRON chip, headphone output, microphone input, expansion bus I/F
Other functions
Real-time clock (RTC)
Power source
AC adapter
External dimensions
CPU board: 120 mm x 75 mm (without protuberances)
Hardware options for the development kit are: an LCD board (240 x 320 TFT color, touch panel, key SW x 3), a LAN board, a debugging board, and a battery board.
Software Bundled with T-Engine/ARM920-MX1

T-Monitor
Standard T-Engine monitor
T-Kernel
T-Kernel/OS (Operating System), T-Kernel/SM (System Manager), T-Kernel/DS (Debugger Support)
Basic middleware
File management function, command line interpreter (CLI)
Managers
PC Card manager (bus driver), USB manager (bus driver)
Device drivers with source programs
RTC, console (serial), screen (built-in LCD), system disk (ATA, CF Card, USB), KB/PD (keyboard, touch panel, mouse)
Sample programs
Simple disk partition creator (hdpart), disk formatter (format), file contents comparer (cmp), disk dump (dd), simple line editor (ed)
The standard development environment for the T-Engine/ARM920-MX1 Development Kit is the GNU-based development environment (including source debug "gdb"), which runs on top of PC-Linux. For further information on the development kit, please contact Personal Media's Sales Department.
KDDI Develops Experimental Terrestrial Digital TV Handheld Terminal Using T-Engine
KDDI Corporation announced on May 19 that it had developed an experimental handheld terminal for receiving terrestrial digital television broadcasts using an Hitachi SH-4-based T-Engine development board. The new handheld terminal, which was demonstrated at the Japan Broadcasting Corp. (NHK) broadcast technology research institute from May 22 through May 25, was not equipped with an OFDM demodulator and tuner for receiving terrestrial digital television broadcasts, since experimental digital television broadcasts are not being conducted at present in Japan. Instead, it is equipped with a wireless LAN card and a PHS card, through which it can send and receive data from KDDI servers via the company's AirH PHS service. Four types of NHK television contents were prepared for the experiments: (1) a television guide and program viewing, (2) emergency broadcasts, (3) an e-learning demonstration, and (4) chat while watching sporting events. The basic specification for the device is given below, and pictures of it plus screen shots can be seen here.
T-Engine-Based Terrestrial Digital TV Terminal

Operating system
T-Kernel
CPU
Hitachi SH-4, 200 MHz
LCD display
QVGA (320 x 240 dot)
Digital TV broadcast display region
QCIF (176 x 144 dot)
Digital TV transmission format
MPEG-2 TS, MPEG-4 SP (Simple Profile)
Audio
AAC
The company said the T-Engine-based terrestrial digital television terminal is equipped with two browsers--a QCIF browser for viewing terrestrial digital television broadcasts at the top of the screen, and an HTML browser for viewing Internet contents at the bottom. Although the BML language is normally used for describing contents of terrestrial digital television broadcasts, the HTML language was used for contents during the tests, since it made things easier. That also applies to the MPEG-4 digital television transmission format, which was chosen because it was easier to implement. However, since the MPEG-4 patent holders are demanding royalties be paid not only on the encoding/decoding equipment, but also by digital television content providers (click here for a discussion of this), MPEG-4 will probably not be used in a final product. H.264 is more likely, if the royalties are lower. Although regular broadcasts were scheduled to begin in December 2003 in Japan, they have been pushed back to 2005 as a result of the licensing issues surrounding MPEG-4.
Toyota Motor Corporation to Lead New TRON Intelligent House Project
According to a report in the May 22 issue of the Nihon Kogyo Shimbun (click here for the Japanese language article), Toyota Motor Corporation disclosed on May 21 that it had begun development of a futuristic intelligent house called "21 Seiki Yume Juutaku" [21st Century Dream House] together with the research group headed by Prof. Ken Sakamura of the University of Tokyo. The new TRON-based intelligent house will be built in 2004 in Aichi Prefecture--the prefecture where Toyota is headquartered--and it will incorporate the latest IT technology. The budget for the project is 3 billion yen, and firms allied with Toyota (Denso Corporation, Aisin Seiki Co., Ltd., Araco Corporation, Toyoda Gosei, Co., Ltd., etc.) plus major housing fixture makers (INAX Corporation, etc.) will also participate in the project. Plans call for the intelligent house to be linked with intelligent automobiles using Toyota's G-Book, or Gazoo Mobility Service. Construction materials, on the other hand, are to be natural materials, and lighting fixtures are to be based on energy saving LED technology.
The 21st Century Dream House will be the second intelligent house to be built using TRON-based technologies. The first one, the "TRON Intelligent House," was completed in Nishi Azabu in 1989, and it stayed open for three years while it was used as a test bed for experiments into computerized living. That project had a budget of 1 billion yen, one-third that of the 21st Century Dream House budget, and the level of technology at the time was very low. In particular, creating networks required the use of cumbersome wire harnessing, although when finished the intelligent house had a higher level of computerization than the U.S. government's space shuttle. During the last 15 years, multiple broadband local area wireless networking technologies have come into existence, plus radio frequency identification chips and network security architectures. Therefore, it will be easier to install a higher level of computerization and develop it to a level where it can be practicalized and commercialized. It will be interesting to see what futuristic products and services evolve from this new TRON-based intelligent housing project.
---