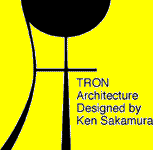 Great Products Highlight TRONSHOW '97
--TEPS '97: Entertainment for the Disabled--
---
The TRON Association held its annual show of TRON-based technologies between December 3 and 5, 1997, at TEPIA Hall in Kita-Aoyama, Tokyo. While the event wasn't widely reported in the press--even in the local Japanese press!!--several product announcements were made at TRONSHOW '97 that highlighted the growing acceptance and continuing spread of the world's first "total computer architecture."
So what weren't people informed about?
From the end user's point of view, the most important product announcement was that by Personal Media Corporation, which announced a new version of the BTRON-specification operating system--tentatively named "3B/V"--that the company plans to begin marketing in the spring of 1998. This new version of the BTRON-specification operating system is a "no nonsense, no excuses" single-user, multitask workstation OS for IBM PC-compatibles that makes up for the deficiencies of earlier versions of the BTRON operating system put out by the company, and which will enable BTRON to function in a corporate network environment just like any other operating system on the market.
From the Japanese programmer's point of view, the most important announcement was that Metrowerks Inc.--the world's second largest developer of software development tools--is going to market a version of its highly regarded CodeWarrior development environment for ITRON and BTRON. Like the new version of the BTRON-specification operating system by Personal Media, the new version of CodeWarrior for supporting the TRON Architecture is scheduled for release in the spring of 1998. The release of the cheap, easy-to-use CodeWarrior for the TRON Architecture is expected to spur considerable TRON-targeted software development beginning next year.
From the overseas programmer's point of view, the most important announcement was that Aplix Corporation has combined Sun Microsystems Inc.'s popular Java operating system with the widely used ITRON-specification kernel architecture in a new product called "JBlend." This new "JTRON-specification operating system" runs the Java operating system as an ITRON-specification application via a processor abstraction layer. The result is that applications written in the Java language are executed at very high speed, since ITRON-specification kernels are compact and written for demanding real-time response.
Of course, there were other things of interest at TRONSHOW '97, such as exhibits of the latest TRON-based products. That's why approximately 1,000 people showed up to hear about what's going on in the TRON Project.
Project Leader Discusses TRON's Content Orientation and JTRON
Theater presentations at TRONSHOW '97 began on Wednesday, December 3, 1997, as they always do at a TRON Project-related event--with a keynote address by TRON Project Leader Ken Sakamura speaking to a packed lecture hall. Using a BTRON-specification personal computer for presentation on a large screen at the front of the lecture hall, Prof. Sakamura began by remarking that the latest implementation of the BTRON-specification operating system, which is equipped with outline fonts among many new features, has become just like an "ordinary operating system."
However, Prof. Sakamura was quick to point out what distinguishes the TRON Architecture from other computer architectures. For example, he noted that the TRON Architecture is "content oriented" in that it lays considerable emphasis on data standardization/protection of user data through the comprehensive data standards embodied in TRON Application Data-bus (TAD).
The project leader pointed out that "hypertext," which has become popular due to the World Wide Web on the Internet, was incorporated in the BTRON operating system specification from the initial design stage in 1984. In fact, it's still the only personal computer operating system on the market with this powerful and versatile data management system as its standard filing system. Clearly pleased at the progress of the BTRON subproject, he also took a little time out to proudly note that the micro-BTRON-based personal digital assistant (PDA) called BrainPad TiPO, which is proving to be a hit product in the Japanese PDA market, runs faster than PDAs based on Microsoft Corp.'s Windows CE operating system.
Prof. Sakamura said that the TRON Architecture's content-oriented focus led to the Digital Museum project at the University of Tokyo, in which he and his staff are putting on line via the Internet all 6 million items in the university's collection. Moreover, this focus is also leading the TRON Project into the newly emerging field of electronic commerce (EC) where a data format for commercial use must be created. This is because the HyperText Markup Language (HTML) used for creating Web pages today cannot be used for preparing commercial data that are to be loaded onto Web pages.
Another aspect of the content-oriented focus of the TRON Architecture, the project leader noted, is multilingual processing, an area in which the TRON Architecture is the leader. BTRON-specification personal computers can process more characters and languages than any other personal computers on the market in Japan. In addition, a new font of 100,000 Chinese characters (kanji ), called Todai Mincho, is being created at the University of Tokyo. One of the first places this new font will be put to use is the University of Tokyo's Digital Museum, where large numbers of documents are being digitized for access via the World Wide Web.
Turning away from data processing, Prof. Sakamura announced that the Java movement launched by Sun Microsystems Inc. of the U.S. and the TRON movement are joining forces through the merger of Java with ITRON, which is referred to as JTRON. (For in-depth details on JTRON, see the JTRON home page here .) In JTRON, a Java applet runs as a single ITRON task. The combination of these two widely used software technologies is expected to present formidable competition to Microsoft Corporation, which seeking to expand its monopoly in personal computer operating systems into other areas of computing, such as machine control.
The TRON Project leader ended his keynote address by saying that the TRON Architecture is now starting to sink in, and thus will play an important role in developing infrastructure for the 21st century. He also pointed out that this type of base technology development is something that Japan has never done before.
Basic Technology Projects Continue to Move Forward
Following Prof. Sakamura's keynote address, representatives of the technical committees in charge of developing the basic TRON technologies (ITRON, BTRON, CTRON, and the Human-Machine Interface [HMI] Study Group) gave presentations on the status of their respective subprojects.
Toshiba Corp.'s Kiichiro Tamaru, who is the chairman of the ITRON Technical Committee, gave a rundown on a survey the ITRON Technical Committee conducted between November 1996 and January 1997 on trends in the use of real-time operating systems (RTOS) for embedded systems. (For the full report, click here .) Among the interesting facts that the survey turned up are:
32-bit CPUs were the leading CPU used (45.2%), followed by 16-bit CPUs (34.5%)
ITRON use is around 30% for both 16-bit and 32-bit embedded systems
ITRON is widely used in consumer-oriented applications (over 30% share in various fields)
ITRON together with CTRON are widely used in communications applications (28%)
Performance/functions are by far the most important RTOS selection criteria (36%)
Mr. Tamaru said that although there are considerable advantages to using ITRON (it's simple, compact, and supports many processors), the lack of a development environment and tools, in addition to an insufficient number of engineers familiar with it, are preventing ITRON from spreading even further than it already has. Another problem, he noted, is that different application segments require different types of things, and as a result various study groups are being formed to support ITRON in different fields, such as hard real-time support, embedded TCP/IP, and automotive applications.
Nippon Telegraph and Telephone Corporation's Toshikazu Okubo, executive secretariat of the CTRON Technical Committee, began his state-of-the-subproject presentation by explaining how CTRON-based systems affect the daily lives of people in Japan. CTRON is the unseen technology that runs NTT's Integrated Services Digital Network (ISDN) exchanges, it serves as the basis for the widely used portable telephone system called the Personal Handy-phone System (PHS), and it even powers banking computers utilized in processing financial transactions.
Since the CTRON subproject has been a great success in Japan, efforts are being made to spread it overseas, Mr. Okubo said. As a result, micro-CTRON seminars were held in Beijing and Shanghai in June 1997, where free micro-CTRON source code for microprocessors (Motorola's 6809 and Intel's x86) was presented to Chinese engineers. He said Chinese engineers are very enthusiastic about micro-CTRON, and as a result they have held an application programming contest, a porting contest, and even a translation contest (into Chinese) for the micro-CTRON kernel and specification.
Due to the explosion of interest in the Internet, Mr. Okubo said a new topic of research for the CTRON architecture is a multimedia networking kernel for a multimedia network service platform (MNP), the implementation of which is being sponsored by the Information-technology Promotion Agency, Japan (IPA). The main research topics for the MNP are: real-time distribution control, a flexible network control agent, and a Java-based application-program interface (API) for multimedia network service control. In particular, the MNP has to be able to support many virtual connections, including connections where data streaming is taking place, according to strict deadlines; and it has to have dynamic connection control for variable services, such as broadcasting and conferencing.
Personal Media Corporation's Akira Mitsui, who has long been at the forefront of BTRON-specification operating system development, gave a description of new developments in the BTRON subproject. The most important recent developments in the BTRON subproject are that a character set of 100,000 characters--the largest of its kind in the world--is currently being created for the BTRON architecture at the University of Tokyo, and that a new version of the BTRON-specification operating system, tentatively named 3B/V, is scheduled for release to the general public in the spring of 1998 by his company, he said.
The character set will be made available to anyone, so users of other operating systems may also be able to benefit from this facet of the BTRON subproject. As to the new version of the BTRON-specification operating system, he said it will include TCP/IP support, and it will come with a new "manuscript processor" based on traditional Japanese manuscript paper, which is known in Japanese as genkoo yooshi. This is a unique software product for the Japanese market, where most word processors are based on localized versions of word processors imported from western countries.
The TRON Project was launched expressly for the purpose of creating "hypernetworks" of computers, and one of the most important elements in highly computerized living spaces or workspaces is the standardization of the human-machine interfaces (HMIs) that the human occupants come into contact with. The TRON Project's efforts in this area were described by Mr. Toshihisa Muto, who is a member of the TRON HMI Study Group.
Mr. Muto began by describing what efforts in this area have taken place in the world. In addition to the TRON Project's hypernetwork scheme (know in technical parlance as the Highly Functional[ly] Distributed System, or HFDS), there are the Ubi Comp (ubiquitous computing) of Xerox Corp.'s Palo Alto Research Center (PARC), TTT (Things That Think) of the Media Lab at Massachusetts Institute of Technology (MIT), and the Wearable Computer of MIT, Carnegie Mellon University, et al. In fact, an international symposium on wearable computers was held in Cambridge, Massachusetts, between October 13 and 14, 1997, he pointed out.
The TRON Project's concept is based on the idea "computers everywhere," which has already been realized to a certain extent at the University of Tokyo's Digital Museum. To that end, a TRON HMI Specification--the English translation of which is being published by IEEE Computer Society Press--has been drawn up that encompasses both graphical user interfaces (GUIs) and solid user interfaces (SUIs), plus HMI design tools and an HMI compiler, with the goal of standardizing HMIs for as wide a range of products as possible, Mr. Muto said.
New Products Described to Eager TRON Fans
On Thursday, December 4, 1997, the second day of the show, fans of the TRON Project got a chance to be filled in on the latest product developments based on the TRON Architecture.
The first product to be described was the micro-BTRON-based personal digital assistant (PDA) called "BrainPad TiPO." Originally developed by Seiko Instruments Inc. to meet the needs of traveling insurance salesmen, this powerful and compact PDA has proved to be a hit among many other types of users, which is why it's on sale in many retail outlets throughout Japan. In addition, it's been modified for use by visitors to digital museums as a guidance system (the MGS-3000 developed by Personal Media Corp., which was described separately), and there is even freeware available for BrainPad TiPO via the Internet (e.g., English-Japanese dictionary, scheduler, etc.). On top of that, a mere three weeks after TRONSHOW '97 ended, Seiko Instruments announced a new version, Release 2.10, with an improved WWW browser (supports HTML 3.2) and Internet mailing functions, a one-time password function for increased security, improved interapplication data swapping functions, and infrared local area network connection support.
In a related development, Personal Media Corp. announced that it was planning to begin marketing in the spring of 1998 yet another version of the BTRON-specification operating system, which it has tentatively named "3B/V." This new version of the BTRON-specification operating system is targeted at 32-bit IBM-PC compatibles. It will be able to handle more characters (the full TRON multilingual character set), full color displays, physical memory in excess of the 16 megabytes, plus the TCP/IP protocols that are the basis of the Internet. Personal Media stated that due to incompatibilities in graphics cards for the IBM-PC architecture, it will probably market the new version of the BTRON-specification operating system in "set form," i.e., bundled with hardware.
The company also noted more and more stores in Japan have begun selling its package software (BTRON-specification 1B/V3 plus bundled applications). And with 100,000 copies sold to date, the word is getting out. A Buddhist monk in regulation robes--no doubt interested in BTRON's unparalleled capability to process Chinese characters and multiple languages--showed up at Personal Media's presentation to hear the latest developments about the BTRON world. BTRON just may become the platform of choice for those interested in Buddhist studies!
To go together with 3B/V, Personal Media has developed a new type of Japanese-language word processing software that has only been seen on dedicated word processors in Japan up to now. Based on traditional 20-character by 20-column manuscript paper, Genkoo purosessa [manuscript processor] is a intended as a tool for writing text. Accordingly, it lacks many of the desktop publishing features included in full-feature word processors for western languages. On the other hand, it sports many text input features that are very important to Japanese users, including improved kana-to-kanji conversion, automatic registering of new terms, and a kanji database. Accordingly, it is expected that this new word processing software will "catch the eye" of many publishing firms in Japan.
During the presentation on the state of the ITRON subproject, the chairman of the ITRON Technical Committee pointed out that one of the biggest problems holding back ITRON from further acceptance in Japan is the lack development tools. That problem, however, is soon to be solved. Mr. John H.M. Cheuck, president of Metrowerks Co., Ltd. (Japan)--the Japanese subsidiary of Metrowerks Inc.--announced at TRONSHOW '97 that his company would begin marketing in the spring of 1998 a version of Metrowerks' popular CodeWarrior development environment for the TRON Architecture that will support both ITRON and BTRON (which includes micro-BTRON used for BrainPad TiPO). As a result, the company is extending free licenses to the TRON Association and TRON Association members, and it will put TRON data in its products, which are used in 70 countries around the world by over 100,000 programmers. Moreover, the company plans to offer BTRON debugging support with the help of Personal Media Corporation, he said. (Interview with Mr. John Cheuck here.)
The new product announcement that drew the most interest at TRONSHOW '97 was that by Aplix Corporation, which has developed a new product called "JBlend" that merges Sun Microsystems Inc.'s Java operating system with an ITRON-specification kernel. Following a brief introduction by Project Leader Ken Sakamura who explained the background and announced that an ITRON chip is planned for joint development with Sun Microsystems for worldwide distribution, an engineer from Aplix explained how JBlend is constructed and works.
In JBlend, the Java operating system and the ITRON-specification kernel exist in "parallel" to each other, with the ITRON-specification kernel replacing the processor-dependent part of the Java operating system.The two communicate with each other via a processor abstraction layer in which the Java operating system processor- dependent application program interfaces (APIs) are converted into ITRON APIs. This parallel configuration allows the ITRON-specification kernel to run without any degradation in performance, and it also makes it possible to run ITRON-specification applications concurrently in cooperation with Java applets.
Aplix aid that it is targeting JBlend at NEC Corp.'s 32-bit V800 RISC processor series, Hitachi Ltd.'s 32-bit SuperH RISC engine series, and Intel Corp.'s x86 processor series. The company said JBlend has been implemented in the following products: an ultra small handheld data terminal with a 200 x 320 touch panel, a panel computer for controlling equipment connected to the Internet, an IBM-PC AT-compatible personal computer for controlling via the Internet equipment connected IBM PC-AT compatible computers, and a car navigation system that can download Java applications and applets from the Internet without any need for modification.
Not all the product presentations at TRONSHOW '97 were given by companies that have developed products based on the TRON Architecture. For example, CRC Research Institute Inc., the Japanese marketer for Alternative Realities Corp.'s "VisionDome," described the small dome-shaped room in which computer (also, HDTV and/or 35mm film) images take on a lifelike, three-dimensional feeling. VisionDome was used inside the "Open Academia" Pavilion in the fall of 1997, which was held to commemorate the 120th anniversary of the founding of the University of Tokyo.
KDD Technology Corp., a subsidiary of international long-distance carrier Kokusai Denshin Denwa Co., gave a presentation on a newly developed video/audio storage transfer system called "VAST-p Digital." Although it's small enough and light enough to fit into an airline carry-on suitcase, it is capable of transmitting video/audio data via INMARSAT (with the help of a portable antenna) or ISDN circuits at high speed. This was made possible through the development of specialized large-scale integrated (LSI) circuits. VAST-p Digital has drawn the interest of broadcasting companies and public agencies that have to do on-the-scene reports from far flung locations.
Of course, no TRON exhibit would be complete without a display of CTRON-based products. Oki Electric Industry Co., which is one of the leading developers of CTRON-specification products, put on display three items that form the backbone of asynchronous transfer mode (ATM) networks and the Internet in Japan: the ATM Connectionless Switch KG 6000, which can transfer 2.8 million packets per second when expanded to its maximum configuration; the ATM Router MA1000, which supports transmission rates of 6.3/156 megabits per second interfaces in ATM networks and 10Base-5/100Base-TX interfaces in Ethernet networks; and Processor System KP7000, a fault-tolerant board processor for use in real-time multitasking environments such as the Internet. All of these products use Oki Electric's CTRON-specification operating system to obtain high performance.
Japanese Writers Assemble to Talk about Character Code Issues
One aspect of the TRON Project that sets it apart from other technology development movements is the way it takes the views of potential users into consideration. Accordingly, it has taken the special needs of the handicapped into consideration since the inception of the BTRON subarchitecture, and now that BTRON-specification computers are on sale and are being used by ever increasing numbers of people to process text, it is taking into consideration the views of people and organizations that will be using them for that purpose.
Thus on the third day of TRONSHOW '97--Friday, December 5, 1997--there were presentations and a panel discussion on Japanese-language and multilingual word processing. The day's presentations began with a keynote speech by Japanese author Haruhiko Yoshimeki, who is also chairman of a committee on electronic data processing for the Japanese language.
Mr. Yoshimeki began by pointing out that current Japanese-language word processing software is troublesome because it is difficult to know what characters will be displayed when Japanese syllabic characters (kana ) are converted into Chinese characters (kanji ). Also, he noted that the currently used JIS character set is too small (only BTRON can handle JIS auxiliary characters), which makes it impossible for Japanese-language news pages on the Internet to display the Chinese characters for the names of Asian people in the news. For example, when Hwang Jang Yop, a senior member of North Korea's Workers Party Central Committee, defected to South Korea via Beijing, it was not possible to write his name with Chinese characters on Japanese-language Internet news sites, he said.
In addition to the size of the JIS character set currently used in Japan, Mr. Yoshimeki pointed out that there is also the problem of converting data between the various JIS standards that have been drawn up for the Japanese language to date. This can lead to data corruption. He said part of the problem is that writers have not been involved as long as computer experts in this problem of what is the best to create electronic text, but he noted his organization has done a survey through which it received a lot of comments from respondents.
However, as to the American solution to this problem, the Unicode character standard being drawn up by U.S. computer manufacturers for international use, he was not very enthusiastic. In fact, he wondered aloud why America, which has yet to adopt the metric measurement system used throughout the world, is taking upon itself the task of developing a new character code system for everyone else in the world.
After Mr. Yoshimeki's keynote speech, there was a panel discussion in which Mr. Yoshimeki participated along with authors Natsuki Ikezawa and Kei Nakazawa, plus TRON Project Leader Ken Sakamura. After a brief introduction by Prof. Sakamura, the authors described their reasons for using Japanese-language word processing software. The main reasons given were to write clearly, to edit quickly, to speed up the work cycle, and to reduce printing costs. However, since there are still printers who have not computerized their presses, some of the authors only recently started using personal computers for writing.
Ms. Nakazawa made an important point about the need for a large character set. She said that everyone learns and uses the same basic kanji. However, after that they go down different roads in life, and, as a result, end up using different kanji. In criticism of Unicode, which aims at "unifying" the Chinese characters that Chinese, Japanese, and Koreans use, Mr. Ikezawa opined that kanji are "words," not "characters," and hence it is only natural different kanji would be used for the same word in China, Japan, and Korea. Moreover, he noted that Europeans--in particular, the French--would be outraged if foreign computer manufacturers tried to force them to unify words in their languages that have a common origin. Shifting to the topic of today's computers in general, Mr. Yoshimeki said that the two most important things that are needed are reliability and stability.
Following the panel discussion, TRON Project Leader Ken Sakamura gave a presentation in which he explained to a full house the TRON concept for Japanese-language processing, which in a word is to handle all known characters of the Japanese language without employing "user defined characters." Prof. Sakamura said he still doesn't know the total number of kanji used for the Japanese language, but he estimates it to be about 85,000 characters, although it could be as many as 100,000 characters. He also said that a new font called "Todai Mincho" (GT Mincho) is under development at the University of Tokyo, which is being put into an on-line database opened to the public.
Prof. Sakamura went into the background of the Unicode (an abbreviation for "unification code") character code standard that is being developed by American computer manufacturers. The main goal of Unicode is to "unify" American computer manufacturers' markets in order to make business easier for them. He criticized Unicode as being grossly inadequate for processing Asian languages--it has only 20,000 characters assigned to process Chinese, Japanese, and Korean language data--and, moreover, there is no way to distinguish between different languages when using Unicode. He also said Unicode is "racist," because it allocates a separate 'A' for the Latin, Greek, and Cyrillic alphabets, while forcing Chinese, Japanese, and Koreans to unify many of the characters in their respective scripts. This is tantamount to westerners forcing cultural union on East Asia.
Apparently, Asian views about the inadequacy of Unicode have made their way back to American computer manufacturers. Prof. Sakamura said Unicode's creators have announced a supplementary character set for Microsoft Corp.'s Windows NT operating system called the Extended Kanji Processing (XKP) standard. However, he described this as nothing more than a list of "user defined characters," which is a concept rejected in the TRON Architecture. Prof. Sakamura said he would like to see Microsoft use TRON character code. He said he was not trying to fight Bill Gates, who he described as a great businessman, and he hoped that Microsoft, which he described as a great company, would support the TRON philosophy.
The final presentation of the day was by Mr. Mitsuru Sumiya of Personal Media Corporation, who described his company's new Genkoo purosessa [manuscript processor] for Japanese-language word processing. As mentioned above, this software application has been developed as a "tool for writing text" based on traditional 20-character by 20-column manuscript paper, and hence it lacks the "desktop publishing features" of many word processing programs for western languages. So why bring back an old text writing paradigm? There are basically two reasons: (1) to reduce the amount of text the the writer has to view in a glance, and (2) to display the fine differences in the kanji that the writer inputs.
Although it may lack the desktop publishing features of word processors for western languages, Genkoo purosessa has many features that Japanese publishers will find highly useful. These include a kanji database for advice on which kanji to select, a wealth of symbols and marks used by publishers, the capability of mixing in western scripts and symbols with Japanese text, an easy-to-use footnoting method, a method for revising text while preserving the original, the capability to swap data with other BTRON-specification applications, and an automatic data exchange function for converting text data into and out of DOS format.
Entertainment for the Disabled the Theme of Discussion at TEPS '97
The day after TRONSHOW '97, Saturday, December 6, 1997, the Eighth TRON Electronic Prosthetics Symposium (TEPS '97) was held at the same exhibition site, TEPIA Hall in Kita-Aoyama, Tokyo. The theme of the symposium, which is also referred to as the EnableWare symposium, was "overcoming barriers to enjoyable entertainment." This theme might sound a little strange to the average person--after all, who would believe that the disabled could have fun?--but as the presentations made clear, many disabled people in Japan are using computers and other devices to enrich their lives and enjoy themselves.
The first presentation was on the computer generated art works of a physically disabled woman, Ms. Hanayo Harada of Itabashi Ward, Tokyo, who suffers from cerebral palsy. This prevents her from freely using her limbs or articulating intelligible speech, and, as a result, her therapist and instructor, Mr. Kiyoshi Tanemura, had to describe the background and success of her works. These can be seen on the Internet and even Japanese television. In fact, Mr. Tanemura said he has actually received inquiries from abroad asking about pricing for Ms. Harada's works.
Mr. Tanemura said that Ms. Harada began creating her art works using Just System Corporation's Hanako graphics program, but she encountered considerable difficulty because she has cannot easily utilize a mouse. After contacting the software house and receiving instructions on how to connect a game arcade joystick with two buttons, he was astounded at what Ms. Harada was able to create. He said the main problem she is now encountering is that there are not enough operations with only one input.
The second presentation of the symposium was just as startling as the first. Mr. Kei Takeno, a visually disabled musicologist and Braille instructor, gave a demonstration of how he enjoys playing various games, including action games, on an MS-DOS-based laptop computer with a voice synthesizer for vocalizing character data. (The visually disabled, as can be imagined, have difficulty using any type of a window-based operating system.) Mr. Takeno showed the audience how he plays computerized board games, in addition to action games games, such as kung fu combat and baseball games. What determines whether he can play a certain game is how many audio clues there are to grasp what to do within the various action sequences. Sometimes these are provided by a computer-generated announcer or navigator. However, the audio clues cannot be so long that they prevent the visually disabled person from responding in time. This is why he believes the visually disabled so be brought into the game development process.
Games that allow those with impaired vision to use their sense of touch, of course, are popular among the visually disabled. Although it had nothing to do with computerization, Mr. Fumio Miyano introduced a one-quarter-size version of the board game of Go, a board capture game in which two players use black or white stones to capture territory. Go has millions of fans in Japan, and it is played worldwide, particularly is Asia. Mr. Miyano, who is an able-bodied volunteer helping the visually disabled, explained the new mini-version of the game, which uses patterns on the top of specially designed plastic stones to allow the players to distinguish them. This mini version of the game has proved popular in centers for the disabled, and as a result even tournaments are being held. Mr. Miyano said he would like to develop software for those who cannot come to the centers, but computers and software have to be equipped with synthesizer functions to make this possible.
Without a doubt, the most surprising presentation of the EnableWare symposium was that by Mr. Kenji Eno, president of the game software firm Warp Inc. He described a new computer game his company developed that is based entirely on sound and does not include graphics of any kind. That's quite a departure from the norm in our visually oriented age replete with ever complex and lifelike computer-generated images. Titled "Real Sound: The Wind's Regret," this new game--a story about a young couple's first romance--comes in the form of four CD-ROM discs and is played on a SegaSaturn game player. Mr. Eno said the game wasn't developed expressly with the visually disabled in mind, but he noted he had received a lot correspondence from them, so that was one factor taken into consideration when developing the game. One advantage to doing an entirely audio game, he pointed out, is that the sound quality can be raised to 16-bit stereophonic at 44MHz, or the same as a music CD. However, due to the large amount of audio data, compression technology had to be used to squeeze it into 4 discs. The audio data compression ratio for the game is roughly 4:1, and for the sequel it's 10:1, Mr. Eno said.
After the presentations, there was a panel discussion, which was the final event of the EnableWare symposium. The panelists were Mr. Kenji Eno, Mr. Fumio Miyano, Mr. Kei Takeno, and Mr. Kiyoshi Tanemura, with TRON Project Leader Ken Sakamura serving as the master of ceremonies. During the panel discussion, Mr. Eno said that thanks to SEGA Enterprises Ltd. he was able to donate 1,000 sets (game player plus his firm's new audio game) to the disabled. On the other hand, Mr. Tanemura complained that large software houses that develop graphics software don't cooperate in developing tools that physically disabled can use. To this Mr. Eno replied that if a company doesn't have a system in place for dealing with the disabled, there is no way for it to cope with their needs. Mr. Takeno added that another problem could be that there is no one who makes both the hardware and the software simultaneously. Mr. Tanemura said it was wonderful that there was a symposium like TEPS, where the actual voices of the disabled can be heard. To that, Project Leader Sakamura pointed out that about half the people in attendance were engineers, and the other half were the disabled.
---
TRONSHOW '97 Gallery (7 images)