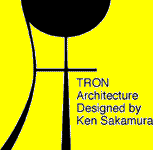 TRON News Items for November 2004
---
21st Century COE Project at the University of Tokyo and Japan's Ubiquitous Infrastructure
On November 16, the University of Tokyo held a second symposium to describe the ubiquitous infrastructure technologies that will be employed as part of the university's 21st century Center of Excellence project, which goes by the title "21st Century COE: Formation of the Next Generation Ubiquitous Information Society Infrastructure." The second symposium, which drew a crowd of close to 1,000 people into the Yasuda Auditorium, was titled "Ubiquitous Location Information System Symposium," and featured in addition to Prof. Ken Sakamura two distinguished speakers: Mr. Hisakazu Oishi, chairman of the board of the Japan Institute of Construction Engineering; and Prof. Hironao Kawashima of Keio University, an engineering professor who is involved in the Intelligent Transport Systems (ITS) project, a joint American, European, and Japanese transportation infrastructure project that is most famous in TRON circles for having produced the pedestrian guidance blocks that are frequently demonstrated at TRON events as aids to the visually disabled.
Before Prof. Sakamura delivered the keynote address, Prof. Yoshihiro Hayashi, vice-president of the University of Tokyo, and Mr. Nobuaki Sato, Vice-Minister for Engineering Affairs, Ministry of Land, Infrastructure and Transport, gave presentations. Prof. Hayashi pointed out that while the 21st century will be an age of globalization, individualness is also important, which is something that can be easily achieved with TRON technologies. Mr. Sato spoke about the importance of "universal design," a concept that has been a part of the TRON Project since its inception. This is not just for the handicapped, he said, but it is also useful for other groups, such as foreigners visiting Japan. In addition to Mr. Sato, Mr. Takaya Fujimoto, Director General of the Kinki Regional Development Bureau, Ministry of Land, Infrastructure and Transport; and Mr. Hiroshi Ueno, Director-General for Policy Planning, Ministry of Land, Infrastructure and Transport, also gave presentation. The Kinki region is the region where the ubiquitous computing verification trials are taking place.
In his keynote speech, Prof. Sakamura touched on the key concepts that underlie the creation of ubiquitous computing networks, which are openness, universal design, and context awareness. Openness in the TRON sense doesn't mean that everything is for free, rather it means that everything has to work together. As Prof. Sakamura pointed out, there are parts on which we cooperate, and parts on which we compete. Moreover, context awareness, which is based on giving unique numbers to people, places, and things, cannot be accomplished using IPv6, which is why he created "ucode." In that sense, the ucode system that is currently being put into place in Japan serves as a kind of "hub" for ubiquitous computing networks, since everything has to be done through it. A lot of people agree with what he is doing, because membership in the T-Engine Forum and the Ubiquitous ID Center, which is where these technologies are being developed, has grown from 22 companies in June 2002 to 470 companies and organizations in November 2004.
One thing a lot of people miss about the T-Engine and uID projects is that these projects are taking computing from a virtual reality sphere into a physical reality sphere, which is to say that computers and computing are going to become directly connected to the physical environment and all the people and things in it. For that reason, one has to view ucode as a new kind of TCP/IP, since all sorts of chips and services will be based on it. Needless to say, this cannot be implemented on a societal basis without the help of government, which is why the Japan's Ministry of Land, Infrastructure and Transport is so involved in the ubiquitous verification trials taking place in the port city of Kobe. Government help is not only needed creating these networks, but it is also important for creating security and privacy laws that will guarantee the ubiquitous computing networks function as they are supposed to. Of course, some portions of ubiquitous computing networks will be private, just as is the case with today's Internet, but only government can make ubiquitous computing a reality.
After Mr. Hisakazu Oishi gave his presentations, Prof. Sakamura mentioned that the reason TCP/IP became such a success was because of the role of the U.S. government's Department of Defense in promoting it, which is not to mention the role it played in its development. Mr. Oishi agreed that the U.S. government definitely played the role of the "trigger" for this networking technology, and he elaborated on why the Japanese government has been so keen to support ubiquitous computing. This support is basically because Japan has become a society with a huge elderly population--in fact, the world's largest--which contains a large number of disabled people. Other G-7 countries are, of course, in the same boat, so Mr. Oishi believes that Japan can contribute to other countries as a result of its experiences with these new technologies. In fact, he mentioned that this will be the first urban infrastructure invention developed in the East to penetrate the West. All other infrastructure innovations used in modern cities today had their origins in either Europe or the U.S.
As a person working in the ITS project, Prof. Hironao Kawashima knows all about the requirements of the elderly in society, as he gets to hear about them in various international meetings. In particular, helping the handicapped and the elderly avoid traffic accidents, which create societal disruption on the level of epidemic diseases, is important. Prof. Kawashima mentioned that economic impact of such accidents on societies can actually be gauged using a calculation method developed by the World Heath Organization, which is called "disability adjusted life years," or DALYs. To reduce the number of traffic accidents, a smart number plate for automobiles that operates on a frequency 5.8 GHz and can communicate with pedestrians and people in wheelchairs, is being developed as one ITS subproject. Also, as a result of new security requirements following the 9-11 incidents in the U.S., shipping containers going to and from that country have to tracked and traced, and these systems will employ a new type of XML called electronic business using XML, or ebXML.
But not everything has to do with accidents and preventing terroristic incidents. Prof. Kawashima is also doing research that will make it easier for foreigners to rent and drive cars around Japan by introducing standardized technologies that make the interfaces between the driver and the car/road system easier to use. In particular, automatic translation of road signs and information about what kind of turns are possible at intersections are very important. Mr. Oishi, with the recent devastating earthquake in Niigata Prefecture in mind, pointed out that these new technologies, if put into every structure, would allow public safety officials to know exactly what types of damage had occurred to various structures at different locations. This would allow them to immediate alert the members of the public about what places to avoid, what road are passable, and where the best place would be to seek aid. Although it is going to take a long time to spread ubiquitous computing throughout Japanese society, when it gets here, it promises to offer many benefits.
Personal Media Puts Genkoo Purosessa 2 on Sale
Personal Media Corporation continues to put considerable efforts into its Japanese-language manuscript processing software. On November 12, the company announced that it had completed and would begin deliveries of a new version called "Genkoo Purosessa 2." This new version, which carries a list price of 47,250 yen (tax included) as a separate application and 68,250 yen (tax included) in a set with the company's Cho Kanji 4 operating system and bundled applications, began shipping on November 26. In addition to the previously announced features in in the first version, Genkoo Purosessa 2 is equipped with the following new features:
ruby (side readings) and kenten (booten side dots), with the ruby function allowing for adjustments to size and range
a data recovery feature that allows the user to return return to the data he/she was viewing immediately prior to an accident or forced shutdown
support for the BTRON real object/virtual object (hypertext) file system
a cursor position memory and jump function
support for the "variant character swing search" function of the Cho Kanji 4 operating system
a function that allows for manuscripts to be output as .txt files so that the can be transferred to MS Windows and Apple Macintosh users (normal output is in XML format).
Personal Media Offering a New Laptop Model with Genkoo Purosessa Preinstalled
Personal Media Corporation announced on November 12 that it had begun marketing via direct sales "Cho Kanji Note R3EG," an IBM-PC/AT-compatible notebook personal computer preinstalled with the company flagship BTRON3-specification Cho Kanji 4 operating system and bundled applications plus Genkoo Purosessa. The purchase price with the first version of Genkoo Purosessa preinstalled was 251,790 yen (tax included) up to November 25, which was bumped up to 267,540 yen (tax included) from November 26 when the company began including Genkoo Purosessa 2 as the preinstalled manuscript processor. Those who made their purchases by November 25 were offered a free upgrade to Genkoo Purosessa 2 by Personal Media. In addition to Personal Media's Cho Kanji 4 operating system, Cho Kanji Note R3EG is also preloaded with Microsoft Corporation's "Windows XP Professional (SP2)" in a separate partition, which can be used for wireless communication. The hardware specification for Cho Kanji Note R3EG is as follows:
CPU
Intel Pentium M processor 1.1 GHz
Chip set
Intel 855 GME
Main memory
256 megabytes (768 megabytes maximum)
HDD
40 gigabyte (Ultra ATA100)
Display
10.4 inch, 1,024 x 768 dot TFT LCD capable of displaying 32-bit color (external display possible)
Communications function
100BASE-TX/10BASE-T LAN
(IEEE802.11a/b/g, WPA-compatible, WiFi-based wireless LAN and modem with Windows XP only)
External dimensions
229 mm x 183.5 mm x 24.2/41.6 mm
Weight
Approximately 990 grams
Personal Media Puts WideStudio Guidebook on Sale
At TRON SHOW '97, it was announced that Metrowerks Co., Ltd. (Japan) would put a version of the CodeWarrior integrated development environment aimed at ITRON and BTRON development on sale in the spring of 1998. Unfortunately, for some unexplained reason, such a version of CodeWarrior was never put on sale, and for a long time TRON software developers have lacked a powerful integrated development environment. All that has changed as a result of the efforts of Shun'ichi Hirabayashi, who has developed new versions of a free integrated development environment called WideStudio that can be used for both BTRON and T-Engine development projects. In order to train T-Engine programmers to employ this in the development of embedded applications, Personal Media Corporation put on sale on November 2 WideStudio tettei gaidobukku [WideStudio complete guidebook], a 754 page tome with an accompanying CD-ROM that carries a list price of 5,040 yen (tax included).
Did Hashimoto Try to Scuttle the TRON Project Under U.S. Pressure?
An interesting news tidbit appeared in the Japanese technology press at the end of October. Speaking at the "2004 Tokyo Metropolitan Government Venture Technology Award" awards ceremony, Tokyo Governor Shintaro Ishihara said of the TRON Project, " There is a past in which Ryutaro Hashimoto, the Minister of International Trade and Industry at that time, broke under U.S. pressure and ended up shelving it." Exactly who inside the Japanese government was responsible for pulling the rug from under the TRON Project in the 1980s was never made public, but Ryutaro Hashimoto is well known for pushing through changes in the Japanese economy that the U.S. government demanded be implemented. Needless to say, trying to destroy advanced Japanese technology to enhance the competitiveness of U.S. technology was not one of the brightest ideas he ever had, but ultimately he did not succeed and now the TRON Project is undergoing a full blown revival with massive backing from none other than the Japanese government, which has finally seen the light.
---