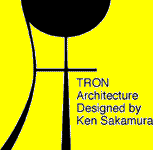 TEPS 2006, TRON SHOW 2006
---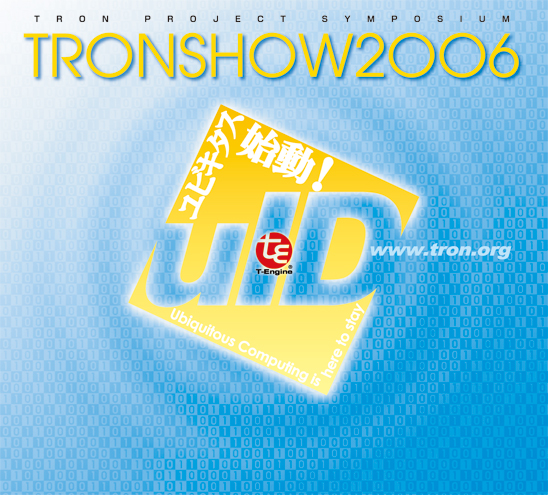 TRON Electronic Prosthetics Symposium (TEPS) 2006: Software Gets Ported to the Ubiquitous Communicator
The annual yearend TRON events began with TRON Electronic Prosthetics Symposium 2006, which was held on Saturday, December 10, at Tokyo International Forum. The theme of the symposium was "Universal Design of the Ubiquitous Society Infrastructure," which was also demonstrated in exhibits that were placed at the rear of the lecture hall. The most interesting thing about these exhibits was that software that had been demonstrated on standard personal computers the previous year was now operating on the Ubiquitous Communicator, which is a key device that allows individuals to take advantage of the ubiquitous computing networks that are now being built in Japan on the basis of TRON technologies. The two applications in particular that caught the eye of TRON Web were Oki Electric Industry Co.'s sign language software for the hearing impaired and PASCO Co.'s map reading software that is being upgraded for use by the disabled. There was also a train ticket vending machine that had been re-engineered to allow easy operation by the visually disabled, which was also capable of English language output for foreigners.
The keynote address at TEPS 2006 was given by Prof. Ken Sakamura on the theme of "Universal Design of the Ubiquitous Society Infrastructure." Prof. Sakamura began by explaining the meaning of Enableware, which is the popular term for TRON-based electronic prosthetics, and he pointed out that it was actually the U.S. government that took the lead in this field when it passed Section 508 of the U.S. Rehabilitation Act in 1986 (amended in 1992 and 1998), which was two years prior to the appearance of the TRON Enableware guidelines. Section 508 of the U.S. Rehabilitation Act requires that electronic equipment and information technology purchased by the U.S. government be accessible by the disabled, including both staff and members of the public. Later, in 1990, the U.S. passed the Americans with Disabilities Act, which is very broad legislation aimed at making infrastructure improvements so that the disabled can move freely around society. This year was also the year that BTRON Enableware was test manufactured, and the year Japanese information device accessibility policy was established.
Enableware, Prof. Sakamura pointed out, is based on the concept of universal design, which is designing things so that they can be used by everyone, including the disabled, and reducing the costs of implementing those design provisions by putting them into mass production. Universal design features primarily aimed at the disabled can also be used by the able-bodied in special circumstances, such as when when it is too noisy to hear warning sounds output by a computer. As to the advantages of mass production, there is the infamous case of closed caption television for the hearing impaired. The U.S. government mandated all television sets manufactured for sale in the U.S. include a closed caption decoder, and thus the cost is low. In Japan, there is no law mandating the inclusion of closed caption decoders, and thus the cost is very high, several tens of thousands of yen to install one in a television individually. However, Japan has learned the error of its ways. According to Prof. Sakamura, universal design was not a big thing 10 years ago, but it is now, and the government is studying a law to ensure its implementation.
Of course, the reason Japan has taken to universal design is that it has the largest number of elderly citizens of any country on earth, a number that keeps growing from one year to the next. Thus there is a great need to take care of large numbers of elderly people, many of whom have health problems that are similar to those of the disabled. For that reason, universal design is being applied to the Ministry of Land, Infrastructure and Transport's Autonomous Movement Support Project (also known as the "Free Mobility Support Project"), which aims at creating ubiquitous computing networks throughout Japanese cities to help anyone and everyone get around with assistance from others. Prof. Sakamura said the three most important points about this infrastructure project are: (1) employing universal design, (2) creating the software contents to make it useful to everyone, and (3) conducting large numbers of verification trials to work all the bugs out of it. Such trials took place at Expo 2005 in Aichi Prefecture, from June 7 through September 9. Prof. Sakamura also showed a graph of the results of the verification trials.
During his presentation, Prof. Sakamura showed images and videos of the verification trials that had taken place throughout Japan. In addition to the trials that took place at the international exposition in Aichi Prefecture, verification trials involving the disabled also took place in the port city of Kobe, and trials to see if the technology works in the snow have taken place in Hokkaido and Aomori Prefecture, both roughly 1,000 kilometers to the north of Tokyo. At a verification trial that took place in Ueno Park in Tokyo, new technologies were tested for the first time. These were "iBox," a large, multifunctional, stationary information device that allows anyone with a ucode-based ID device to communicate with others and receive information; a ubiquitous electric cart for senior citizens that allows the elderly to move around and communicate inside ubiquitous networks; and a GPS attachment for the Ubiquitous Communicator (UC) that allows UC users to obtain global positioning information from satellites. Prof. Sakamura said lots of people showed up to test the new technologies, and they seem to have enjoyed themselves.
Mr. Sadao Hasegawa tested out his body Braille apparatus at the YRP Ubiquitous Networking Laboratory
After Prof. Sakamura concluded his keynote address, there was a series of technical presentations. The first one was by Mr. Sadao Hasegawa, a visually disabled person who has participated in TRON Enableware development from its earliest stages. In fact, he was instrumental in creating the Telesupport Center for the visually disabled in Japan, which relies on video camera equipped cell-phones to feed local environmental images to sighted helpers with video telephone terminals at remote locations. He has also participated in the Autonomous Movement Support Project, which he believes is the first of its kind in the world, and he has even helped develop new technology that will enhance its usefulness. His latest invention is taihyoo tenji, or "body Braille," which are vibrating patches attached to the surface of the skin that allow information to be passed to the visually disabled. Mr. Hasegawa tested this invention in the YRP Ubiquitous Networking Laboratory in a simulated noisy environment where it is difficult to hear navigation information from the Ubiquitous Communicator. Body Braille work best on the head and face, he said.
Following Mr. Hasegawa's presentation, various corporate entities developing hardware and software for the disabled gave brief presentations about their latest developments. Here's a brief summary of their presentations.
| | |
| --- | --- |
| NTT Comware Corp. | NTT Comware described an indoor positioning system that uses Bluetooth; in Kobe, outdoor-to-indoor Autonomous Movement Support Project experiments were conducted in which GPS was used for outdoor navigation and Bluetooth was used for indoor navigation, and in which voice recognition and voice synthesis were used in the user interface |
| Oki Electric Industry Co., Ltd. | Last year, Oki Electric demonstrated a sign language information provision function for the hearing impaired using a personal computer; this year, an improved version of the same image-based software, which is intended to provide emergency and other timely information, was demonstrated running on the Ubiquitous Communicator |
| Zenrin Co., Ltd. | Zenrin, which is in the business of providing road maps for car navigation systems, is now participating in the Autonomous Movement Support Project; the firm is planning to develop databases for both able-bodied and disabled pedestrians so they can move about more without help from others |
| Toppan Printing Co., Ltd. | Toppan Printing described its efforts to help the visually disabled using pedestrian guidance blocks in Autonomous Movement Support Project; the company also makes the white cane reading device, Braille guidance blocks, and wall tags |
| The Nippon Signal Co., Ltd. | Nippon Signal described its efforts to develop ticket vending machines that even the visually disabled can use in noisy train stations; its e-Touch navigation system uses a fingertip reader, which helps the visually disabled navigate the so-called "last centimeter" barrier |
| PASCO Corp. | Map maker PASCO, which is participating in the Autonomous Movement Support Project, demonstrated its map-based navigation system on the Ubiquitous Communicator; the company is developing databases that can show multiple routes to a destination depending on parameters such the shortest route, handicap of the user in question, or no preferences based on user attributes |
| Fujitsu Ltd. | Fujitsu is developing "WebUD," an MS Windows/Internet Explorer-based Web accessibility support tool aimed at helping the disabled and the elderly; at this show, the company introduced a voice conversation aid that reads the text of Web pages |
| Yazaki Corp. | Yazaki unveiled yet another version of its 6-point Braille keyboard, which has been five years in the making; the 37-key keyboard, which is compatible with MS Windows and existing software used by the visually disabled, connects to a personal computer via a USB port and is now on sale at a price of 49,875 yen (consumption tax included) |
The last event at TEPS 2006 was a panel discussion followed by a question and answer period involving the audience. The panel discussion group consisted of participants from three groups: central and prefectural government offices (the Ministry of Land, Infrastructure and Transport, and Aomori Prefecture), teachers from schools for the disabled, and two companies creating Enableware aids for the disabled (Oki Electric and Toppan Printing).
Mr. Akira Endo of the Ministry of Land, Infrastructure and Transport was the first participant to introduce himself. Mr. Endo, who works in planning, said he likes symposiums like the Enableware symposium, and then he proceeded to give a description of the what the Ministry of Land, Infrastructure and Transport is doing in the area of helping the disabled. He noted that his ministry had released in July 2005 guidelines for barrier free design in a document titled "General Principles of Universal Design Policy." These guidelines are being incorporated into the Autonomous Movement Support Project, and the system based on them is intended to enable everyone to move about freely, including tourists from foreign countries. Mr. Endo said six regions want this system deployed, and that a budget of several hundred millions of yen has been requested for that purpose. In addition, he said that new legislation is being drawn up so that it can be discussed in the next session of the Diet. The ultimate goal is to create a well balanced system. Prof. Sakamura commented that next year there would be a common specification for use throughout Japan. .
After Mr. Endo spoke, Ms. Maki Kunohe, who works in planning in the Aomori prefectural government, told of the efforts of her prefecture to bring ubiquitous computing to Aomori Prefecture, which is where an IC tag called the µ-chip is manufactured. She said the situation in the prefecture of 1.44 million persons, many of whom are elderly, is difficult due to budget constraints. However, the prefectural government has launched the Waku Waku 10 [Exciting 10] project initiative, one project of which is ubiquitous computing. She noted that the governor of the prefecture had actually met Prof. Sakamura. One of the goals of this project is to validate TRON-based ubiquitous computing technologies in deep snow areas. Moreover, the people in the prefecture really want to use the technology. Professor Sakamura commented that there are about 30 prefectures in Japan that are supporting the Autonomous Movement Support Project. He himself has been to Hokkaido to the north of Aomori Prefecture to test his ubiquitous computing technologies in Japan's coldest region.
Mr. Hiroshi Hasegawa, a hearing impaired advisor of the Japan Hearing Impaired Persons Computer Association (direct translation) who regularly attends and gives presentations at TRON Enableware symposiums, introduced himself next. He talked about what the hearing impaired expect from the Autonomous Movement Support Project. He pointed out that in Kobe airport experiments vibration based alert functions are unable to inform the hearing impaired of changing flight information. He talked about the need for a closed caption decoder law similar to that in the U.S. to spread the cost across all television sets manufactured. He also pointed out that it is impossible to send short messages (instant messages?) between different carriers in Japan, although this is possible overseas. Prof. Sakamura said that if only the profits of companies are taken into consideration, television manufacturers will not add closed caption functionality, because their main goal will be to lower costs. (Of course, that's why the U.S. passed the closed caption law--there were no domestic U.S. television manufacturers whose profits were at stake.)
Mr. Yoshitake Misaki spoke next. He said that he recently was transferred from a school for blind students to a school for deaf students, which has led to him having to relearn how to be a teacher to the disabled. To get the students' attention, for example, he first had to jump up and down, and he has also learned to employ light to the same effect. He showed the audience some the teaching aids he uses to teach deaf students, which include high-tech display panels. Mr. Misaki was followed by Mr. Koichi Sakanashi of Oki Electric and Mr. Sadaichi Nishioka of Toppan Printing, who introduced their companies' efforts to help the disabled. Mr. Sakanashi explained his company's terminals in use in stores and at airports, which can help the disabled. He also showed the audience a book of guidelines that Oki Electric published, which dates back to the 1980s. Mr. Nishioka explained his company's IC tags, 40,000 of which have been installed in Kobe. He said that is nowhere near enough to have them come into practical use. He said more participation by more companies is required so that the critical point to their use can be passed.
Prof. Sakamura commented that that critical point will not be passed in one or two years, but rather it will require 10 years. He noted that it took quite some time just for highways in Japan to switch from a money to a non-money based system for collecting road use tolls. Moreover, for IC tags in the environment to come into widespread use, they will have to be used for many purposes, not just assisting the disabled. On that latter point, Ms. Kunohe of Aomori Prefecture said that they asked children to write down their ideas for ubiquitous computing after having them experience it. These were compiled in a book that she showed to the audience. There was not time for many questions from the audience, but one of the most interesting was a comment from a person who is trying to help the visually disabled with cell-phones, and he stated that he would like to see these technologies made available on cell-phones. Prof. Sakamura responded saying that technologies are not limited to use on the Ubiquitous Communicator. In fact, one carrier put cell-phones put on display at TRON SHOW 2006 that can read IC tags (see below).
____________________
TRON SHOW 2006: Biggest TRON Show Ever, with Lots of Foreign Participation
TRON Web covered two events at TRON SHOW 2006--the press conference that took place the day before the opening and the press preview that followed, plus the keynote address by Prof. Ken Sakamura on the first day of the show. The rest of the time was spent going back and forth through the exhibits area taking photographs and talking with participants, of whom there were many. There were also many visitors, including an endless stream of VIP visitors. Here are the attendance figures for TRON SHOW 2006, which are very good for a show that does not really deal with end user products for the most part.
Number of Visitors at TEPS 2006, TRON SHOW 2006

Date

No. of Visitors*

Comments

Dec. 10

276

TEPS 2006

Dec. 14

3,688

TRON SHOW 2006

Dec. 15

2,922

TRON SHOW 2006

Dec. 16

4,037

TRON SHOW 2006

Total

10,923

* These are the numbers for unique visitors registered in the reception area, and they do not include multiple visits by the same person.

Number of Dignitaries at TRON SHOW 2006

Dec. 14

543

Unregistered

Dec. 15

587

Unregistered

Dec. 16

210

Unregistered

Total

1,340

Grand total

12,263
The Press Conference and Press Preview
The hour-long TRON SHOW 2006 press conference took place the day before the show opened on Tuesday, December 13, at 4:00 p.m. in Hall B5 of Tokyo International Forum. Prof. Sakamura began the press conference by defining the concept of ubiquitous computing, which is hardware and software, both equally important, that are intended as social infrastructure. Inside the computerized space that this infrastructure forms, context awareness is also important, and in order to provide this, numbering places and things is paramount. This numbering is achieved by means of 128-bit ucodes that are read by means of specialized devices such as the Ubiquitous Communicator, which is based on the T-Engine open development platform.
On the left are extended sensor boards developed at the YRP Ubiquitous Networking Laboratory; on the right are the LAS 300 Series base station and tags
Prof. Sakamura pointed out that since it was launched in June 2002, the T-Engine Forum has grown into the largest organization of its type in the world. At present, there are 491 members (31 board members, 59 A members, 194 B members, 163 e members, and 44 academic members), with participating companies and organizations from 11 countries: Australia, China, Germany, India, Israel, Korea, Singapore, Taiwan, the U.K., the U.S., and Vietnam. In comparison, the TRON Association, which was launched back in the mid 1980s has 73 companies as regular members and 11 organizations as supporting members. One reason for the positive support for the T-Engine Forum and its sister organization, the Ubiquitous ID Center, might be that great progress has been made in developing the basic technologies that will underlie the ubiquitous computing networks that will come into use in the present century. Prof. Sakamura said that three new types of active ucode tags had been certified for use by the Ubiquitous ID Center: (1) the Dice tag, which can be read from afar in large numbers of 1,000 or more; (2) the Local Area Search (LAS) 300 Series, an autonomously transmitting tag with a base station by K-ubique ID Corp.; and (3) Hitachi Ltd.'s µ-chip RKT101 tag series.
Local Area Search (LAS) 300 Series

Hitachi µ-chip RKT101

Loaded with a battery, and autonomously transmits a Ubiquitous ID
Automatic recognition of things and places within a several meter radius is possible
By means of a network connected base station, and based on which station the tag is communicating with, it is possible to tell the location of the tag
Based on the strength of the electromagnetic waves, it is possible to estimate the approximate range from the receiver to the tag
Loaded with a function that warns about battery life

Anti-collision version of the µ-chip
Stores 128-bit unique Ubiquitous ID
Ultra small

Printed antenna inlet = 53 x 1.5 x 15 mm

Anti-collision function that allows multiple µ-chips to be recognized from a single receiver
Progress has also been made in IC tag readers, the latest being an experimental multi-protocol reader that was demonstrated at the press conference reading multiple IC cards. The multi-protocol reader operates on two frequencies (13.56 MHz and 2.45 GHz) and is compatible with four protocols. It was realized by means of an FPGA, and an LSI is currently under development so that its functions can be incorporated into handheld devices. In addition, for those who would like to get started immediately experimenting with ucode-based tags and readers, it was announced that Personal Media Corporation will be marketing in the coming year a "Ubiquitous ID Utilization Kit" that will include a Ubiquitous Communicator, a Ubiquitous ID infrastructure system utilization software system, and standard tags. This kit makes it easy to register and check ucodes from anywhere in the world, and since it uses XML-based software, it is easy to create multimedia product data for registration on product information service servers. Personal Media previously put on sale a "UC-Phone Evaluation Kit" for similar purposes.
On the ubiquitous computing network side, Prof. Sakamura said that he is now in the process of developing a virtual network that will be built to run on top of the existing Internet, which he termed an "overlay network." This overlay network will be a virtual, ultra wide area network in which large numbers of ucode resolution servers will act in concert with each other. It is not aimed merely at Japan, but rather it is aimed at transmitting information on a worldwide scale. He said that experiments are already taking place with National Internet Development Agency (NIDA) of Korea, so it looks like it will first be implemented in East Asia. However, as ucode tags spread worldwide, it should come to be used in both North America and Europe. It should be pointed out that the new overlay network does not require any changes to be made to the existing Internet, but new networking protocols will have to be introduced so that new services can be provided. The new overlay network might also lead to the development of the next generation Internet architecture and/or network services, so observers might be watching it closely.
One of the more interesting exhibits at TRON SHOW 2006 was the ubiquitous computing showcase demonstration, where various types of newly developed sensors were demonstrated. These are based on the Dice active IC tag design, and they incorporate expansion sensor boards. The expansion sensor boards are used for taking readings of such things as temperature, humidity, acceleration, and brightness. In addition, base stations have been developed to operation in conjunction with them. Prof. Sakamura demonstrated the new IC tags and base stations at the press conference, where they were used in a distribution type application. As shipping containers were brought into the press conference room, their contents were automatically registered on a screen. Prof. Sakamura believes that a mix of active IC tags on containers and passive IC tags on individual items is superior than the all passive tag scheme proposed by EPCglobal, since reading is highly accurate. Some participants in the Ubiquitous ID Center also believe so. NYK Line and Toyota Motor Corp., for example, have developed a special forklift to take advantage of this system.
After the demonstration, Prof. Sakamura spent quite some time talking about new development partners and explaining verification trials that have taken place to date in various locations throughout Japan. One new development partner is in the state of Tasmania in Australia, where a collaborative research laboratory was opened on September 27, 2005. Based in Hobart, the new research laboratory is called Neoteck-YRP UNL Ubiquitous Computing Laboratory. Prof. Sakamura said one of the goals is to develop an electronic medicine notebook that can handle a list of past medicines used to date. This will be useful to doctors, who will know what can be prescribed without having to worry about allergic reactions to certain drugs. Prof. Sakamura also noted that work had begun in Tasmania on the development of a medicine database. Neoteck Business Solutions, which is cooperating with the YRP Ubiquitous Networking Laboratory in the new computer laboratory, says it has a good relationship with the University of Tasmania, where plans are afoot to introduce TRON-related technologies in various academic courses.
TRON Web has reported on most of the ucode verification trials that have taken place to date in Japan. At the press conference, Prof. Sakamura showed still images and videos of the verification trials previously reported. However, he also talked about new verification trials that TRON Web hadn't heard of before. For example, in 2005, two stores in the Co-op Sapporo food store chain ran food verification trials for fruits and vegetables, meats, and farmed fish. Pro. Sakamura said this is an open distribution system that can use different IC tags. The only limitation is on the 900 MHz tags favored in the U.S., which cannot be used in Japan yet because of rules, although there is no technical problem to their use. What is not being developed overseas, however, is the application of IC tags to ubiquitous computing networks to help the disabled, foreigners, and others who might need help when visiting a new area. Prof. Sakamura wants to spread this overseas, since it is important infrastructure. The Japanese government is backing this research, and Prof. Sakamura noted that six government ministries had joined together to create a joint government exhibit at TRON SHOW 2006. Japanese government participation on this level in a TRON show is unprecedented.
As to the T-Engine open development platform, Prof. Sakamura noted there is a large selection of boards to choose from, and the selection is going to be getting larger as even China is going to start developing T-Engine boards. Since there have been a lot of claims that embedded Linux can match T-Kernel for speed, Prof. Sakamura presented a demonstration in which balls were bouncing around a screen. T-Kernel and embedded Linux were running on the same hardware platform with the same processor, but the clock speeds were different--96 MHz for the T-Kernel board versus 133 MHz for the embedded Linux board. Even with the faster processor, embedded Linux couldn't keep up with T-Kernel. Where embedded Linux surpasses T-Kernel is in development tools and software, but even in that area progress is being made. The open Eclipse development environment is going to be made available for T-Engine, as is NetBeans for T-JV. These are in addition to WideStudio for T-Engine, which can also be used for BTRON development. Prof. Sakamura also said that T-Kernel Standard Extension was being expanded, and he showed a roadmap.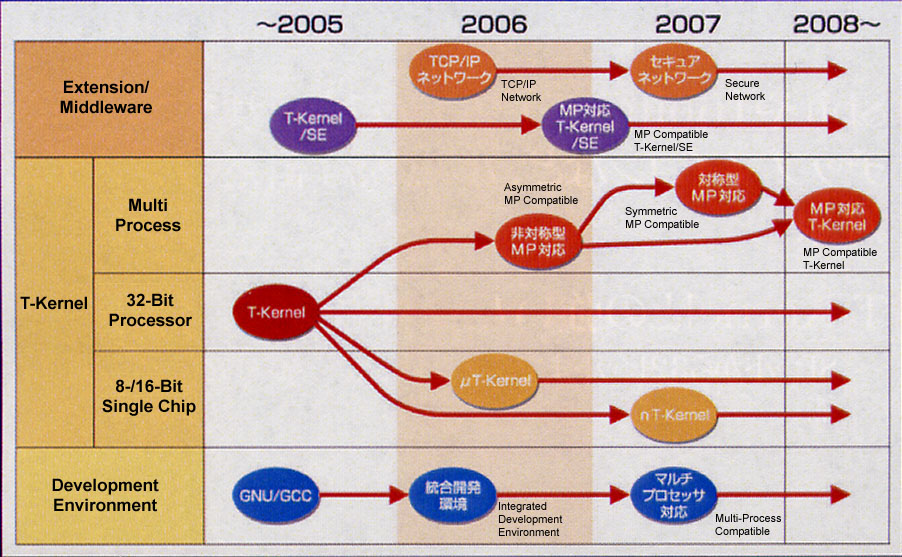 The above roadmap diagram shows where T-Kernel development is headed in the next two years; notice how T-Kernel is going to branch into subsets and supersets, which is very TRON-like, with a secure network architecture planned for development at the middleware level
The BTRON subarchitecture, incidentally, is still under development. Prof. Sakamura announced the T Shotai Fuonto [T Typeface Font], which is a collection of 115,739 individual characters for processing Japanese that actually comes in three fonts: T Mincho, T Gothic, and T Kaisho. The previous mega character collection, GT Shotai Fuonto, only came in one font so as to allow font developers to create a business on top of it, but apparently there were no font houses interested. This new character collection, of course, is free, and, as with the previous character collection, it will be made available free of charge to users of other architectures, such as MS Windows, and those interested will be able to download it from the Web. Prof. Sakamura said this character collection is almost complete, and it can be used for processing Chinese classics and Korean. Since MS Windows is actually designed around Unicode, and not TRON Code, it is relatively difficult to use a character collection this large on it. However, Prof. Sakamura noted that it is possible to use ucodes between systems so that data written on BTRON can be passed over to desk top publishing software on MS Windows. This scheme is called the TRON Font Traceability System.
The final item in Prof. Sakamura's long presentation to the press was an announcement that new graduate level courses, a Master's course and a Ph.D. course, would be established at the University of Tokyo to train personnel for the coming age of ubiquitous computing. The name of the new specialty in Japanese is Soogoo bunseki joohoogaku, which directly translates into "integrated analysis informatics." As the name implies, it is an interdisciplinary major in which intensive training in information science is combined with studies of other disciplines to which networks will be extended and computer applications developed. These other disciplines include agriculture, medicine, politics, cultural anthropology, etc. The goal of the new major is to produce a new generation of leaders who can take up leadership positions in business and government, which is not mention think up great ideas for ubiquitous computing applications and launch venture businesses. The Master's course has openings for 20 students, and the Ph.D. program has openings for eight students. Enrollment is limited to those who able capable of taking lectures in Japanese.
After Prof. Sakamura finished his presentation at the press conference, several of the companies participating in the show gave brief descriptions of the products that they would be showing in the exhibits area, which took up the whole second basement floor of Tokyo International Forum. KDDI Corp., for example, announced that it had test manufactured cell-phones that could read passive IC tags. NEC Group described a scaled up and ruggedized version of its Teacube computer. It has been incorporated into a Japanese government requested application called iBox, which has been tested out in Ueno Park. Other versions of iBox are being developed by other Japanese companies, such as a satellite capable version from JAXA. Personal Media described its booth, which is the largest that it has ever had at a TRON show. After the companies introduced their latest developments, Prof. Sakamura personally guided the press through the Ubiquitous Showcase in the exhibits area, which was the central exhibit of the show. It was intended to actually allows visitors to experience ubiquitous technologies in action, particularly in the distribution field.
Prof. Sakamura's Keynote Address
Prof. Ken Sakamura's keynote address took place on the morning of the first day of the show, and several hundred people were in attendance to listen to what he had to say. He began by talking about the Autonomous Movement Support Project, which is also referred to as the Free Mobility Assistance Project. The technologies that underlie this project have been tested in several cities throughout Japan, and the test subjects have included the able-bodied and the disabled, the young and the elderly, and even foreigners. Prof. Sakamura showed an English language video of a foreigner who had used a Ubiquitous Communicator in the Asakusa district in the eastern part of Tokyo to obtain tourist information from IC tags that had been placed throughout the area. He was very pleased with it. Prof. Sakamura pointed out that for ubiquitous networking technologies to be accepted, they have to be useful to multiple groups, not just a single group such as the handicapped. He also pointed out, as if it needed to be pointed out, that the technology is open, and thus he would like to spread it in order to reduce its cost.
As an example of spreading the technologies, he pointed to the food traceability verification trials, which employ the same basic technologies as the Autonomous Movement Support Project. How they are employed, however, is a little different, since in tracing food items from the fields, through the distribution chain, and into stores requires information to be passed from one stage to the next. The next logical step after food traceability was tracking medicines, but here also something extra is added, which is determining whether a particular medicine is the right medicine (lots of medicines have similar names), whether a particular patient is allergic to it, can it be used with other medicines being used by the patient, etc. This is, in a word, a ubiquitous health care project, and Prof. Sakamura noted that it could also take advantage of ubiquitous food tracking data, since certain chemicals in processed foods could cause an allergic reaction in patients. Such allergic reaction data plus all medicines taken to date could be listed on a ubiquitous health care card, which would allow doctors treating a patient to have a clearer picture on how to give treatment.
One thing Prof. Sakamura is proud of is that he has already created practical technologies for supply chain management that are now slowly be introduced into actual business operations in Japan across a wide variety of industries. These supply chain management system technologies are based on both active and passive chips, which is a result of studying all existing chips in his laboratory. The big problem with passive chips, particularly the type favored by Wal-Mart, is that there are a lot of read-in errors when reading at a distance, but active chips are almost 100 percent accurate while their batteries are functioning. However, Prof. Sakamura made it clear that the main objective of these technologies, i.e., "optimum control," is aimed at streamlining and automating social processes, since Japan is the fastest graying society in the world. In other words, the new social infrastructure created on the basis of these technologies will make things safe, comfortable, and convenient for the people in the society that employs them. Moreover, since they are open and their social cost is amortized across the entire population, new vendors can join in, and thus there is the possibility that news services and cross pollination of applications will take place.
The societal infrastructure described by Prof. Sakamura ultimately depends on ucodes, which will be used to number places and things in the real world. The thing to remember here is that he doesn't merely view these as a replacement for barcodes in supply chain management, rather they are the key to context recognition in ubiquitous computing environments, where everything will be numbered so that it can be identified. He described ucodes as being something that bind the real and virtual worlds together. However, he was quick to point out that unlike electronic product codes used by EPCglobal, ucodes are simply ID numbers, which is to say that they do not contain any semantic information, such as the country of origin, company that manufactured the item in question, etc. With ucodes, the semantic information is externalized and stored on servers. The advantage of this system is that it offers flexibility to deal with changing context. In other words, it is possible to modify contents afterward and/or change behavior depending on who one is dealing with. Another advantage, Prof. Sakamura said, is that it can also be used with legacy systems in existence. Moreover, the addition of ucodes to stored items allows for many problems to be solved.
The Ubiquitous ID architecture is based on 128-bit unique numbers, and this opens up an enormous block of codes that can be used to handle everything bought in a person's life, Prof. Sakamura said. In addition, as with his designs in the past, Prof. Sakamura is aiming at an all inclusive system that uses multiple types of tags, e.g., 135 MHz, 2.45 GHz, etc., since no single tag can be used for everything. On the other hand, he wants a single device, i.e., the Ubiquitous Communicator, to be able to read all tags, which is possible as long as they are based on open technology. He is, of course, very aware that there will be problems as this system comes into existence. He mentioned intellectual property rights issues, protecting people's privacy, incorrect or unfair advertising, boundaries of responsibility, the problem of collecting and communicating data in an emergency, and passing the relevant laws and regulations, something that must be done at the national level. Naturally, before these problems will be encountered, ubiquitous networks will have to be realized, and the road to realizing them is through verification trials on top of verification trials. As always, he cautions that it is going to take at least 10 years for the average person to see the results, 10 years calculated from 2002.
Prof. Sakamura closed his presentation stating that he would like to spread this technology from Japan to the rest of the world. He then ran through a list of partners overseas, most of whom are in East and Southeast Asia, who are developing things based on his new technologies. Since lots of his books have been translated and sold in Korea and China, these are the countries where the greatest steps forward have been made. In fact, Prof. Sakamura pointed out, that China has even created its own low-cost T-Engine boards.
Interesting Things that "Didn't Happening," and Some Thoughts
There were a lot of interesting things at TRON SHOW 2006. Perhaps the most interesting thing, however, was what didn't happen--neither Microsoft Corporation nor MontaVistaSoftware Inc. participated in the show, although Microsoft did help fund it. The reason Microsoft didn't participate appears to be that Mr. Susumu Furukawa, who seems to have been the driving force behind Microsoft's participation in the T-Engine project, retired at the end of June 2005. The reason for MontaVista's absence at TRON SHOW 2006 is even less clear, but TRON Web has heard from multiple sources that the embedded Linux camp isn't particularly thrilled at the idea of T-Kernel becoming the standard real-time kernel for the ubiquitous computing networks of the 21st century, even though it's an open source operating system available for downloading from the Web and is supported with lots of English language documentation. That something was up between the T-Kernel camp and the embedded Linux camp came to light just before the show in a "veiled round table discussion" in Vol. 96 of TRONWARE, titled "Speaking What They Really Think, the Now of the Embedded Business" (pp. 44-51), in which there was the following exchange.
A

Talk of embedded Linux came up; I think Linux is good, but I also have a feeling of anxiety.

Sakamura

I think embedded Linux is like a famous singer who's troubled at having been selected for a role in a drama, in spite of the fact that she has no acting ability. In spite of the fact that its field is different to begin with, there is the feeling they are forcing it. From the start, calling something embedded Linux itself is strange. It's not that Linux is bad, what I'm saying is that it's bad if it has to be "embedded" Linux. No one is talking about something called "embedded TRON" (laughs).

C

Because I'm actually involved in it, I well understand; it's strange. What is called embedded Linux today is not Linux for embedded use, rather it is Linux that runs on a CPU for embedded use, as all they've done is port it.

Sakamura

In other words, what you're saying is it's not a case where it can be used in embedded applications.

C

They are certainly trying their best, but truthfully they've just ported it, and the developers are suffering, and it actually needs a lot of resources. Of course, there are also fields where Linux is suitable.

Sakamura

There are certainly fields where it is appropriate, aren't there. If you're going to make a router, I recommend Linux rather TRON.

C

There are also those who've clearly adopted it on an over spec. basis. On the side of the maker, there is the maker's logic, and the logic is not optimization for a particular case, but rather total optimization. And there are also places that are operating on the basis of let's use Linux to a certain extent. I wonder whether going to Linux for total optimization is a problematic point.

F

There is the feeling that using embedded Linux itself is making the embedded business look silly. In spite of the fact that they're tackling lots of problems that cannot be easily dealt with by Linux; what are they talking about, people are saying. How's it that "Linux has achieved in one year what took TRON 20 years," when even the task dispatch is still one place or more different!

B

WindRiver has recently begun supporting Linux; at one time, there were a lot of requests to make it Linux, but I have heard talk that lately those saying make it VxWorks has increased overwhelmingly.

Sakamura

In other words, what you're saying is that an operating system for embedded use is being selected. A HDD recorder that uses Linux takes tens of seconds from pressing the record button. Won't the television program end (laughs)? I want you to look at those results.

B

Because the car navigation system is slow, you end up passing by the street (laughs).

C

Beyond extolling embedded Linux, they should also provide solutions for that purpose, but even though they call themselves vendors, there are no vendors seriously tackling that.

F

That Linux has appeared is not something in opposition to TRON, rather it is in opposition to Windows. From feelings of repugnance in regard to the fact that Windows has spread worldwide to this extent, there are probably a lot of places that have gone over to Linux, aren't there. This is not related to TRON. From the beginning, it is not the sort of operating system to rival TRON--that's because the genre is different.

C

When you ask those that have adopted Linux, it is a fact that software development is the guts in their home appliance strategy. At that time, as in the time of personal computers, being pushed down by the nape of the neck must absolutely be avoided, and accordingly Linux serves as the axis of resistance.

Sakamura

At that point, there should have been another proposal.

The top does things with the intention of attacking the bottom, and the bottom does things with the intention of attacking the top. Certainly, four or five years ago, ITRON was at the bottom, and Windows and UNIX at the top were completely different things, but for sure the recent T-Kernel is also aimed at information processing applications, and conscious of mobile and so on, people are saying embedded Linux and the like for information processing things also. As for the TRON camp, it's not the TRON of old, rather because it has become T-Kernel, I would like to have a head-on match with embedded Linux.

B

Prof. Sakamura, that's already begun, you know (laughs).
Add to this the video comparison between T-Kernel and embedded Linux at the TRON SHOW 2006 press conference, and it is clear that there has been a falling out of some sort between the two open source kernel camps. What MontaVista's plans are for the future is unknown, but it should be pointed out that Elmic Systems Inc., which later changed its name to Elmic Wescom Inc. as a result of a merger with another company, previously offered Linux and/or Windows CE on ITRON hybrid operating system solutions. In addition, eSOL Co. is developing a POSIX-compatible version of T-Kernel. So those who need to run Linux in conjunction with T-Kernel need not fret. They can get help in engineering solutions for their embedded applications from an experienced vendors in Japan. Of course, as Prof. Sakamura and others in the above round table discussion pointed out, embedded Linux is not really a good choice for many embedded applications, particularly ones that require hard real-time performance. This is a direct result of the fact that the Linux kernel was originally designed as a multiuser, multitask monolithic kernel for workstations, not a priority-based, real-time, multitask microkernel for embedded applications.
Another thing that didn't happen at TRON SHOW 2006 was TRON Web coming into contact with a developer who really understands what the Ubiquitous Communicator is. For the second time in two years, TRON Web interviewed an engineer from a leading company who criticized the Ubiquitous Communicator on the belief that it is supposed to be some sort of replacement for a cell-phone. Nothing could be further from the truth. TRON Web pointed out to the person in question that while the large screen area of the Ubiquitous Communicator prevents thumb only typing (yes, young people in Japan can actually input Japanese language strings with just their thumbs) and folding into a smaller package, its larger screen allows it to serve as a personal computer (imagine not having to take a laptop with you on a trip), a personal digital assistant, a large-screen game machine, or a full-screen television. Thanks to its much larger screen, TRON Web pointed out, the sign language function developed by Oki Electric can easily be seen by the hearing disabled who have poor eyesight. If the price of the Ubiquitous Communicator drops to about 50,000 yen, most likely many would be sold, particularly if the full suite of BTRON applications were made available for them.
As to BTRON on the IBM-PC/AT architecture, the platform is alive and well, and hackers continue to develop unique applications for it. Mr. Kaoru Misaki, a Japanese writer who specializes in writing about the TRON Project and its technologies, wrote a long article for Vol. 96 of TRONWARE, which was released just prior to the TRON SHOW 2006, in which he described how he uses BTRON, plus four freeware applications that hackers are developing for it. The Achilles heel of Cho Kanji, the commercial implementation of the BTRON subarchitecture, is that it still does not support sound cards and various other peripheral devices on IBM-PC/AT compatibles, but this can be gotten around by using VMware, which is an emulator that runs on top of MS Windows and is available free of charge for downloading from the World Wide Web. Mr. Misaki reports the processing speed is fine, and backing up the large files he creates on Cho Kanji, his "work operating system," is easier. As for the freeware applications, they are:
Meichi-kun

(Intelligent Boy)

This is a powerful search utility that reads the entire data contents of the Cho Kanji partition on a HDD, which it should be pointed out uses a multi-link, hypertext file system. Mr. Misaki reports that took only 25 minutes to search through 2.5 gigabytes of data in which there were 31,000 real objects, a real object being a BTRON file. In addition to TAD data, which are BTRON native data, it can also search through data written in Shift-JIS, Unicode, etc.

NeXT Generation

Macro

NeXT Generation Macro adds five small buttons to the right of the active window that allow frequently occurring multiple operations to carried out via a single mouse click on either one of them or sections of the control message panel at the bottom of the screen. It's particularly useful when using the BTRON Basic Browser.

Virtual Object Startup

This is an application for starting up and shutting down groups of windows all at once. In particular, this program allows the user to save data without having to individually go through save procedures for each window.

Formula Input Calculator Accessory

This is a unique calculator in that it is designed to calculate and output results of formulas written with the Basic Text Editor, which is the standard word processing program that comes bundled with the Cho Kanji operating system. It can take a formula such "2,000 + 2,000" (or its Chinese character equivalent), and output the result in a separate window. These cannot be handled by the standard calculator.

Bar Graph

The BTRON-based Cho Kanji 4 operating system comes standard equipped with a Basic Spreadsheet application for tabulating numerical data, but this application does not have any graphical output capability. This freeware program, which outputs data in TAD figure data, now provides that function to users.
It should be pointed out to those who are unfamiliar with Cho Kanji 4, that the operating system comes bundled with over a dozen applications developed by Personal Media, plus about 100 pieces of freeware created by BTRON hackers. In addition, Personal Media also offers separately sold applications that allow users to do such things as easily build Web pages, create a Web page server, or process Japanese language manuscripts. In should also be pointed out, that the Ubiquitous Communicator, which has finally been made available for purchase albeit at a high price, is a direct continuation of the BTRON architecture; in fact, it is a better "communication machine" than Cho Kanji 4, which runs on the IBM-PC/AT compatible architecture. This is because the Ubiquitous Communicator has audio and MPEG functions built into it. Accordingly, the next obvious step in the propagation of the BTRON architecture is either to develop a low cost version of the Ubiquitous Communicator for general users, or create a multimedia expansion card based on the Ubiquitous Communicator's specialized MPEG-JPEG encoder/decoder chip for Cho Kanji on the IBM-PC/AT architecture.
Finally, TRON Web met up with Mr. Jim Farrell, the former editor-in-chief of IEEE Micro and a TRON Project supporter since the early 1980s, at the show and shared thoughts with him at the reception that took place at the end of the first day of the show. He is once again running a North American liaison office for TRON, the USA Liaison Office for the T-Engine Forum, so anyone interested in the T-Engine project should contact him for further information and advice on how to proceed. Mr. Farrell also wrote a report of his impressions of TRON SHOW 2006.
____________________
TRON SHOW 2006 Gallery 1 (four images, color)

TRON SHOW 2006 Gallery 2 (four images, color )

TRON SHOW 2006 Gallery 3 (four images, black and white)
---