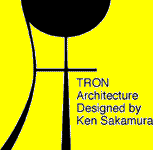 TRON Web
---
Last update: 13/12/26
Welcome to TRON Web, the new, official overseas news source for the TRON Project. In TRON Web you will find all the information you need to learn about and keep up on developments concerning the TRON Architecture, a unique, general-purpose (read "total") computer architecture that has been expressly designed for linking together the wide array of computer systems used in human society today, in addition to new types of computer systems that will come into use in the 21st century.
Background Info
Current State of the TRON Subarchitectures
Wonderfully Widening World of TRON-based Products
TRON Project Videos on the World Wide Web
Technical Stuff
Educational Stuff
Other Info
Links
Want more information about TRON or have a comment or question you would like to make? Why not drop the Web master a line at:

Important
TRON Web receives a lot of unsolicited e-mail (spam) via the above e-mail address. When writing to the Web master, please write TRON or something to do with TRON as the subject of you e-mail. Otherwise, you risk having your e-mail deleted.
Also, please keep in mind that TRON Web is a news and information site, not a T-Engine development support site. Any technical questions regarding T-Engine should be directed to Personal Media Corporation's T-Engine support specialists. Their e-mail address is: te-support@personal-media.co.jp
Want to learn what others are saying about TRON? Take a look at some of the e-mail we received below.
---
TRON Web is an Internet service of the Sakamura Laboratory, University Museum, University of Tokyo. Thoughtful comments and/or inquiries from Web travelers who visit this site are highly welcome.
Copyright © 1997-2013 Sakamura Laboratory, University Museum, University of Tokyo